« Sunday Overnight Open Thread (12/22/19)
|
Main
|
Mid-Morning Art Thread »
December 23, 2019
The Morning Report - 12/23/19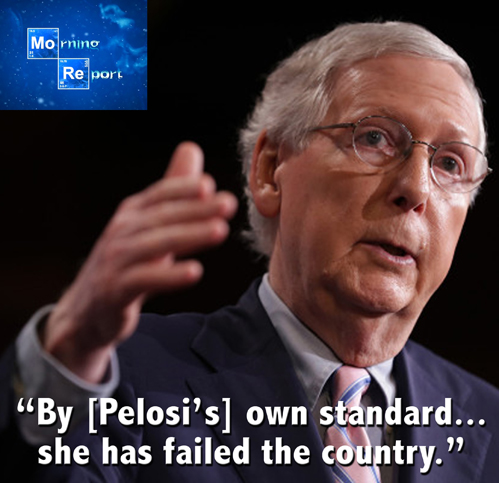 Good morning kids. Start of the last full week of 2019 with lots of links but nothing really all that new to report. Not only have the Democrats quite probably destroyed whatever slim chances they might have had about winning the White House in 2020, but more than likely they may have lost the House by first ramming through a completely baseless vote to impeach President Trump, and now sitting on the articles and refusing to send them on to the Senate for their adjudication in a trial. After demanding this action because the continued presence of Donald Trump as the nation's chief executive poses an existential threat to the republic, Nancy Pelosi is now the one obstructing Congress. Her reasoning, if you can call it that, is partly because she wants to make sure she and Cuck Schemer can somehow bribe enough Republicans to go along and actually vote to remove Trump from office, or at the least bamboozle Mitch McConnell into turning the Senate trial into another Kavanaugh smear campaign to last until election day, but more than likely, to prevent McConnell from dispatching this sham within 15 minutes of starting the proceedings and having Trump declared innocent. However she tries to slice it, she and her party are facing political disaster to one degree or another.
First, look at the video of her trying to explain the delay; it's frightening. Her choppers aren't just loose but it sounds as if they have a mind of their own, trying to tap out "T-O-R-T-U-R-E" despite her parietal lobe signaling "now is the time for all good men to come to the aid of their party." And Trump is so evil, awful and worthy of the gallows that two days after the vote, she invites him to give the 2020 State of the Union Speech to a joint session of Congress. Gran mal seizures or withdrawal symptoms of an addict drunk on power being denied her fix? You make the call. No matter. Cocaine Mitch is in the driver's seat and he is not happy about any of this. Despite his laconic, almost soporific delivery, the half hour speech that he gave in response to the impeachment is one of the most important ever given by any politician, IMHO.

NOTE: The opinions expressed in some links may or may not reflect my own. I include them because of their relevance to the discussion of a particular issue.
ALSO: The Morning Report is cross-posted at CutJibNewsletter.com if you want to continue the conversation all day.
Follow us on Twitter: @CutJibNews


posted by at
05:52 AM
|
Access Comments