« Monday Overnight Open Thread (12/16/19)
|
Main
|
Mid-Morning Art Thread »
December 17, 2019
The Morning Report - 12/17/19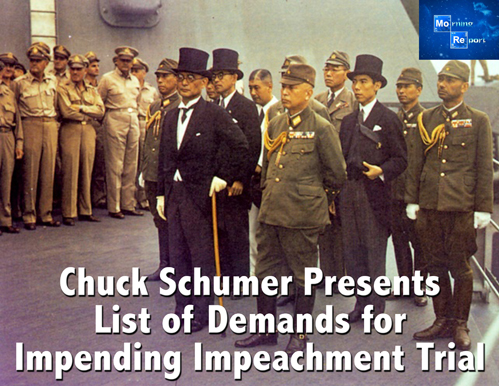 Good morning kids. Tuesday, and with every false charge completely failing to stick to the Teflon Donald, the Democrats have ramped up the poo-flinging machine to ludicrous speed and hurled something completely outrageous and more than likely illegal and/or in violation of the process. Not that any of that matters to them. Ever. With the vote in the House set for tomorrow, Sydney Greenstreet's goiter, also known as Jerrold Nadler, and his minion of minor fatty deposits issued a new report yesterday that "accuses [Trump] of committing the crimes of bribery and honest services fraud, though neither is mentioned in the articles of impeachment." The Blob and his slime trail were getting reamed because there were no actual crimes listed in the draft of the articles, and so voila! I don't think that a hack bush-league maneuver like that is going to go unnoticed from any of the Republicans and certainly not the any of the Dems who are in the same boat as Jeff Van Drew. They probably won't resort to switching parties but there still may be a significant number that will vote "no" or "abstain." If it dies in the House, it would be one of the greatest political self-own political blunders in American history. Even if it does pass, there will not only be no GOP votes for the Dems to shout "bipartisan!" but with even one no vote, and already with the defection of Jeff Van Drew, it is by definition a bipartisan rebuke against impeachment, and there is just no way they and their media co-conspirators can spin that.
Meanwhile, as this clusterfuck is caving in all around them, the Democrats in the House have devised this one neat trick: vote on the articles in the House, anticipating (that is, praying to Ba'al) they will pass and then simply sit on them and not send them to the Senate to initiate an impeachment trial. The excuse? Sez notorious never-Trump cuck-commando Charlie Sykes "...Republican leaders [have] "literally said that they intend to violate their oath as judges/jurors." House Democrats, he urges, should play up McConnell and Graham's public assertions."
But of course we are to completely ignore the past month or so of the Lavrenty Beria, Roland Freisler Comedy Hour wherein any semblance of fairness, the rules, tradition and the Constitution were ground into the pavement. The other salient point to remember in all of this, which Sykes and everyone else seems to ignore is that impeachment is a political act, and not a criminal proceeding. And day-by-day, as they keep flinging more poo and belching up more outrages, this president's popularity grows, not just with his base but with Democrat voters. Witness the events at recent town halls and other events, not only with members of the vulnerable "dirty 30" but with tough guy eye-bleeder Joey Bribem and even Adam Schiff-for-Brains himself.
Now over in the Senate, the joke of the day is a two-parter. First, the aforementioned Schiff-for-Brains is demanding his own witnesses at the Senate trial; this, after silencing the GOP on his committee and denying any of theirs to speak. Then, there's minority leader Cuck Schemer insisting that Bribem Crime Family underboss should not speak at the trial and that John Bolton and Mick Mulvaney be called, pausing to wag his filthy digit at us about "fairness." If you're not doubled over busting a gut with howls of laughter then, like me, your head is exploding from the sheer chutzpocrisy of these two momzers.
My only hope is that Cocaine Mitch and Lindsey Graham are also busting a gut laughing and rage-stroking at the senior criminal from New York. They should use this opportunity to not necessarily dismantle the charges, which should take all of about a minute and half because there is ZERO evidence but to turn a very bright spotlight on the meat of the IG Horowitz report on FISA abuse, because all of this has its roots in the original Russia collusion hoax and the high crimes and misdemeanors of everyone up to and including Hillary and Obama. Hey, Nancy Ponzi Pelosi herself said that all of this is about Russia. Well, I'll give Speaker Polident this; she's more right about that than she knows.
Of course, all of this is dependent upon the Republicans running this to not screw it up, or sabotage it considering the possibility of Graham and others being involved in the same graft and corruption that is hanging around the turkey-neck of the Democrats presumed nominee.

NOTE: The opinions expressed in some links may or may not reflect my own. I include them because of their relevance to the discussion of a particular issue.
ALSO: The Morning Report is cross-posted at CutJibNewsletter.com if you want to continue the conversation all day.
Follow us on Twitter: @CutJibNews


posted by at
07:30 AM
|
Access Comments