« Sunday Overnight Open Thread Holiday Christmas Party Edition (12/15/19)
|
Main
|
Mid-Morning Art Thread »
December 16, 2019
The Morning Report - 12/16/19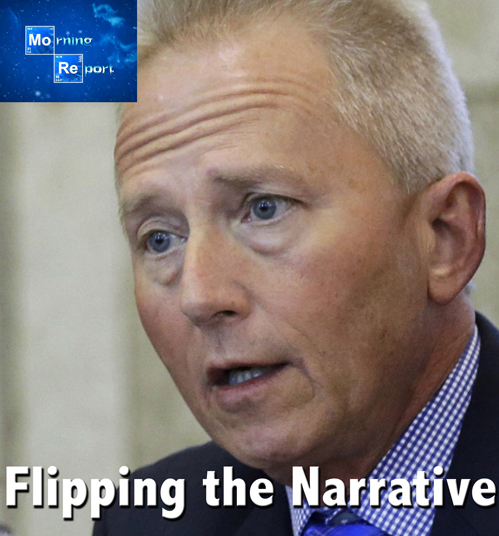 Good morning kids. Start of a new week and we are loaded with links so let's commence to unpack. First, Jeff Van Drew, the Democrat Congressmen from New Jersey who is solidly against impeachment and now intends to switch parties is enduring a torrent of vitriol and venom from his erstwhile fellow travelers. Bilious, bloated, blathering blob Jerry Nadler removed the left side of the menu from his maw long enough to state the obvious; that Van Drew is only reacting to the polls. Gee, ya think? Impeachment is not a criminal action but a political one and one of the key elements, at least when we had a semblance of a functioning republic, was that you needed a large majority of the public supporting the effort. We don't. And Nadler's statement is remarkably stupid since the official Democrat-Media Complex line that we've been enduring for three years is that Americans are clamoring to remove Trump from office.
The other thing that is interesting to note about Jeff Van Drew is that despite hailing from solidly blue New Jersey, he ran and won in 2018 as a so-called moderate. Given the makeup of today's Democrats, the meaning of that word is debatable. But still, there he is and it begs the question, what of the other Democrats that ran in Trump swing districts and won in the 2018 midterms? So far, a number of those 31 Dems (I think it's up to about five) who were supposedly on the fence have now declared they will vote to impeach. So be it. They've signed their own rhetorical death warrants but in any case, if they vote to impeach, their constituents will kick them to the curb, and if they either vote "no" or "abstain," the Party will have their heads, In any case, I think they and the entire Democrat Party is headed for disaster come next November, so I think any halfway sentient candidate running against these 31 has a good chance of taking the seat. First, the Mueller deception and simultaneous agitprop media campaign for the first two years of the Trump era, as well as the incompetence and sabotage from the Paul Ryan-led GOP, is probably what flipped the House. Second, Mueller was a bust and Ukraine continues to explode in the Dems' collective face along with the IG Horowitz Report minus his opening statement. Third, the Trump economy as well as a slew of foreign and domestic policy successes is not only cementing the base but winning over significant numbers of traditionally Democrat voter blocs, most notably American Blacks and Latinos. Lastly, this is a national election, not a midterm and given all of the aforementioned, Trump in theory has coattails that should handily win him a second term mandate and quite possibly, and crucially, recapture the House - the anticipated massive Democrat voter fraud efforts notwithstanding.
I think the takeaway from Jeff Van Drew in context to all of this is that there is for sure a tectonic shift in the American political landscape. I'm loathe to make predictions, but 2020 could quite well see the Democrat Party truly become the marginalized, regional party that I distinctly remember someone, perhaps James Carville, state about the GOP on election night 2008. But it all depends on what happens after the Trump era is over. If the GOP is not led and populated by people who are anti-globalist and free market, limited government America-firsters, then the age of Trump was merely a reprieve from the inevitable. That said, the Democrat Party, those who vote for it and the entities and agencies that support it and vice versa are a de facto hostile internal insurrectionist entity that continue to control the unelected and feral bureaucratic state as well as the media and, most crucially, the schools. I don't think that traditional electoral politics is going to cut it with these people ever again. We've witnessed how well they handled rejection three years ago. Considering the belligerence, bike locks and bullets we've endured in that time, 2020 is going to be a watershed moment.


SHAM-PEACHMENT FOLLIES
Along with Jeff Van Drew, Devin Nunes has openly blasted Schiff-for-Brains in an eloquent but no less Trumpian manner, Democrats are going apeshit over Cocaine Mitch treating a potential Senate trial the way the Dems treated the House fiasco, Nadler gets an earful from protesters as he attempts to flee on a House elevator, the Great One shreds the articles in less than five minutes, a call for the Senate to grow a pair on this, detestable lout Jamie Raskin promises more persecutions after Trump leaves office in 2061, and yes this entire thing is a coup. So what to do?
NOTE: The opinions expressed in some links may or may not reflect my own. I include them because of their relevance to the discussion of a particular issue.
ALSO: The Morning Report is cross-posted at CutJibNewsletter.com if you want to continue the conversation all day.
Follow us on Twitter: @CutJibNews


posted by at
07:39 AM
|
Access Comments