« Cleaning Out The Video Clips Folder ONT
|
Main
|
Mid-Morning Art Thread »
December 13, 2019
The Morning Report - 12/13/19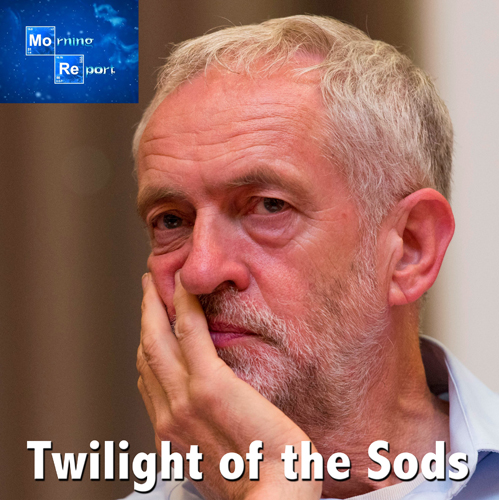 Good morning kids. Happy Triscuit-deckaphobia; fear of a thirteen-sided cracker. The weekend is here and we'll get to the electrifying news of the epic ass-kicking of Labour and full speed ahead for Brexit in just a bit. But first, the developing news with Sham-peachment is that Jerry Nadler and his gunt abruptly ended the 14-hour marathon Judiciary Committee meeting and put off the procedural vote to bring the impeachment to the full House until this morning at 10. The GOP members of the committee went ballistic over what Go-Go Gohmert called "Stalinesque."
..."And if the American people wondered about this impeachment anyone, they don't have to wonder anymore, they saw what happened right here tonight," [Ranking Member Doug] Collins continued. "Because this committee is more concerned about getting on TV in the morning than it was finishing its job tonight and letting the members go home."

"Words cannot describe how inappropriate this was. I have been saying for the whole year how this committee is just simply rim-shotting the rules of this House and this proves it tonight. They do not care about rules. They have one thing: their hatred of Donald Trump and this showed it tonight because they want to shine in these cameras, get prettied up, and then vote. I am just beyond words. It shows their lack of integrity in this process and the lack of case that they have..."
Well, what the hell are we so surprised about? Now Nadler himself is openly crowing "we cannot rely on an election" to get rid of Trump. This whole thing is an ugly, disturbing bizarre farce; they've got nothing, they know they've got nothing and they know that we know they've got nothing. Unfortunately, this sham has extremely grave consequences for whatever the hell is left of this republic going forward.
Elsewhere, Joey Bribem is vowing to obstruct the Senate if he is called to testify, which is kind of ironic considering this is one angle the Dems are using to impeach Trump, Matt Gaetz knows that grilling Son-of-Leg-Hairs will prove Trump had a reasonable cause to look into their criminality, speaking of obstruction, John Ratcliffe wants to know why the Dems are withholding the documents showing Schiff-for-Brains/whistleblower Ciaramella collusion, there is a possibility that impeachment could even die in the House which would cause Palsi and the Dems to be handed the biggest self-own political disaster in history, which is evidenced by her shambling and dissembling during her weekly presser, Rabbi Fischer and Victor Davis Hansen weigh in, Great One Levin calls for the impeachment of the next Dem president; meh, the entire Democrat Party needs to be impeached for 200+ years of tyranny, and yes indeed, even if Trump triumphs as expected, the fate of the republic really is in doubt.

NOTE: The opinions expressed in some links may or may not reflect my own. I include them because of their relevance to the discussion of a particular issue.
ALSO: The Morning Report is cross-posted at CutJibNewsletter.com if you want to continue the conversation all day.
Follow us on Twitter: @CutJibNews


posted by J.J. Sefton at
07:23 AM
|
Access Comments