« Saturday Gardening And Puttering Thread [KT]
|
Main
|
Saturday Afternoon Chess Thread 12-14-2019 »
December 14, 2019
Ace of Spades Pet Thread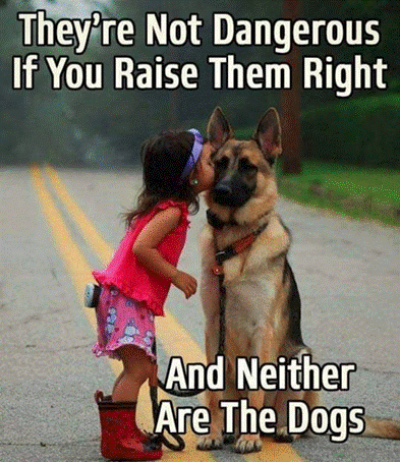 (H/T Blake)
***

Good afternoon Morons and Lurkers. Welcome to the almost world famous Ace of Spades Pet Thread. Why not take a break from what's going on and enjoy the world of Pets.

***
A Little of This. A Little of That.
Tucker Carlson is right. Buzzfeed is a cat website. And here is a H/T from Jane D'Oh to prove it. Good cats.
***

From our friend and regular commenter, Shibumi, several entertaining links:
Spiderman and cats, go hand in hand.
Kind human helps out cats when winter rolls around.
This is what Shibumi told me when she sent in her email, "Yes, I am goofing off."
Happy to hear you think of AoS Pet Thread when you are goofing off.
***

He once was blind but now he sees.
***
(H/T Northernlurker)
***
Meet The PetMorons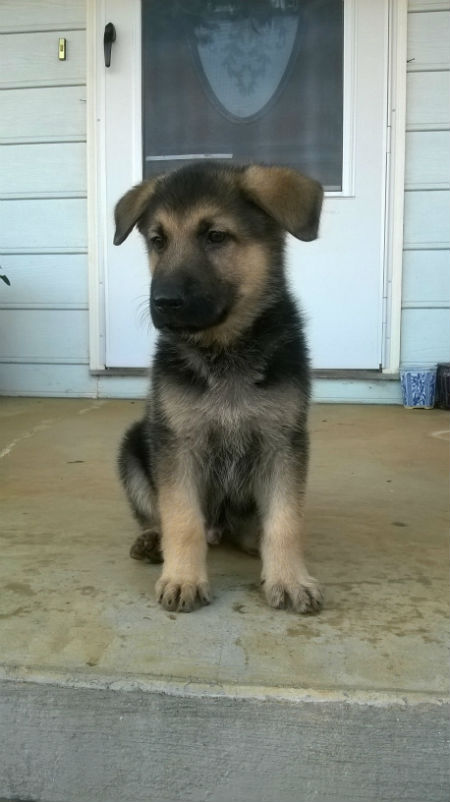 Bruno has a name now. Here's another pic.

He loves his stuffed hedgehog and already chases the ball. He's going to work out just fine.- freaked

Sweet looking pup there freaked. Of course he's going to work out. The Horde have no doubts whatsoever. Thanks for sharing.
***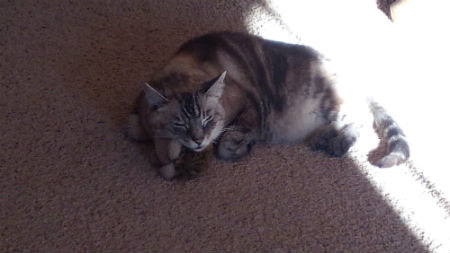 Hi MisHum,

This is Jamocha, one of a pair of 16-year-old sibling domestic shorthair rescues who've provided us much joy over the past 13 years, a few days before we had to have him euthanized.

For years now he'd had a daily morning routine of patiently waiting to fetch a stuffed toy hedgehog strategically-thrown -- preferably out-of-sight like onto or behind furniture. He'd find and shake it violently in his mouth, crying loudly and then delivering its carcass to a myriad of locations in true mouser fashion (I believe they're cousins to the Maine Coons) -- not relenting with the wails, and making them even more nuanced and intense over time (guaranteed to elicit chucklees), until one of us arrived to acknowledge and praise his accomplishment. And then the cycle would start again, over and over; I would joke that he was wearing ME out.

We could tell he wasn't feeling good recently and had lost interest in it, so sprayed the toy with liquid catnip to induce him to play. He just laid down on it like a pillow, and thus the photo opportunity. After taking him to the vet soon after, his body just kept deteriorating with multiple organs failing and unable to keep a stable red blood cell count -- even after having a transfusion.

Both he and his sister Jamaica have had chronic kidney disease for a few years. With my wife fortunately retired, she's been able to give them the nursing care needed (subcutaneous fluids, medications, supplements, etc. sometimes multiple times/day). Having been her daily companion for 16 years, his sister is clearly confused about his absence and her odd, skittish behavior indicates that she's grieving along with us (we'd read where companion pets can grieve for the loss of another for up to six months).

Being a reader of the Pet Thread for over three years had, in addition to bringing me much joy, prepared me psychologically for the decision to euthanize him and experience the grieving process in a positive manner -- so thank you all for that. -- ShainS
Hi ShainS, I'm glad you could have as many years with Jamocha as you did. As most of us here can attest to, one of the hardest things to do in life is to say "goodbye" to your pet. Condolences on your loss.
***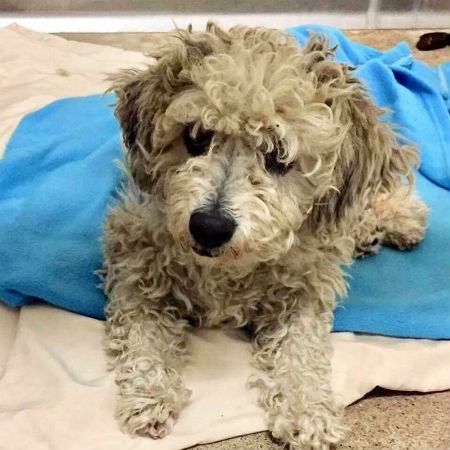 (Before)
&&&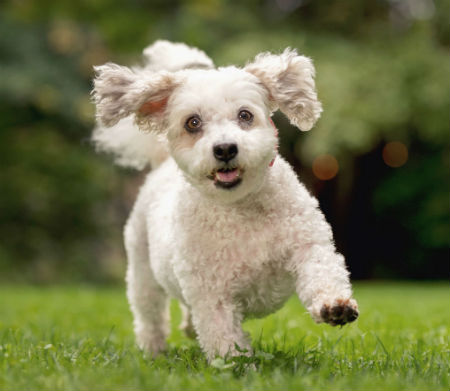 Long-time lurker here – love the pet thread. This is our four-year-old Dotty – before and after. She was rescued from the streets of SoCal and has settled in Oregon. Cute as a button and a joy to have around. Thanks for all you do. Sincerely. -unsigned Lurker
First of all, no need to thank me. It's folks like you that makes this thread happen. What a fantastic story about Dotty. Thank you for sharing with us and stepping out of the Lurker shadows.
***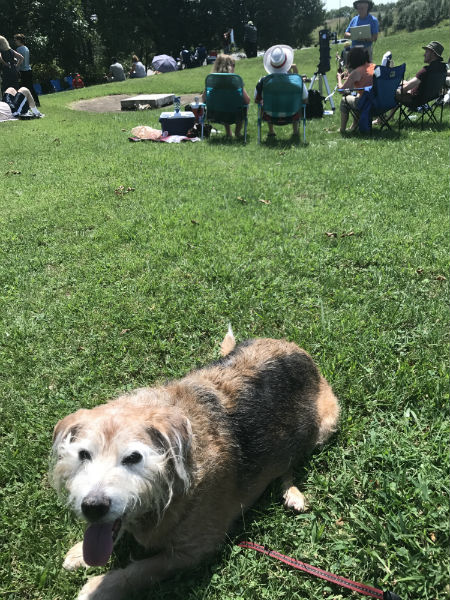 Hi there--

Lurker for a few months, so much so I don't even have a screen name. Call me Roxy. This is Dusty, my who-knows-what-type-terrier-and-maybe-some-cocker best friend. He was a great dog. In his younger days he loved walks that led to picnic tables to sniff, and trying (and succeeding sometimes, with that jump) to get on the kitchen table to steal rump roasts. So smart I couldn't keep him in treat dispensing puzzle toys. In his later years he patiently put up with our new baby through her headbutting stage, and got lots of daily scratchies. Here he is doing some of his favorite activities.

It's been a month and I still miss him. A Jesuit once tried to argue with me that dogs have no souls. Bull. If God is infinite everything--infinite power, infinite wisdom, infinite love--then he has room in heaven for all his creations, most especially dogs. Anything that can love that purely and deeply has a soul. If he's not waiting for me when I hit those gates, then God and I are going to have words.

Okay, so maybe call me Karen.
Thanks for coming by the AoS Pet Thread. Dusty certainly gave you and your family joy. And as far as God and words, I'll be there right next to you.
***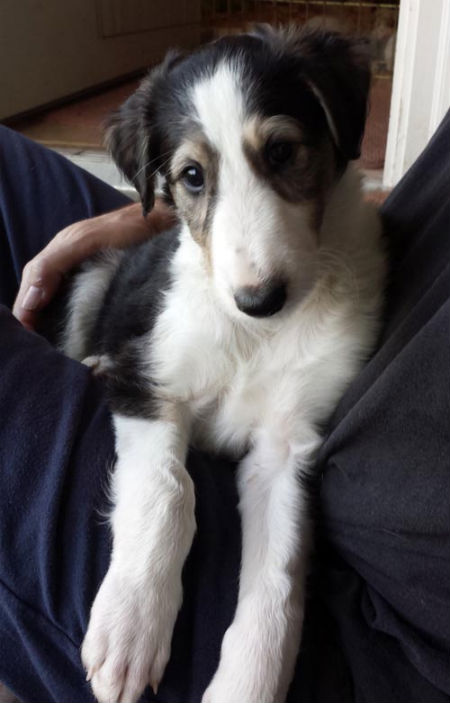 Delilah, at one month, repeating the invocation Borzoi girls have spoken to their people for time immemorial: "You will let me do anything I want..." - Hadrian the Seventh
Beautiful pup, H7 thanks for the submission. Although I don't think Borzois are the only breed that says that.
***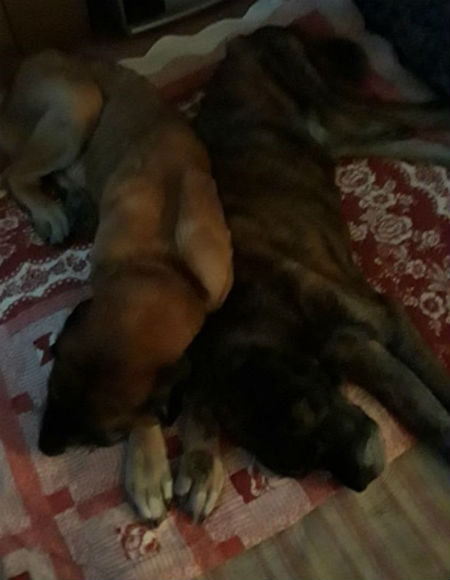 Hi,

I walked my brother's 3 dogs for last 18 months, when he was working.These two English Mastiff siblings were 11 yrs old when they died.
Brutus (M) on left, Bella (F) on right.VERY sweet dogs. -Baldy
Hi Baldy, thanks for sharing the photo of these 2 sweet hearts. Sounds like you are a great brother to take care of your brothers pooches.
***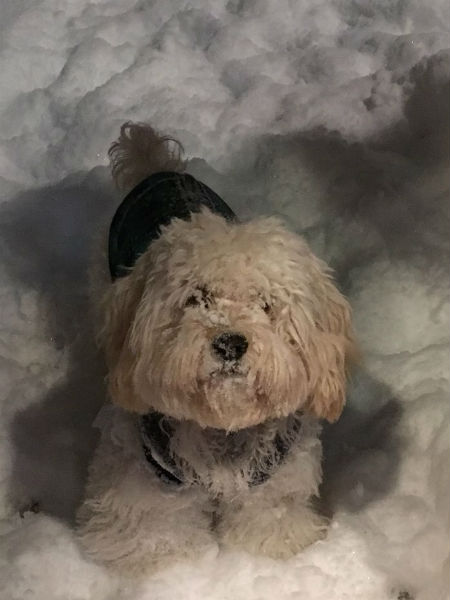 Hi MisHum:

This is Charlie. It's his first winter, so when it snowed recently I asked Charlie to come out and help me shovel the deck. So, he put his sweater on and came out, and was no help at all. Turns out, Charlie likes to eat snow, not actually shovel it.

By the way, we shaved him last summer and found a little dog under all that hair…no, really. - Boswell
Hey Boswell, how did you get Charlie to help? I sure could use some help from my K9s to help out with the snow removal here. Great looking dog. Thanks for sharing with us.
***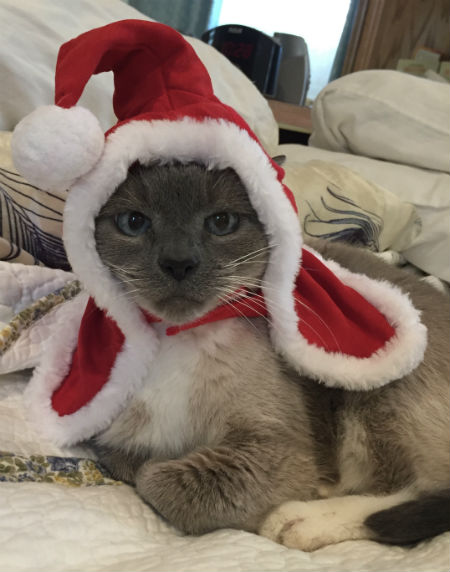 Season's Greetings!

Here is our polydactyl Siamese mix, Sterling, from 2017. Sterling was
abandoned in our neighborhood in 2004, and we decided to take her in.
We were unsure of her age, but our vet thought she was probably 2-3
years old at that time. She was the sweetest cat and very tolerant of
being dressed up in seasonal garb (although you probably wouldn't think
that from the look on her face here). Sadly, she developed kidney
disease and we had to make the tough decision about euthanasia a couple
days before Thanksgiving 2018. I miss her every day.

--Longtime lurker JenWestin
I'm impressed, a cat sat long enough to be dressed up for a Christmas shot. Cool!!! Jen so sorry she is no longer with you. It sounds like she ended up in a wonderful home. Thank you for sharing with us today.
***

To the folks who submitted links and PetMoron photos and stories, a big "Thank You". We all appreciate your efforts.
If you something you wish to share with us, please contact us here at petmorons at gmail dot com.
See you all next weekend. Have a great week!!!

posted by Misanthropic Humanitarian at
04:13 PM
|
Access Comments