« Sunday Overnight Open Thread (12/8/19)
|
Main
|
Mid-Morning Art Thread »
December 09, 2019
The Morning Report - 12/9/19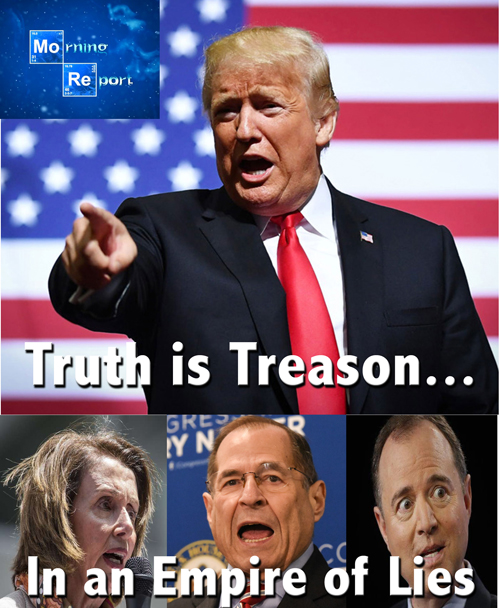 Good morning kids. Start of a new week and the top stories are the release of the IG Horowitz Report and the House Judiciary Committee set to charge President Trump with treason. Yes, gentle reader, you read that right: T-R-E-A-S-O-N. These people are truly sick. They are doing more than just playing games; they are playing with fire, here. If I had the ability to hold back and not slam my fist into Jerrold Nadler's gaping maw, I would certainly displace the perpetual slab of pastrami with a microphone and try to get him on record to answer the question "do you realize treason is a capital crime?" Okay, I get it. You turds are doing anything and everything you can to sabotage the President while covering up for your own crimes of sabotaging 2016 and then Trump's nascent presidency, which for the record, come within a red nether-hair's breadth of actual dictionary definition treason. Meanwhile, we still have hearings set for today, which you gave the Republicans on the committee essentially zero time to prepare for, dumping thousands of pages of evidence at the last minute. Not that that would matter since the committees are a farce of both fairness and legal precedent.
The Democrats have ensnared themselves in their own trap. For over three years, everything they have done to rig the election and then sabotage this president has failed, and spectacularly so. And since impeachment was promised even before Trump took the oath of office, impeachment is what they are going to have to deliver. But invoking treason is truly crossing a line. For argument's sake, let's say the House votes to impeach - and the jury is still out on if they even have the votes (although I suspect they do and the scuttlebutt that they don't is a head-fake), and then he is exonerated in the Senate. What then? Forget the shmoo-like bespectacled "G-d-cursed chimptato hybrid" screaming at the clouds. Will the Antifarians turn into Weathermen 2, Electric Boogaloo? I almost feel the Democrats would cheer that on, if not intentionally engaging in all of this to enable exactly that. As I said, they are playing with fire here.

NOTE: The opinions expressed in some links may or may not reflect my own. I include them because of their relevance to the discussion of a particular issue.
ALSO: The Morning Report is cross-posted at CutJibNewsletter.com if you want to continue the conversation all day.
Follow us on Twitter: @CutJibNews


posted by J.J. Sefton at
07:38 AM
|
Access Comments