« But Soft! What Light Through Yonder Window Breaks? It Is The ONT, And Weirddave Is The Sun!
|
Main
|
Mid-Morning Art Thread »
December 06, 2019
The Morning Report - 12/6/19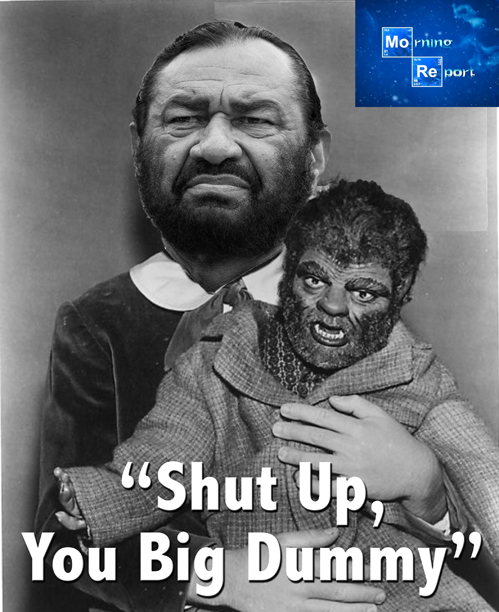 Good morning kids. The weekend is here, and of course the lead story is that Grandma Grand Mal Pelosi pulled the trigger on moving forward with impeachment. At the risk of stating the obvious, or perhaps not, since some folks either don't realize it or it gets lost in the daily sewage we are forced to endure, but yesterday's announcement was begat not by the kangaroo kourt antics of the past few weeks on top of the two-year charade of the Mueller deception. This all started on the night of November 8th, 2016 the moment that we the people shocked the world and elected Donald Trump.
Well, so be it. Whatever hopes they might have into bamboozling the public into making it politically acceptable to remove a duly elected President from office (remember that impeachment is a political act, not a criminal proceeding) completely vanished with the titanic dud that was the Mueller "Report." And despite opposition, legal or otherwise, from every direction including sadly from his own party, Donald J. Trump's first three years have been among the most successful policy-wise of any US president in history.
Almost at the moment of Pelosi's literally drunken-sounding rambling announcement, the President's approval rating jumped to 52%. So much for the pyrrhic victory of tarnishing him with the stain of impeachment in hopes of it sinking his poll numbers next November (anyone want to wager it approaches 60% after the House votes to make it official?).
This is one of, if not the key reason he is to be removed; because his America first policies of growing the economy, protecting the American worker, bringing back industry to our shores, rational, sensible national security and national sovereignty are antithetical to both the globalist plot to dismantle America and the progressive/New Deal/Great Society, big government socialist Democrat Party that has left a nearly 100-year, $200-plus trillion dollar long trail of abject ruin, dehumanization, dissolution, division and societal rot in its quest for absolute power and control. When you get right down to it, it is all of us who believe in the ideals of Judeo-Christianity and America as founded that have always been in the dock, not just Trump in this hour and in this place.
Forget the phony kabuki-bukkake theater and pompous circumstances and pronouncements belched up by Palsi Pelosi and all the rest. This is not going to end with a trial in the Senate that is of course not going to convict Trump. From sub-morons like Al Green to pseudo-intellectual pinhead soy-boys like ex-Obama shyster Neal Katyal and every form of self-inflating Leftist tyrant in between, they will continue to keep on bringing new charges and keep this crazy train going forever and a day. I know it's a political and not criminal process, but I guess the concept of "double jeopardy" is out the window, eh Al? I'll take "Mouth-Breathing Degenerates" for $200, Alex.
Circling back to the drooling schmuck who resembles the exhumed corpse of Englebert Humperdink's great-grandfather with too much bronzing cream, Al Green was first to accidentally utter the truth bomb that underscores what I have said: If Trump is not impeached, he is going to get re-elected. Bingo. The American people have been given a taste of socialism good and hard during the Obama years and have had quite enough. In fact, in spite of the brainwashing of at least 3 generations of our citizens and the mass importation of about 30 million illiterate third world peasants to further weaken our cultural identity, it's kind of heartening to know that millions of us showed up at the polls in 2016 to, as William F. Buckley stated "stand athwart history and yell 'stop'." That said, the blame is not Obama's alone since the dismantling of America for fun and profit has been going on for decades and is the fault of both political parties and the crony-fascists that have empowered them, as Tucker Carlson's expose on Paul Singer highlights. But I digress. In a normally functioning society, the Democrats would have licked their wounds and paused for a moment of introspection to ask themselves, "what can we do to better compete in the arena of ideas and convince the electorate to vote for us?" But that's not the society we live in. The Democrats instead blame us for rejecting their brilliance and G-d-given right to lord over us and create paradise on earth. If Obama's bitter clingers or Hillary's deplorables didn't clue you in, Pamela Karlan's attitude yesterday should have been a cold slap in the face as to exactly how they see you and much of America.
And yet their presidential candidates are running on platforms of open borders, confiscatory taxation, seizure of the means of production, outright infanticide, anti-Semitism, anti-freedom of speech and religion, disarmament of the citizenry and on and on. Is it cognitive dissonance or arrogance? Whatever it is, it indicates that the Democrat Party is this nation's largest organized, anti-American entity. It also means that we are a nation divided, and considering that we have no common ground at all with which to even begin an attempt at reconciliation, what happens after the impeachment(s) fail?
The question is, what happens after Trump leaves on January 21, 2025 (inshalla)? It is crystal clear to me that with much of the administrative state and Deep State still intact, when a Democrat eventually regains the White House, the goal will be final retribution.
Happy impeachment.

NOTE: The opinions expressed in some links may or may not reflect my own. I include them because of their relevance to the discussion of a particular issue.
ALSO: The Morning Report is cross-posted at CutJibNewsletter.com if you want to continue the conversation all day.
Follow us on Twitter: @CutJibNews


posted by J.J. Sefton at
07:52 AM
|
Access Comments