« Wednesday Overnight Open Thread (12/4/19)
|
Main
|
Mid-Morning Art Thread »
December 05, 2019
The Morning Report - 12/5/19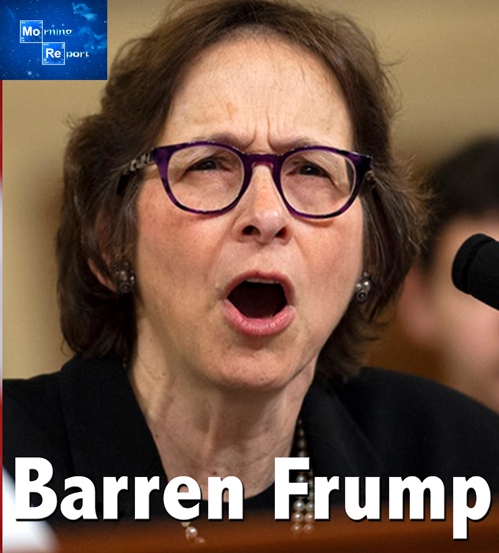 Good morning kids. Thursday and first before we get to yesterday's madness, a bit of a public service announcement: For those who don't know, conservative stalwart Dan Bongino has launched a brand new news aggregation site as a desperately needed alternative to the Sludge Report - www.bonginoreport.com. Good luck and G-dspeed, Mr. Bongino.
As painful and rage-inducing as it has been to witness and endure what the Democrat-Media Complex has hurled at this President and by extension at a majority of the citizens of this nation, I'll say that in a sense it has been worth it, since I believe it has opened a lot of eyes. Yesterday's repulsive performance by the three Democrat "witnesses," who witnessed nothing in any way, shape or form that is remotely relevant to any alleged high crimes and misdemeanors, I think is going to be a seminal moment in the 2020 presidential campaign, and perhaps beyond. Especially that of this Stanford law professor Pamela Karlan. As bad as what the fools and would-be tyrants of the Democrat presidential field are, Pamela Karlan revealed exactly who and what the American Left really is to the American people. Her incoherent rants about the President having sexually assaulted more women than 99.99% of illegal aliens to painting conservatives as insular and xenophobic to then crossing a major red line (unless you're a Democrat, of course) by sliming the President's young son because of his name were bad enough. But the rabid, nearly foaming at the mouth uncontrolled rage was something else entirely. It was Melissa Click, Triggly Puff and James Hodgkinson all rolled into one repulsive turducken of pure hatred. That is the Left: devoid of any facts, and perpetually angry at people for realizing it.
In any case, the two superstars from yesterday were Harvard law professor and Constitutional scholar Jonathan Turley and GOP Rep. Matt Gaetz. Turley, who stated up front neither supports nor voted for Trump and is a confirmed liberal, calmly yet quite passionately, took apart the Democrats' fiasco and warned them of what they were doing to the nation. It fell on deaf ears and of course Nadler nor none of his fellow Democrats bothered asking him any questions. Regardless of his politics, I admire Turley for stepping up and telling the truth about all of this. I'm sure for his troubles he will soon become persona non grata in the agitprop media. Matt Gaetz, as the link below states, "brought a blowtorch" to the hearings by exposing the completely biased statements and backgrounds of each of the Democrats' "witnesses" from at least as far back as Election Night 2016. All are and were big-time Hillary and Democrat donors and militant Leftists. As for Karlan, she was on Hillary's short list for a Supreme Court nomination and I'm sure, along with perhaps Chesa Boudin, a good many other Democrat would-be fuhrers who fancy ximself winning in 2020. No wonder she's enraged, but it's a microcosm of America since Trump was elected. She feels she was denied what is rightfully hers just as the Deep State feels robbed from all of us who rejected their chosen candidate.
In any case, after the bile and spittle stopped flying, Gaetz asked one simple question:
"To all of the witnesses: if you have personal knowledge of a single material fact in the Schiff report, please raise your hand."
Merciful, sweet and glorious dead silence as not one had was raised. The perfect counterpoint to the EST-like primal scream of Pamela Karlan, IMHO.
I didn't think the Democrats could sink lower than they already have, both in terms of decency as well as public perception of all of this more than they did with the Schiff-for-Brains fiasco. But in any rational, unbiased analysis, yesterday was an unmitigated disaster for them. But, they made their bed and now they have to sleep in it. Other things to take note of, Joey Leg-Hairs has flat out stated he will refuse to appear at any Senate hearings should this go to trial, Rep. Jim Banks wants Lindsey Graham to get off his ass and subpoena Schiff-for-Brains over his phone records and lastly, Lloyd Billingsley takes a look at the Palsi-Pelosi's pedigree. Beyond a mobbed-up father, there are all sorts of lovely Stalinists in her past. Feh.

NOTE: The opinions expressed in some links may or may not reflect my own. I include them because of their relevance to the discussion of a particular issue.
ALSO: The Morning Report is cross-posted at CutJibNewsletter.com if you want to continue the conversation all day.
Follow us on Twitter: @CutJibNews


posted by J.J. Sefton at
07:42 AM
|
Access Comments