« Saturday Morning Coffee Break
|
Main
|
Saturday Gardening And Puttering Thread, Cozy Edition [KT] »
December 07, 2019
Changes and challenges to our healthcare system [KT]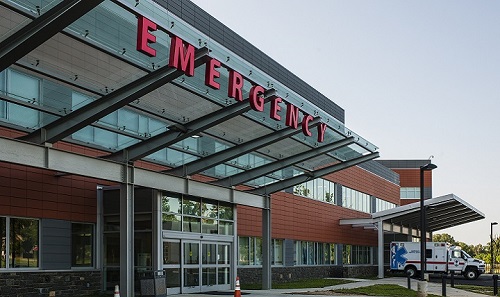 Ten hospitals--three in Alabama and seven in Australia--have been hit with paralyzing ransomware attacks that are affecting their ability to take new patients . . .
This is a relatively new health care challenge. But others have been developing for many, many years.
WeirdDave knows more that I do about health care systems, and last night in the ONT, he posted this link on Trump's requirement that hospitals disclose their negotiated rates.
He said:
If you want to know how to reform health care to bring down costs, this is where you start, right here, with absolute price transparency. There's no reason that people can't shop for health care like they do anything else. This is a good start, but it doesn't go nearly far enough. Baby steps.
So, hospitals are suing Trump to keep their negotiated prices secret. Of course.
Anyway, what would ordinary consumers do differently if they had access to the prices of their health care in advance? This piece, linked in J.J. Sefton's Morning Report a while ago, provides a few ideas. Why primary care costs a trillion dollars more than it should:
As a Direct Primary Care physician in Greeneville, Tennessee, who has not accepted health insurance for over 18 years, I have been in a unique position to see how insurance for nonemergency outpatient medical care not only increases our country's debt but also how it stifles our overall economy leading to reduced tax revenues from which to resolve this debt.

Americans carry insurance for unexpected catastrophes such as car accidents, burned houses, and inpatient hospital care. We don't purchase it for routine car or home maintenance, so why do we have it for everyday medical care? The reason is, unlike other insurance, it is a pre-tax expense enjoyed primarily by large and medium-sized corporations that exert a large amount of political influence.

Most people don't know that this tax exemption for employer-provided health insurance adds about $350 billion to our national debt each year while discriminating against the self-employed and employees of small businesses, many of whom can't afford health insurance yet were cruelly forced to pay ObamaCare penalties. The increasing number of families choosing membership in Christian health care sharing ministries don't benefit from this tax exemption. As a matter of justice both to future generations who will be responsible for this debt and to the many uninsured, Congress should eliminate this tax favor. While they are at it, Congress should remove the tangle of insurance regulations so companies will have to compete by offering consumers the opportunity to buy policies that make sense.

When Americans pay directly for outpatient medical care at facilities that make their pricing transparent, they pay much less than they would at facilities that don't.

Doing so -- I estimate -- would return to the economy as much as $1 trillion a year, mainly because insurance for routine health care makes it easier to conceal and inflate prices while charging for services that patients wouldn't necessarily allow to be done if they knew ahead of time that they would have to pay for them with their own money.
Examples are given at the link.
Remember that one other way to reduce the cost of medicine is to promote the idea that western medicine is colonialism.
Improving the quality of health care
Via Instapundit, I agree that there are too many alarms in hospitals. I feel like I'm in jail.
The commission has estimated that of the thousands of alarms going off throughout a hospital every day, an estimated 85% to 99% do not require clinical intervention. Staff, facing widespread "alarm fatigue" can miss critical alerts, leading to patient deaths. Patients may get anxious about fluctuations in heart rate or blood pressure that are perfectly normal, the commission said.

And bed alarms, a recent arrival, can lead to immobility and dangerous loss of muscle mass when patients are terrified that any movement will set off the bleeps.
This seems dumb. I was in the hospital for a couple of days recently. In addition to patient monitors, there were two or three extended hospital-wide alarms. Sort of disconcerting, since I did not know what they were about. I had some mobility once I got past the emergency room. I appreciated that.
What do you think would improve the quality of care in hospitals? I vote that we don't make our hospitals too much more like Italy's.
Get off Facebook for your health?
Holly Shakya, assistant professor at UC San Diego, and Yale professor Nicholas Christakis spent two years following 5,208 adults who are part of a Gallup long-term study. After asking permission, they monitored these subjects' Facebook use directly from Facebook, rather than asking subjects to report their own use. (People often don't realize how much time they spend on the social network.) And they checked in with subjects on their emotional and physical well-being, as well as their body-mass index (BMI), three times over the course of two years.

"Overall, our results showed that, while real-world social networks were positively associated with overall well-being, the use of Facebook was negatively associated with overall well-being," the researchers wrote in a Harvard Business Review article. "These results were particularly strong for mental health; most measures of Facebook use in one year predicted a decrease in mental health in a later year." Yikes.
O.K. These results are not unexpected. But I'm not sure the study design can lead to sweeping conclusions that correlation = causation here. Maybe people who are feeling mentally unhealthy turn to Facebook more than other people, for example. But there are reasons I don't have Facebook on my phone.
Why is too much Facebook bad for your emotional health? Previous research has shown that the social network creates a sort of false peer pressure. Since most people are cautious about posting negative or upsetting experiences on Facebook, the social network creates a misleading environment where everyone seems to be doing better and having more fun than you are. As the researchers put it, "Exposure to the carefully curated images from others' lives leads to negative self-comparison."
Well, that makes sense. Facebook also doesn't show the effort that goes into many meatspace social interactions. Like the little community Christmas celebration I have been involved with recently. A little group of adults were recruited to sing, and we practiced a few times, got costumes together, and coordinated with the committee running the celebration. Meanwhile, other folks arranged entries for a parade, brought a tree from the mountains - taller than the one at Rockefeller Center - stabilized it in the middle of the road and decorated it, brought snow from the mountains for the kids to play in, got people to provide food and activities, brought in a live camel and dwarf reindeer, and roasted chestnuts on an open fire.
Little of the planning and work that went into the event is evident in the Facebook photos of the final fun phase. You see the crowd and the lights. Not the dirty trucks. The dirty truck phase is more personal than the crowd phase for most participants. Sometimes there are fun or rewarding aspects to the dirty truck phase, but they seldom get memorialized on Facebook.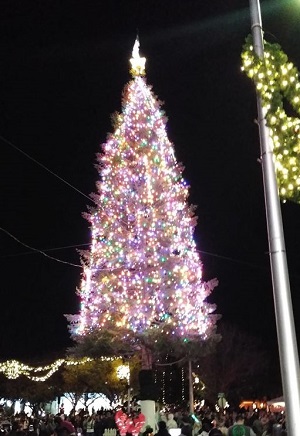 Meatspace has its challenges, too
Well, at least these kids are active.
Hope you have a great weekend.

This is the Thread before the Gardening Thread.
Serving your mid-day open thread needs

posted by Open Blogger at
11:20 AM
|
Access Comments