ę Saturday Gardening And Puttering Thread, Cozy Edition [KT]
|
Main
|
Saturday Afternoon Chess Thread 12-07-2019 Ľ
December 07, 2019
Ace of Spades Pet Thread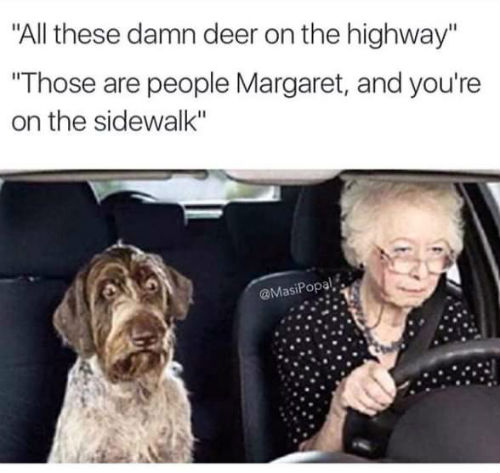 ***
Good afternoon and welcome to the almost world famous Ace of Spades Pet Thread. IIRC today's photo above the fold was submitted by Legally Sufficient.
Any way thanks for stopping by this afternoon. Kick back and enjoy the world of pets.
***
A Little of This. A Little of That.
I've said for years our dogs would help them carry the loot out of the house......

(H/T KT)
***

Think with your heart, not your dick.
***

It's OK if you chuckle. I did.
***

This brings back memories. Children reading to pet dogs.
***
From our friend Shibumi, Tanks for cats.
***

It's that time of year. Pet proofing for Christmas.
***
Meet The PetMorons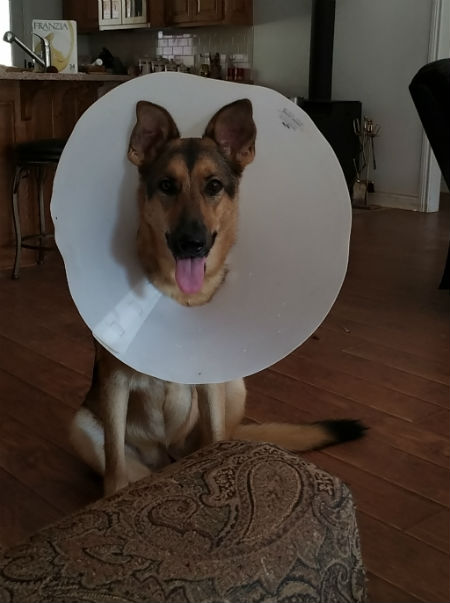 I saw Katie's story and my Maizy just had some lumps removed from her left leg. Her recheck is on Monday (please God can we lose the cone) and her biopsy results should come back Tuesday or so. She's only two so praying it's not serious. So sorry to read about Katie. She's a beautiful girl. - Bean Counteress of Rohan
Looks like Maizy has taken to the cone of silence perfectly. Hope her biopsy results were negative.
***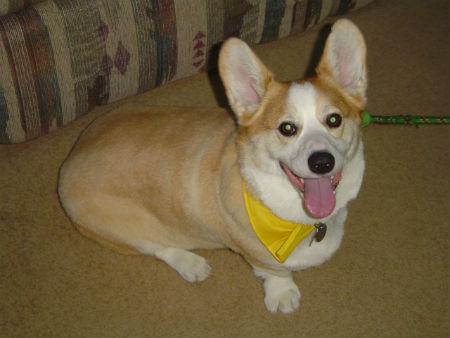 Looks like you've been slow on pets of late...long time lurker thinking its high time I shared Copper's pic.

Copper moved on to heaven this past September at age 14 after 13 wonderful years with us. I'm sure St. Peter is already wondering "Doesn't this guy EVER get tired of chasing that frisbee???"

I love this pic from when we had just gotten him at age 1. He's got that combination look of happy and "what kind of mischief can we get into today, Dad?"
So sorry to hear of your loss. A retrieving Corgi? That's a little different than the herding ones I've met over the years. Thank you for coming out of the Lurker shadows.
***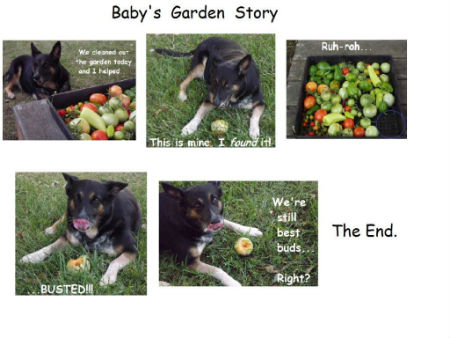 Hello, here's a little story I put together several years ago. Baby was
"helping" me with the harvest, lol.

Baby loved Outside and was happiest when we were Outside, too! She was
always nearby, supervising whatever we did. Her favorite game was to
sneak up behind me, quietly drop one of her toys, then wait until I
turned around and found it-- then I'd throw it (and she'd be happy as a
lark!) and our game would begin anew.

Unfortunately, she grew old and was in so much pain that we had to send
her to the Rainbow Bridge.

She'll live forever in our hearts. - "JQ"
JQ quite the cute little photo story you told there. Baby sounds as if she was the apple of your eye. Amazing how a creature can become such a part of our fiber and being.
Thank you.
***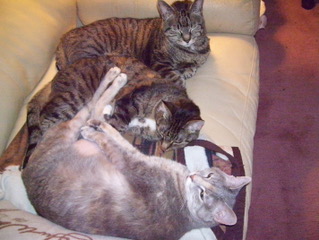 Dear MisHum,

I sent in some photos of our new additions a few weeks ago and promised to send some of the older pets as well. Here are three of our older cats, all offspring from a feral female who was seen in our yard a couple of times, obviously pregnant and just as obviously starving. We managed to trap her and she downloaded four kittens about three weeks later. She tamed up and made a great companion, too! That was 14 years ago, and three of the four kittens are with us still. From top to bottom are Birdman, the only cat Iíve met who cannot meow but chirps like a bird; Scooter Bug, who loves to sit on my motor cycle seat while Iím working on the bike; and Purrcious, a larger version of her mom, pink and gray and purry all over. Missing is Tigger, who passed over the rainbow bridge a year ago. He used to deliver toys to us with great fanfare and especially loved his stuffed pig toy which was nearly as big as he.

We have a couple more, too and weíll get those in later. As always, I appreciate you doing the work to show off the moron pets. I always remember the famous quote by Groucho Marx - ďOutside of a dog, a book is Manís best friend. Inside of a dog itís too dark to read.Ē
Mostly Lurker, Occasional Poster - Bama Bubba
It certainly appears that these kittehs hit the lottery with their mom finding you. It definitely looks like these cats have a horrible life. Couch time? Really. We appreciate your submission today. Thanks.
***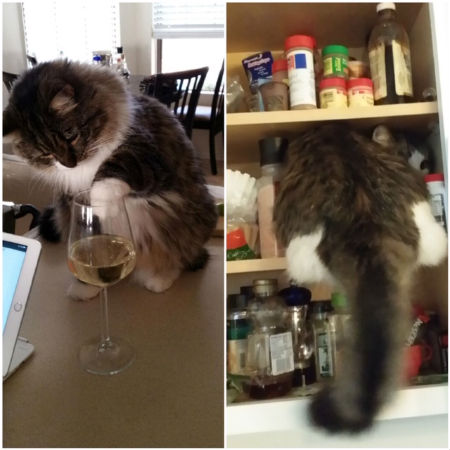 Hi Mis Hum,

I'm hoping this will work. Thanks for all your work on Thanksgiving! I hope you got time for a few slices of pie. - Heidi and Cannibal Bob
Sorry I misplaced your original and email about this crazy cat. And as far as pie goes. Yes, I was not deprived in that area. Thanks for the photo. Hopefully you are here today and can give us some more of the story.
***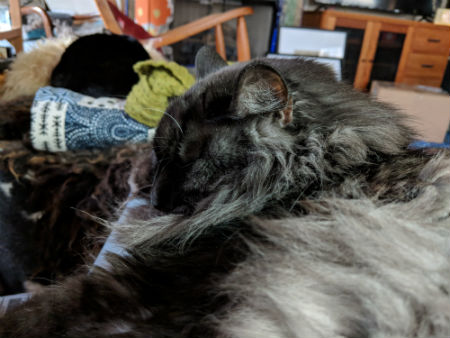 Hiya,
Here's my hairy high- maintenance cat, Laszlo, a/k/a Lasznardwin. He died suddenly on 11/26 from a brain infection. His back feet were the size of Twinkies. I loved the big galoot. I'm a Lurker--Schadenboner is what hooked me. Just call me SNAB.

Hi SNAB, my condolences on the passing of your cat Laszlo. Its nice to know that I'm not the only one who uses the word galoot when discussing a pet. May all your memories be pleasant.
***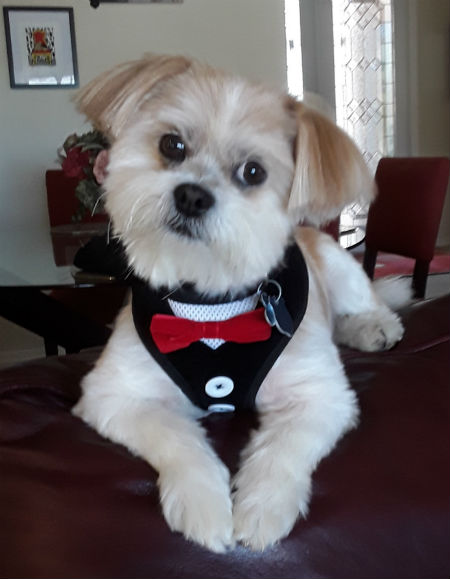 Long time lurker, but had to show you our beautiful rescue, Edison, our nine year old Shih-Tzu/Pomeranian. We adopted him just before his second birthday and he came to our home completely trained with exquisite manners. We have since undone some of them, but he has been and continues to be the best-looking creature at our holiday table. He treats everyone and everything with sheer delight at their appearance before him. We have learned a lot from him on how to live well.

Sincerely, Debra
Edison certainly looks quite snazzy. More than I can say about half of our Thanksgiving crowd. Thanks for coming forward and sending us his photo and story. We appreciate that.
***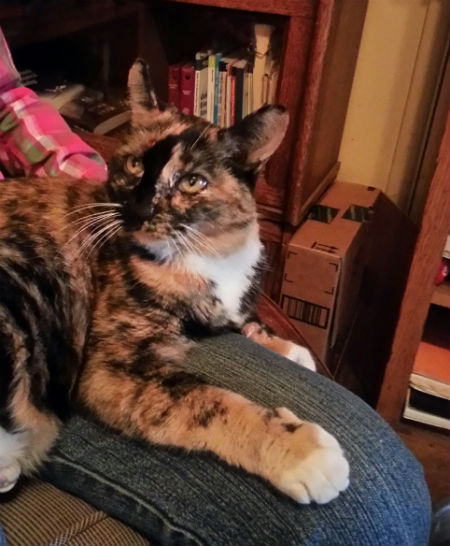 Tuga, our tortoiseshell. She was the Queen and we had her for 18 great years. Keep up the great work. - Simper Fi, Bobbigbear
What a pretty cat. Sorry she is no longer part of your squad. Thanks for sharing with us today.
***

A big "Thank You" to all of you who sent in photos of their pets and other pet related items. You make this thing work.
If you have something you wish to share, you can reach us at petmorons at gmail dot com.
Have a great week!!!

posted by Misanthropic Humanitarian at
03:02 PM
|
Access Comments