« Sunday Overnight Open Thread (12/1/19)
|
Main
|
Mid-Morning Art Thread »
December 02, 2019
The Morning Report - 12/2/19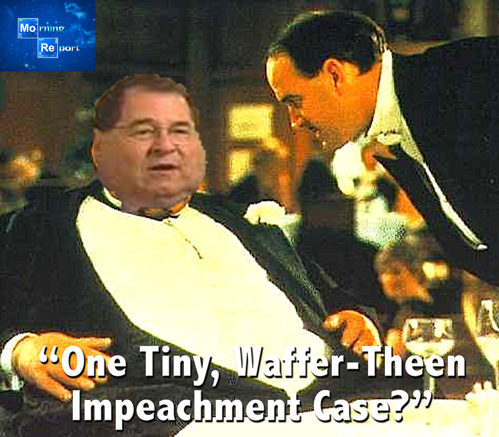 Good morning kids. December. Huh. Anyway, it may be the sprint towards the finish of 2019 but it's the start of a brand new week and we've got links galore, so here we go. First up, the next phase of the sham-peachment starts later this week with hearings now to be held in the House Judiciary Committee chaired by Jerry the Hutt Nadless. Once again, White House Counsel Pat Cipollone has responded to the bloated blathering blob of bile with a five-page letter declaring that the Executive Branch will not be participating in this complete mockery of the most basic tenets of the rule of law, the Constitution and common decency. Shorter Cipollone: LOLGF.
Doug Collins, the ranking GOP member on the committee had already slammed Nadless for the latter's shenanigans with impossible deadlines and other procedural bullshit intended to deprive the Republicans any reasonable ability to make their case in defense o the President. That said, they are at least able to call witnesses to these hearings and Collins has stated that witness number one is going to be Adam Schiff-for-Brains herself.
... "So, you want to bring him in before the committee, not just to present a report, but to take questions from Democrats and to be cross-examined, if you will, by the Republicans?" [Fox propagandist Chris] Wallace asked.

"He needs to be. He's put himself into that position," Collins responded. "If he chooses not to then I really question his veracity and what he's putting in his report. I question his, you know, the motives of why he's doing it."

"It's easy to hide behind a report. It's easy to hide behind a gavel and intelligence committees behind closed door hearings, but it's going to be one - another thing to actually get up and have to answer questions about what his staff knew, how he knew, what he did about the whistleblower report, his interactions that he's had with Ukraine, the other things that he's had over time in this process, and also why he has still not released documents to our committee and reports to our committee that we need to actually proceed in our committee of judiciary committee, which is the committee of impeachment," Collins continued.

"I have a question. Why are they hiding this stuff from us? If they think they have such a case, give us all the materials and don't let Jerry Nadler write a crazy letter that says on the 6th let us know who your witnesses are. We don't even have the information from the intel committee yet. This is why this is a problematic exercise and simply a made-for-TV event coming on Wednesday..."
Well, let them do their worst. As we are witnessing almost in real time, as the Democrat-Left-Media Complex continues to push this, it is having the exact opposite effect of that intended; support for Trump and more crucially against the Democrats is increasing, not just from the base, who the propagandists are now spouting the line of being "in a cult" but with so-called moderates, independents and even disaffected Democrats. This is the nail in the coffin, along with raving, raging Marxism, that perhaps at last will drive them from blind party loyalty.

NOTE: The opinions expressed in some links may or may not reflect my own. I include them because of their relevance to the discussion of a particular issue.
ALSO: The Morning Report is cross-posted at CutJibNewsletter.com if you want to continue the conversation all day.
Follow us on Twitter: @CutJibNews


posted by J.J. Sefton at
07:40 AM
|
Access Comments