« Saturday Gardening Thread - Wild Rice: The Real Thing [KT]
|
Main
|
Saturday Afternoon Chess Thread 11-30-2019 »
November 30, 2019
Ace of Spades Pet Thread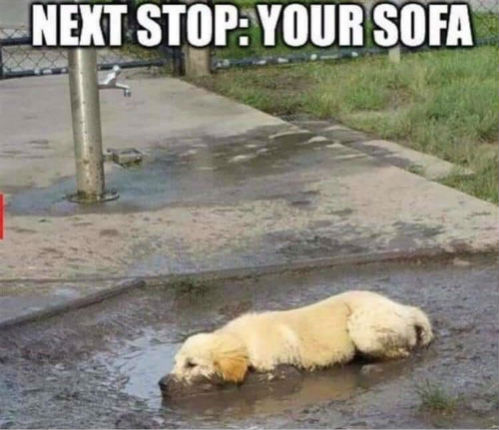 H/T LadyL
***
A Little of This. A Little of That.

KungFuc Cat.H/T KT
Florida Dog tells Florida Man, step aside

I love the quote from the police that the dog was doing good until he hit the mailbox! JuJuBee


Dog puts car into reverse, drives in circles for an hour

What dog doesn't love a car ride? Better yet- a ride behind the wheel?

POTUS Trump signs animal cruelty law.

How rescuing a dog completely changes them.

No honor among thieves. H/T redc1c4
***
Meet The PetMorons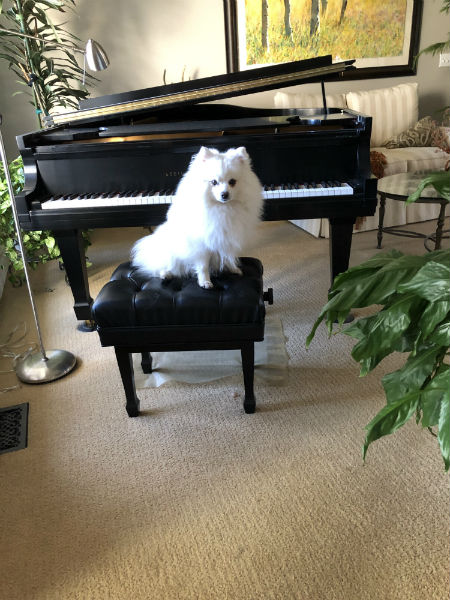 Long-time lurker lyle here again. This is our 21 month old American Eskimo (the breed is known as Spitz in Europe). This is NOT a staged photo, he jumps up on just about every piece of furniture we have. But here's the best part: his name is Mozart. Cheers.
So does he play Roll Over Beethoven? J/K cute little dog. And obviously not spoiled whatsoever. Thanks for your submission.
***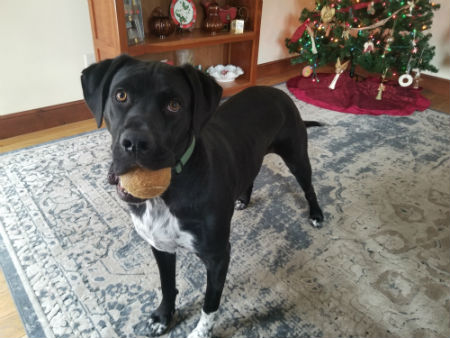 This is Tucker. He's named after Tucker Carlson because he gets the same look on his face when he knows you're telling him something that just doesn't make any sense. You know the look....
Thanks for the pet thread. We look forward to seeing it every weekend. - Jennifer
Thank you for sharing Tucker's photo and his naming story. He appears to be a fun loving guy. We appreciate your support.
***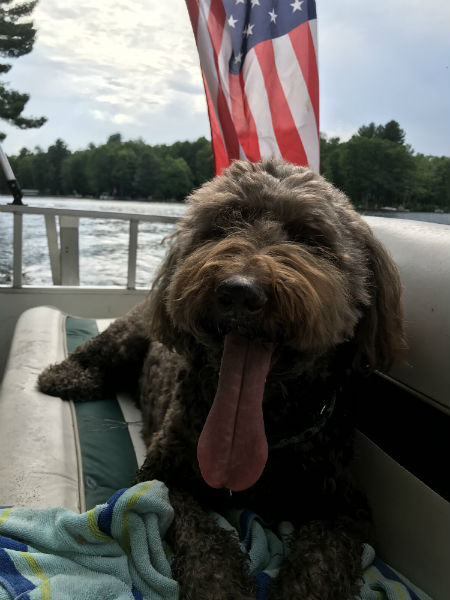 Our patriotic poodle Coco just passed tonite. (11/22) She was 13 and waited until our whole family was there with her at the end. Never a problem her whole life and went out with dignity and class like the noble Standard she was. Never had a dog die in our arms - she was special. Requiescat in pace - Samuel
It is never easy to say goodbye. Those 13 years just rushed by I bet. Condolences on your loss.
***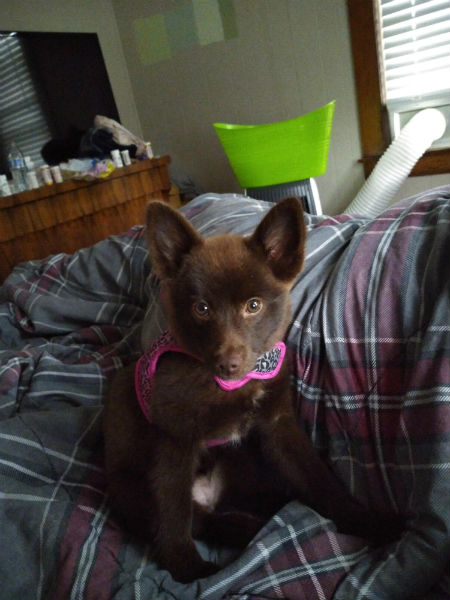 &&&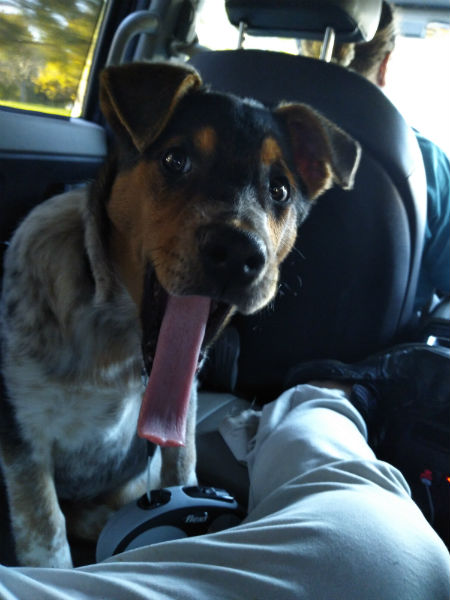 Good morning,
I have a couple of doggos for your viewing pleasure. I lurk mostly, but when I do post, My nic is Confuzzled


The brown and white one is Bear
She is a Pomsky (a combination of Pomeranian and Husky). See sleeps on my bed in my lap since our attempt to create train her failed because she kept waking the baby.

The spotted one is Jackson. He is a combination blue heeler and border collie (a blue_collie?) He says all good boys wear their seatbelts. He is crate trained.

He and bear love to play and roughhouse. They're both still in the puppy phase of trying to reach everything and peeing everywhere... But we still love them
Thank you for your submission. Two puppies? Wow, 1 is hard enough but 2? Good luck with them. They certainly do seem to be loved.
***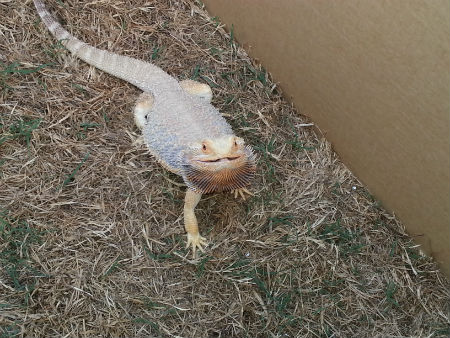 &&&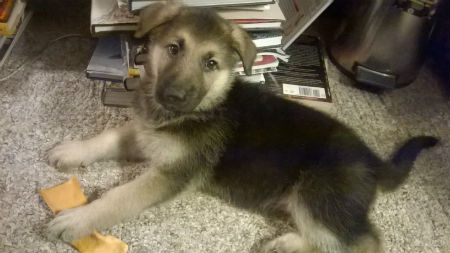 My son's Bearded Dragon, just before it lunged at me. It's gone now, replaced by a Boa. No, not the feathered kind.

And Hey MisHum here's a pic of the new puppy, in the library.-Freaked
Quite the menagerie of pets there Freaked. What's the puppy's name?
***

long-time lurker, finally had to show my two rescue babies - Max (the white pit-lab mix) is bigger and older, but Maya Blue (blue-nose pit) is the pushy one. Both come running when they hear my wife's grandchildren coming, and I didn't realize a dog's tail could wag that far. Maya stands guard over the back yard, making sure the lizards don't take over the house.
Adorable dogs you have there. Sounds like they love kids! Thanks for sharing with us today.
***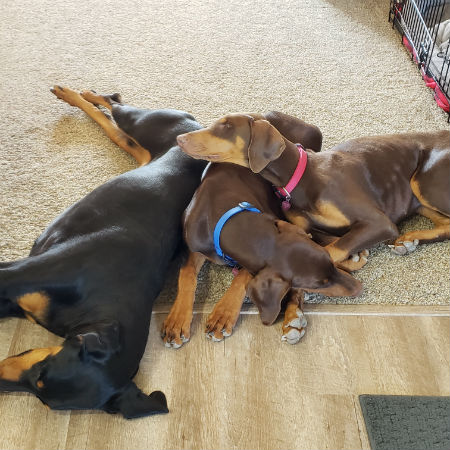 My 7 year old black and tan, Geddy (in honor of Geddy Lee), and the two sisters, Charlie and Bailey, asleep after a hard day hunting mice on the farm. Big dog teaching them the ropes. My girls are doing great with daily training and finally showing some maturity at 6 months. Puppies are so.....PUPPY'ish. - SL
Another brave soul with 2 puppies. Holy-moly patience galore. And yes puppies are so PUPPY'ish. Thanks for the chuckle.
***

A great group of pets and such wonderful tributes to them. Thank you for taking the time out to send in photos, stories and links.
Do you have something you wish to share with the Pet Thread. You can reach us at petmorons at gmail dot com.
Have a great week!!!


posted by Misanthropic Humanitarian at
03:00 PM
|
Access Comments