« Tuesday Overnight Open Thread (11/26/19) Rescue Edition?
|
Main
|
Mid-Morning Art Thread »
November 27, 2019
The Morning Report - 11/27/19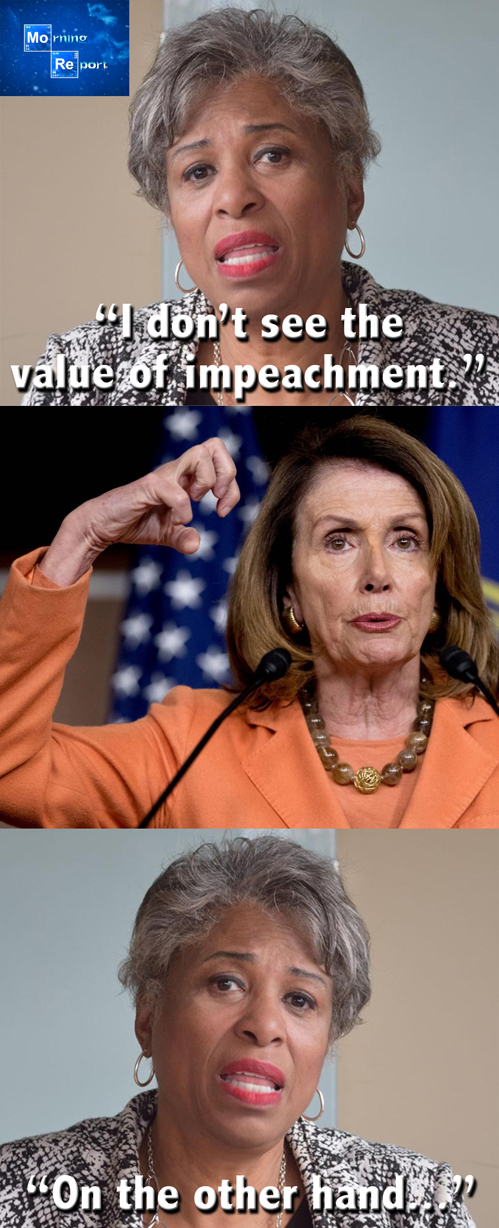 Good morning kids. Midweek and as we rush to finish, or even start, the hunting, gathering and prep for Thanksgiving, or to avoid a "bomb cyclone" snowstorm pummeling the middle of the country, we got some hot links to unpack, so let's get cracking.
Starting with sham-peachment, with the first set of kangaroo court proceedings now for all intents and purposes concluded in the House Intelligence Committee and heading for the Judiciary Committee to give its rubber stamp of approval, the situation from the Democrat Party perspective is seemingly cloudy. As I had mentioned yesterday, Palsi Pelosi needs to whip every single Democrat congressman to vote for this and supposedly she is coming up short. Case in point is Brenda Lawrence from solidly blue Detroit who gave an interview on some random podcast where she stated she did not support impeachment, but wanted the House to censure Trump. I guess the podcast wasn't obscure enough because within 48 hours she did a complete 180. With other vocally reticent colleagues like Jeff Van Drew in New Jersey, and you have to ask yourself, is this an outlier or are there others who are holding their intentions close to the vest? And it doesn't have to be many; remember that Palsi needs a minimum of 220 votes and as of now, she might only have 218, and there are going to be zero defections in the GOP.
Now, all of this could be a headfake. You'll recall that supposedly that initial congressional session a month or so ago was not supposed to have enough support to go forward and then, like magic, it did. That said, support for impeachment is polling horribly and, what's worse for Dems is that they are rightly perceived as conducting a witch hunt against Trump. There was a story the other day where even a Democrat voter(s) lambasted her rep for wasting time and money on this instead of concentrating on real issues (insofar as Democrats are ever concerned with those at all). You couple all of this with the related news that Black and Latino voters are now jumping on the Trump train and Palsi is in deep, deep doo-doo with all of this, no matter what her allies in the agitprop media will claim to the contrary.
Look, as Mark Sandy's squelched testimony reveals, Trump's actions regarding Ukraine were completely above board and legal; the only "crime" he committed was ditching the State Department and intel community and implementing policies that actually advance our national interests and the will of the electorate. In any case, despite all of what I have outlined, I think that the House is going to vote to send this to the Senate. At least Palsi and Cuck Schemer can try to smear Cocaine Mitch and the GOP for being "co-conspirators with Trump" or some such bullshit, but I don't think that will fly. The LIV crowd the Dems rely on to reliably swallow their propaganda will understand only one thing: "Trump Found Innocent." And in an election year no less. But wait! There's more! At least I hope so, and that is the impending indictments and release of the reports from Barr, Horowitz and Durham, which will only bolster the witness testimony that the Senate GOP and Trump's defense team will insist upon if indeed this does come to trial.
So, if Palsi does not have the votes to impeach, or if she tries to pull a fast one by preemptively calling for censure, or worst case scenario, this goes to the Senate where Trump and the GOP control the proceedings, the Democrats are well and truly screwed, and royally so. A caveat of which you are no doubt aware; the Senate GOP is much less Trump-friendly and dare I say competent than their colleagues in the House. That said, even with the likes of Pee-Air Defecto, the Alaskan Snow-Blower and the Maine Pain, I cannot conceive of the GOP actually voting with the Democrats and convicting this President. But then again, the person who will be serving as judge is none other than Chief Justice Julia Roberts. Life is never dull, is it?

NOTE: The opinions expressed in some links may or may not reflect my own. I include them because of their relevance to the discussion of a particular issue.
ALSO: The Morning Report is cross-posted at CutJibNewsletter.com if you want to continue the conversation all day.
Follow us on Twitter: @CutJibNews


posted by at
07:04 AM
|
Access Comments