« Open Thread...Open Thread...Open Thread
|
Main
|
The Morning Report - 11/27/19 »
November 26, 2019
Tuesday Overnight Open Thread (11/26/19) Rescue Edition?
***
THE QUOTES OF THE DAY

Quote I

"I am pleased the court has recognized that the Trump Administration has no grounds to withhold critical witness testimony from the House during its impeachment inquiry," Judiciary Committee Chairman Jerrold Nadler, (D-N.Y)

Quote II

"I think it's realistic to say we've got highly skilled staff who we do not want to leave. If we are able to persuade them and to encourage them to stay, that is good news for nursing care in this country." Nicky Morgan, Culture Secretary

Quote III

"We were able to complete the raid without any American casualty,""And so I think having the Special Forces here today, who obviously can't come out in the public, but also having this extraordinary dog here today is all a reflection of our armed forces and the great job that they do." POTUS Donald J. Trump

Quote IV

"I suspect there are some slight overestimates of effectiveness," "My hope is that this research will motivate researchers to take on the difficult work of conducting placebo-controlled trials. In the meantime, this at least gives medical cannabis patients and their doctors a little more information about what they might expect from using cannabis to manage these conditions." Assistant Professor Carrie Cuttler

Quote V

"Mr. Adam Schiff, released 90 days of your phone calls, 90 days of your texts, 90 days of your emails because I know something, you are a leaker. You are devious, same with your staff. Mark Levin
***
This kid is having a bad day.

***
***

The story goes, Once upon a time, the USAF bombed Montana.

If you were serving in the U.S. Armed Forces in the early part of 1944, there's a pretty good chance you were doing so abroad. World War II was in full swing, and America was fighting in both the Pacific and in Europe. But on March 21st of that year, the military had another target: America itself.

Specifically, it bombed the town of Miles City, Montana.

Miles City is located in the southeastern part of the state and, based on the 1940 and 1950 census, had between 7,500 and 9,000 over the course of that decade. It's located just a few miles north of the Yellowstone River, a major waterway in the area. The proximity to the river made it a good location for a military base on the American frontier in the late 1800s. Over time, the need for a fort waned, but the people remained. Miles City later became a hub for ranchers in the area — it had a lot of open land nearby and the river provided a source of water for the herds.

But the proximity to the Yellowstone River came with a complication. During particularly cold winters, parts of the river would freeze over. Big chunks of floating ice, collectively called ice jams, formed on the river's surface, effectively clogging it up. In March of 1944, the front page of the local paper, as seen below, rang out a warning: the ice, acting as a dam, was making the river flood, and Miles City was getting the brunt of it. It was a disaster.
***

To a small minority, you are f*cking nuts. The lack of sexual attraction to you isn't transphobia or any other type of phobia.

Gender transition can leave transgender people in a bit of a bind about their sexual desirability. While a transgender female may look, act, and feel masculine and exhibit male tendencies, she is just as female as any other female. If she is interested in either gay men or straight women, she could find herself perpetually attracted to individuals who are not going to be interested in her simply because of her vagina.

The same holds true for transgender men who have retained their penises. If they are into lesbian women or straight men, those two demographics will most likely be turned off by their body parts. This has got to be a painful, difficult, and kind of tragic place to be. The solution? Blame transphobia.


A young trans woman took to the internet recently to bemoan her fate at not being able to get gay guys attracted to her, despite her male appearance. The response was pretty well aghast that a woman who has transitioned to male yet retained her vagina could shame men for liking men and not liking her.
***

There is truth in cartoons.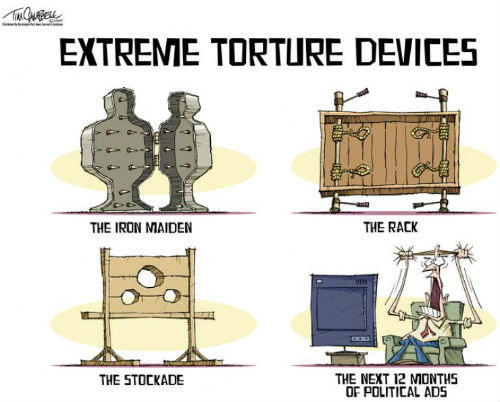 ***

Nothing shocks me anymore. Surprises are few and far between. This is one of those surprises: Suntanning your anal opening. Notice how I didn't say asshole?

A viral Instagram post by a small-time Instagram influencer with a focus on "wellness" has the internet wondering what on earth anyone could gain from sunbathing their butthole.

It started with an Instagram post from Metaphysical Meagan, who now has nearly 10,000 followers. "For the past few weeks I have included sunning my bum & yoni into my daily rising routine," Meagan wrote in the mid-October post.
***
Ice, it's good for drinks and fishing. It also helps you get to your Grand Canyon destination quickly.
***

As the NFL marches towards the playoffs, Colin Kaeperdick remains unemployed, for the foreseeable future.

COLIN KAEPERNICK RECEIVED 'ABSOLUTELY ZERO' INTEREST FROM NFL AFTER WORKOUT

"The workout last week did absolutely nothing to enhance the chances that Colin Kaepernick is going to wind up with another team."
***

Liar, liar Attorney, attorney, pants on fire.

Well, we have an update on the case of the criminal-defense lawyer whose pants caught fire during closing argument in an arson case, because yep, that happened.

That was the March 2017 incident in which Steven Gutierrez was just beginning his closing argument when smoke began billowing out of his front pocket. He fled to the bathroom and extinguished himself, and upon returning told the judge that the problem had been caused by a defective e-cigarette battery. He insisted it was purely coincidental that his client was accused of arson and that the defense attributed that fire to spontaneous combustion.

Again, that happened.

I last updated that story in May 2017, at which time Gutierrez's former client had decided he would plead guilty rather than be retried, and the investigation into exactly WTF happened in the courtroom was still ongoing. Last week, the ABA Journal reported that prosecutors had decided not to charge Gutierrez with a crime, but that he was likely to be suspended from the practice of law. The documents—primarily a consent judgment into which Gutierrez entered in August—give us some more information about the matter.

First, you might be wondering what crime Gutierrez was almost charged with, and the answer is apparently pants arson. According to the facts set forth in the consent judgment, the State had analyzed whether his actions during trial "rose to the level of arson under Florida law," and decided they did not. I'm not sure how they could have. Under Florida law, a person is guilty of arson if he or she "willfully and unlawfully … by fire or explosion, damages or causes to be damaged" any "dwelling" or "structure," or the "contents thereof" if people are known or likely to be present inside. The State concluded it could likely prove that Gutierrez "willfully caused the courtroom fire, but not that he did so unlawfully." Okay, but wait—courtroom fire? The only damage was to his pants. I guess the State was thinking about arguing that Gutierrez's pants were among the "contents" of an occupied structure, and it's too bad we will be deprived of that. In any event, the State decided not to charge him with arson.
***

As we approach the holiday season. Be careful not to upset your special snowflake relatives. Or do. It is up to you.

A woman, who follows a vegan lifestyle has recently had her mother over to stay.

Things were all going well, until she discovered that her mother had been frying bacon in the kitchen one morning.


The unnamed woman, who lives in Australia, said she was left feeling "riled up" by her mum's actions.

In case you were unaware, vegans don't eat any animal-based products, including items such as meat, cheese and honey.

The woman explained the situation in a post on Facebook , reports Femail, where many people agreed her mum was being "disrespectful".
***

Are you unemployed? Willing to move to the UK? Like dogs? This may be the job for you.

Nov. 25 (UPI) -- A British couple are offering nearly $40,000 a year for a full-time dog-sitter to take care of their two golden retrievers.

The job posting on Silver Swan Search seeks a full-time, live-in caretaker for golden retrievers Milo and Oscar at the London home of the canines' owners.
***
Insurance companies have a bad reputation. This doesn't help.
Oh, sure, you can claim that your relative is dead and the company needs to pay out. But insurance adjusters know to ask for proof. Like Ronald Reagan said, "Trust, but verify."

The grieving family in KwaZulu-Natal province, South Africa complied with Old Mutual's demands and delivered the decaying corpse after the company refused to accept documentary evidence of the man's death. The Daily Mail reports:

Ntombenhle Mhlongo and Thandaza Mtshali were filmed taking the body of uncle Sifiso Justice Mhlongo into a branch of Old Mutual somewhere in KwaZulu-Natal province, South Africa, this week after their claim on a funeral plan was delayed.
***
***
THE ONT MUSICAL INTERLUDE
There is nor rhyme or reason for tonight's Interlude. So enjoy it. Or not. The dental plan is paid up through the end of the year.
&&&
***

Spot the Genius Award Winners.

Clearwater exotic dancer arrested after kicking club manager in genitals, police say

Police said she kicked the manager three times in total after he asked her to leave for the evening.

Oh there is more...........
***

Seeing things the way they are supposed to be. Tonight's Feel Good Story of The Day.

A "severely colorblind" student became very emotional after his principal gave him special glasses that helped him to see colors for the first time in his life.

Ben Jones posted the video of his brother Jonathan to Twitter where it has been viewed more than 4 million times in just two days.

"My little brother is severely colorblind and so is his principle at school. While they were learning about colorblindness in class, his principle brought in some glasses that let him see color for the first time, and he was very emotional," Ben wrote on Twitter.
***

Tonight's ONT has been brought to you by DIY Alarm Systems.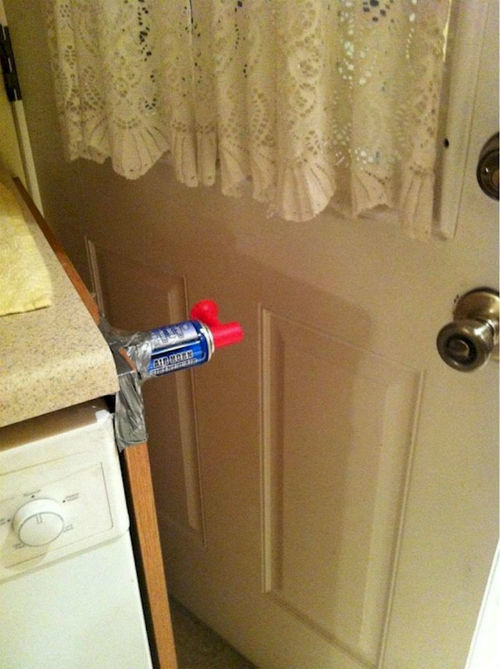 Notice: Posted with permission by the Ace Media Empire and AceCorp, LLC. Complaints? We don't accept them. ONT tips, loose change, drink tokens and burner phones to petmorons at gmail dot com. Better ONT Musical Interludes? Hit up Ace's tip jar.


posted by Misanthropic Humanitarian at
09:50 PM
|
Access Comments