« Wednesday Overnight Open Thread (11/20/19) I Forgot There Was A Debate Tonight Edition
|
Main
|
Mid-Morning Art Thread »
November 21, 2019
The Morning Report - 11/21/19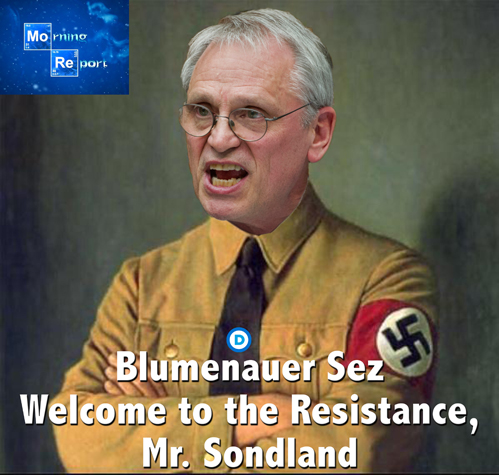 Good morning kids. Thursday and as the sham-peachment rolls on, the big news coming out yesterday was EU Ambassador Gordon Sondland's blockbuster testimony wherein he stated in response to Schiff-for-Brains, and I'm paraphrasing, that yes he believed that Trump did ask for some sort of quid pro quo with regards to aid money for Ukraine. Aside from the fact that the past few days of testimony of the Dems' own witnesses shot quid pro quo to hell and they then went on to bribery and extortion, that was enough for Schiff-for-Brains to halt the proceedings on the pretext of a bathroom break to dash out into the hallway where a gaggle of propagandists had their microphones and cameras rolling:
"The veneer has been torn away... This is a seminal moment in our investigation."
And the agitprop media went wild. Except when the Republicans started grilling him, he was forced to whistle a very different tune - namely the whole truth.
...Ambassador Sondland admitted that his conclusion tying the release of the withheld security aid to Ukraine to "some kind of action on the public statement that we had been discussing for many weeks" was only his own presumption, supported by no direct evidence. He conceded, in response to a question from Republican Rep. Mike Turner, that nobody told him that President Trump linked the Ukraine aid to a Biden investigation. "No one on this planet told you that President Trump was tying aid to investigations. Yes or no?" Rep. Turner asked. Sondland replied: "Yes." In a follow-up question, Rep. Turner asked, "So you really have no testimony here today that ties President Trump to a scheme to withhold aid from Ukraine in exchange for these investigations?" Ambassador Sondland replied, "Other than my own presumption." At another point in his testimony, the ambassador downgraded his "presumption" of a quid pro quo to "my own personal guess...
CNN actually had to change it's chyron of "Trump About to Be Arrested" almost in mid-sentence of Sondland's damning statement. But the real killer-diller here is Sondland recalled a meeting he had with Trump wherein the President specifically and unequivocally declared:
"I WANT NOTHING! I WANT NOTHING! I WANT NO QUID PRO QUO! TELL PRESIDENT ZELENSKY TO DO THE RIGHT THING!"
Jim Jordan, whose head I fully expect to explode at any moment over all the outrageousness of this madness, wanted to know why, in G-d's name, in Sondland's entire 23-page statement about the incident was this conversation - which is exculpatory in the extreme and completely exonerates Trump over anything he is being accused of vis a vis quid pro quo, bribery, extortion, picking his feet in Poughkeepsie, etc. - omitted from his testimony? And Sondland said, get this, there wasn't enough room in his report to include it. If I were Jim Jordan, I'd have leaped over the lectern, ripped Sondland's arms from his body and beaten Schiff-for-Brains to death with them (rhetorically speaking).
But, no matter. Schiff-for-Brains finally got a shred of an iota of a fig leaf of an excuse to declare he's got the goods on Trump and so as we speak the articles of impeachment are being drafted based on Sondland's testimony, minus the aforementioned of course. The Democrats are already attempting to spin all of this but of course are omitting, as is their wont when facts get in the way of the meme, the context around the conversations between Trump, Zelensky and all the players involved. Zelensky was elected to root out and end rampant corruption in his country from the previous administration. That gang of crooks it should be noted were up to their eyeballs in it and it involved the Bidens, Clinton, Obama and others that along with run of the mill goniffing of millions, players in that nation were part of the Russian collusion myth/plot to sabotage Trump in 2016. All Trump was trying to do was ensure that any aid going to Ukraine would not end up stolen and or pissed away as it was under both presidents' predecessors. That my friends is the kind of smart and 100% legal statecraft which is part of the platform Trump ran and won on. Devin Nunes, G-d bless him, was attempting to bring up this very issue and put things in context as well, citing a witness (can't recall his name, dammit!) who gave a sworn deposition to what I just related and that would've blown a hole the size of a $150 billion dollar pallet of case into Sondland's entire testimony. But of course Schiff-for-Brains would not allow him to testify.
My gut tells me that, like everything else, this too shall explode in their faces. Look, they are going to have a vote on impeachment no matter what happens and of course it will pass, but along strict party lines. Even after yesterday, the people are sick to death of this garbage because they are recognizing more and more that it is indeed an attempt to illegally oust Trump. Plus, if/when this gets to the Senate, the whole thing will bust wide open with witnesses that the Dems are desperate not to be called because it will not only debunk their case against Trump, it will reveal the original plot to overthrow him and put all sorts of people in the spotlight and jeopardy, at least in theory. Plus there is Horowitz and Durham, but AG Barr gave a speech the other day that only hints at his fury at the Democrats.
Lastly, it should be noted that Gordon Sondland and his wife have received threats and intimidation, as well as organized protests at some of the hotels that they own. In the center of this is a Democrat Congressman from Antifa City USA, aka Portland Oregon named Earl Blumenauer who openly called for boycotts, and then later emitted the not-so cryptic Tweet "Welcome to the Resistance." The Left went out of its mind with rage when Trump let out a Tweet about Masha Potatovich (Maria Yovanovytch) which was an absolute nothing-burger compared to this, which is bust-out in-your-face witness intimidation. Could that account for Sondland's behavior and the omission of the exculpatory evidence from his 23-page statement and his responses to Schiff-for-Brains? Well, given all we have seen from intimidating people in restaurants to doxxing personal information, to bike locks in the head to gunning down Republicans at a softball practice, I'd say it's a possibility.

Anyway, links from around the world, across the nation and up your street. Have a better one and remain blessed.
NOTE: The opinions expressed in some links may or may not reflect my own. I include them because of their relevance to the discussion of a particular issue.
ALSO: The Morning Report is cross-posted at CutJibNewsletter.com if you want to continue the conversation all day.
Follow us on Twitter: @CutJibNews


posted by at
07:17 AM
|
Access Comments