« Monday Overnight Open Thread (11/18/19)
|
Main
|
Mid-Morning Art Thread »
November 19, 2019
The Morning Report - 11/19/19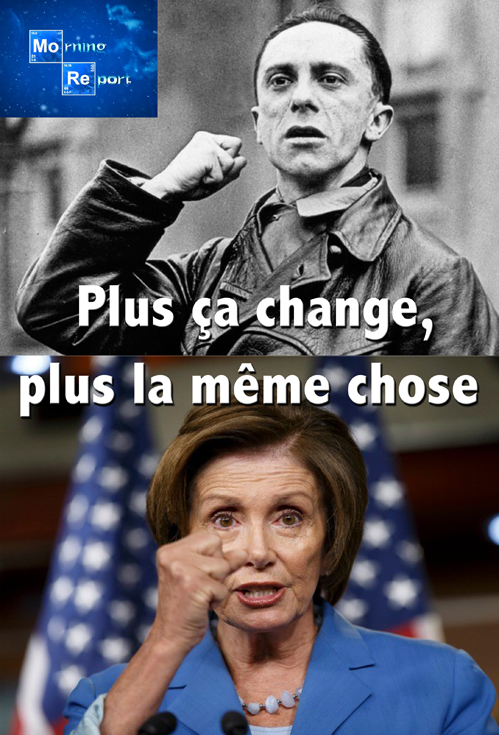 Good morning kids. Another day and another star witness who's going to blow this thing wide open and nail Trump. This time it's some career foreign service tool named David Holmes, the political officer at the US embassy in Ukraine who claimed to have overheard a phone call between Trump and ambassador Gordon Sondland the day after the crucial conversation between Presidents Trump and Zelensky that's at the heart of the drive to impeach. Aside from the fact that Holmes is yet another bureaucratic cog in the Deep State tyrannical machine, that he hates Trump and his foreign policy, and that his so-called damning evidence is based on copious notes he took of his colleagues remarks about the Presidents' call, he himself did not hear the call and in fact had been drinking when he heard the conversation between Trump and Sondland. Considering the fact that he offers nothing new, had been drinking and that the transcript of the call that got all this crap going has been released and is indeed "a perfect call," there is no there there.
But still they persist. Nancy Palsi, Schiff-for-Brains and the entire Democrat-Left-Media Complex is going to go full steam ahead for the next 51 weeks, despite the fact that it will absolutely destroy whatever illusion of a functioning political process America once might have had and permanently damage any chance of uniting what is now a deeply divided citizenry. No matter what the media claims, this is not playing at all well in Peoria. So tone deaf in their arrogance and haughtiness are the Dems that they think the American people are just too fucking stupid and inbred to understand quid pro quo, and are using focus groups to try and come up with simpler words for us filthy knuckle-dragging rubes to comprehend, like bribery and abuse of power. It doesn't matter what they call it; the American people by and large are not only not buying it but are coming to the conclusion that this entire thing is engineered as a means to persecute and illegally oust Trump. Some have even said, look, we're less than a year out from the election, so why not just let the people decide. This is where Palsi let's the strings holding up her face slip where she reveals much not only about how they feel about this election but how the Globalist so-called "elite" look upon their entitlement to power. We cannot take a chance on ignorant masses going against us like they did in 2016 (and '80 and '84 for that matter). It also not so subtly confirms what we have long suspected, insofar as elections, at least on a national level and sometimes at a state level are and have been a rigged game.
Other than that, the other major development is that Trump is hinting that he might agree to testify in the investigation. Like so many times before, I think he is calculating yet again to maneuver the Dems into another trap. Stay tuned.

Anyway, links from around the world, across the nation and up your street. Have a better one and remain blessed.
NOTE: The opinions expressed in some links may or may not reflect my own. I include them because of their relevance to the discussion of a particular issue.
ALSO: The Morning Report is cross-posted at CutJibNewsletter.com if you want to continue the conversation all day.
Follow us on Twitter: @CutJibNews


posted by at
07:11 AM
|
Access Comments