« Little Brian Stelter: Say, Now That Our Newest Coup Attempts Are Failing, Maybe It's Time to Dust Off Our First Coup Plan, Invoking the 25th Amendment
|
Main
|
The Morning Report - 11/20/19 »
November 19, 2019
Tuesday Overnight Open Thread (11/19/19)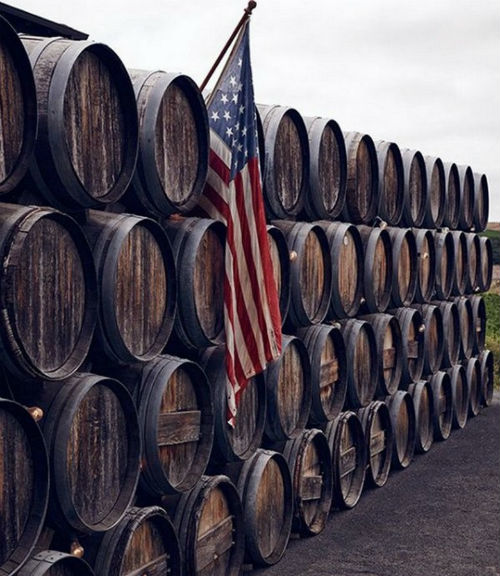 ***
THE QUOTES OF THE DAY

Quote I

"You know, sometimes politicians who are stuck in Washington, and don't take the time to get out, don't get out to where real people live and play and work, they lose touch with the reality of where the heartbeat of our country is," she told a crowd at a recent campaign rally. "The heartbeat of our country, it's certainly not in Washington, D.C. The heartbeat of our country is in rooms like this. In communities like yours all across this country, standing up and saying it is time now for our voices to be heard." Rep. Tulsi Gabbard (D-HI)

Quote II

People are excited about Buttigieg. He's fresh, he's new. He's gay. He's a serviceman. He served in Afghanistan. He's married, and a very, I mean unless you are a homophobe, he's married in a very traditional marriage, you know? Totally monogamous, and that should appeal to the silent majority, whoever they are. Joy Behar

Quote III

For generations, our community has been fed empty promises by Democratic candidates who pledged to fight for minorities and help the African-American community, only to ignore us after rising to power. Herman Cain

Quote IV

If a gay man doesn't want to have sex with someone who has a vagina and a lesbian doesn't want to have sex with someone who has a dick, they are not being transphobic. They're being — how shall I put this? — gay. Andrew Sullivan
***

Hillary Clinton Nacho President. And her "foundation" is hemorrhaging like the stuck pig she is.

This is evidenced nowhere more in the fact that the Clinton Foundation has gone from turning over a revenue of almost $400 million in 2013, to actually LOSING almost $33 million since Donald Trump wiped the floor with Hillary in 2016.

Newly released tax records show that the foundation reported a loss of almost $17 million in 2018, to add to the net loss of $16.1 million the previous year in 2017.

The numbers don't lie.

Total revenue reported for 2018 was just $30.7 million, less than a tenth of what was being pulled in While Hillary was Secretary of State.

So when does the Wicked Witch of The North East hit us deplorables taxpayers up for a bailout?
***

The first male birth control is going to hurt. Of course it is.

Would men endure a shot in the penis to prevent pregnancy? Indian researchers think so.

The Indian Council of Medical Research, a government-funded biomedical research agency, has successfully completed a clinical trial on an injectable male contraceptive, the Hindustan Times reported.

"The product is ready, with only regulatory approvals pending [from the government]," Dr. R.S. Sharma, senior scientist with ICMR, told the local news outlet. "The trials are over, including extended, Phase 3 clinical trials for which 303 candidates were recruited with a 97.3% success rate and no reported side effects. The product can safely be called the world's first male contraceptive."

The birth control method, which lasts approximately 13 years, involves injecting a polymer, called styrene maleic anhydride, into the vas deferens, effectively blocking sperm from leaving the testicles. The shot, preceded by a dose of local anesthesia, is designed to supplant a traditional vasectomy.

Which reminds me of the Far Side................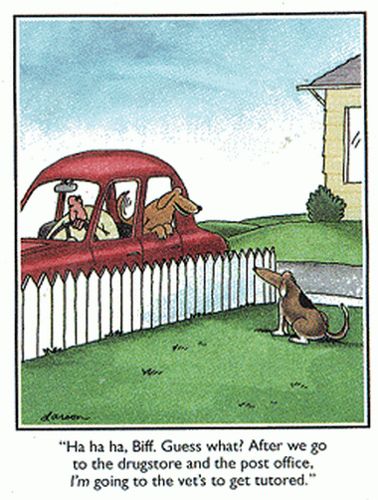 ***

Daily cannabis use lowers odds of using illicit opioids among people who have chronic pain

For those using illicit opioids to manage their chronic pain, cannabis may be a beneficial -- and a less dangerous -- alternative, according to new research from the BC Centre on Substance Use (BCCSU)
***
NASA is currently tracking three near-Earth objects (NEOs) due to fly past the Earth on November 20. Worryingly, two of the three were only spotted this past weekend, once again raising tensions over planetary defense.
The first of Wednesday's cosmic flybys and the largest, measuring 157.5ft to 360.8ft (48 to 110 meters) across, will be asteroid 2019 UK6, which will speed past at approximately 6.20am GMT (1.20am EDT). It is 2019 UK6 we had most prior warning about, as it was first observed on October 24.

NEO 2019 UK6 is an Amor asteroid, which that goes around the Sun and the Earth, occasionally, but very rarely, crossing Earth's path. Apollo asteroids, on the other hand, intersect with Earth's orbit as the planet travels around the Sun.
***

Protesters are planners. Who knew?

Right now: activists with @XRebelDC @ExtinctionR are taking supplements in preparation for an attempted hunger strike at Nancy Pelosi's office.

The #ExtinctionRebellion activists say they'll be demanding a sit-down meeting with Pelosi where they will push her on climate action.

The ONT's advice? 66 days of hunger strike will win you a good number of converts. Go for it.
***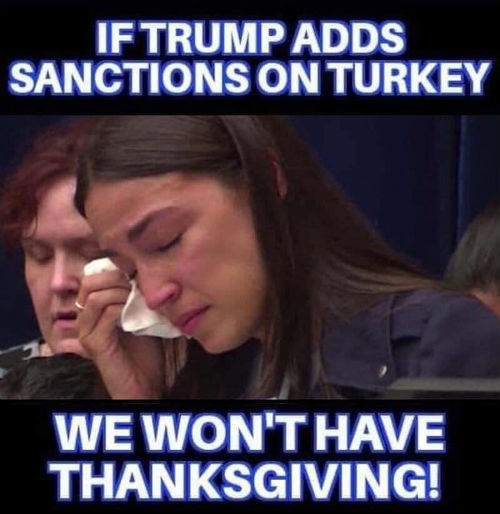 H/T chavez the hugo
***

Lost and found. Odd family reunion.

GLENS FALLS, N.Y. (CNN) After years of not hearing from a Glens Falls, New York, man, Rick Hazelton's family had him legally declared dead.


But a friend of Hazelton wanted answers and with the help of a detective was able to track down Hazelton.

He found out that Hazelton was not dead, but rather he had moved around the country.

"One day I got a letter in the mail that said, 'You're being investigated in a missing persons report.' And I thought, 'That can't be right, I'm not missing. This has gotta be a mistake,'" said Hazelton.

Hazelton says that cellphones and social media just weren't around back then and so he just fell out of touch with friends and family.

Now, 33 years later, he's back in touch with those who love him and is spending Thanksgiving in New York.
***

If you remove a GPS monitoring device on your car and remove it, are you a thief?

Back in 2012, the US Supreme Court ruled that it's illegal for the police to attach a GPS tracking device to someone's car without a warrant. But what if you find a GPS tracking device on your car? Can you remove it?

A little more than a year ago, the state of Indiana charged a suspected drug dealer with theft for removing a government-owned GPS tracking device from his SUV. This month, the state's Supreme Court began considering the case, and some justices seemed skeptical of the government's argument.

"I'm really struggling with how is that theft," said Justice Steven David during recent oral arguments.
***
Cookies & Cream, good stuff. Rocky Road, simply delicious. Insect chip and mint? Nope, not going to eat it.

Oh ice cream, how I love you! Sometimes ice cream just really hits the spot, especially when you've had a really long day or it's really hot outside. But have you thought about what's going to happen to food, and more importantly ice cream, when there is a boom in population? Experts estimate that there will be approximately 11 billion people on our planet by the end of the century. This in turn may lead to a severe food shortage. Scientists have mentioned before that we may need to rely on bugs in order to survive in the future. They're cheap and an easy protein that can help us get through the day. The Economist decided to take this to another level. We all know that bugs are full of protein, fiber, and even calcium. They are inexpensive and more sustainable than our typical animal proteins like beef. The Economist stated, "not having to look at bugs, and emphasizing the environmental benefits might make the idea of eating insects a bit more palatable." Well check out their recent experiment that was conducted in Canary Wharf in London.
***

"Well, Doctor, what have we got—a Republic or a Monarchy?"
"A Republic, if you can keep it."

The Council on American Islamic Relations (CAIR) recently held its 25th Annual Gala in Washington, D.C, in which CAIR's executive director announced a goal of pushing more Islamists into Congress. As the Investigative Project on Terrorism reports, CAIR's executive director Nihad Awad shares the "formula" he believes will secure Islamists greater political power:
***

Rolling Stone: Men Who Abstain From Porn Are Dangerous Alt-Righters

There's a scene in The Big Lebowski in which The Dude bitterly objects that the pornographer Jackie Treehorn, viewed by the local sheriff as an upstanding citizen who "draws a lot of water" in Malibu, "treats objects like women, man." Lazy, inarticulate stoner though The Dude may be, even he understands that porn is a shady business and that those who produce it are a detriment to society.

To read Rolling Stone, though, you'd think these people were providing a valuable public service. In a recent piece by EJ Dickson, the expert witness is Dr. David Ley, a "clinical psychologist and sex therapist" who "has partnered with the [pornographic] cam website Stripchat" to spread the word about "sexual health." The story also includes interviews with the vice presidents of two different porn sites, an embedded tweet about the supposed health benefits of chronic masturbation, and – to wrap it up – a "comforting message" from an "adult performer and director." They all want you to know that porn won't hurt you or anyone else. After all, everyone is watching it.

A segment on Trevor Noah's Daily Show takes it a step further, trotting out the same psychologist from the Rolling Stone piece to explain that porn and masturbation make "a lot of really good things happen in your body and your brain" and that "people who watch more pornography…are more feminist" and have "more egalitarian values." The correspondent responds with a joke – delivered without a trace of self-awareness – about how watching a 95-on-1 gang bang made him realize that "women have it so hard."
***

Sh!t happens. Unfortunately sometimes it takes many years for people to learn that.

Unfortunately, for Jake Mesar, the implications of his injury were a bit more severe — and yet, the implications of his lawsuit could have essentially ended youth sports as we know it if he had succeeded.

Yes, the repercussions of what happened were long-lasting and brutal. His lawsuit, however, was still insupportable and dangerous, something that would have been risible had the ramifications not been so serious. In the process, it cost a teacher years of his life in a courtroom as well as his reputation.

In 2012, according to NJ Advance Media, middle school teacher John Suk, coaching the junior varsity baseball team at Bound Brook High School in New Jersey, ordered Mesar to slide into third while his team was leading 6-0 in a game at Gill St. Bernard's School in order to stretch a hit into a triple. Mesar would roll his ankle, which ended with a serious break.
***

Should medical patient confidentiality rules apply with parents and their children?

A woman who was not informed that her father had a fatal, inherited brain disorder has told the High Court that she would have had an abortion if she'd known at the time of her pregnancy.

She is suing three NHS trusts saying they owed a duty of care to tell her about her dad's Huntington's disease.

Any child of someone with the condition has a 50% chance of inheriting it.

Doctors suspected the diagnosis after her father shot dead her mother and was detained under the Mental Health Act.

The father tested positive for Huntington's Disease, which is caused by a faulty gene and leads to the progressive loss of brain cells, affecting movement, mood and thinking skills. It can also cause aggressive behaviour.

He told doctors he did not want his daughter told about his diagnosis, fearing she might kill herself or have an abortion if she found out.
***

Australia is a mighty generous country.

An Iranian man seeking asylum in Australia botched his DIY penis enlargement procedure — and was granted entry to undergo pricey reconstructive surgery on taxpayer dime, according to local reports.

The man in his 30s, who wasn't publicly named, tried to grow his member by injecting himself with palm oil and fell seriously ill, The Australian reported on Sunday.

He was transferred from an immigration detention center in Papua New Guinea to Australia last month for medical treatment that could cost up to $10,000, according to the outlet.

The transfer was made possible under Australia's controversial 2019 Medevac laws, which give doctors a greater say as to which sick refugees can come into the county from offshore detention centers for medical treatment. Medical evacuations can be refused on national security grounds.
***
THE ONT MUSICAL INTERLUDE
On this day: 19 Nov 1937
Ray Collins, vocals, Frank Zappa band. Collins was the lead singer on the band's first two albums: Freak Out! (1966), and Absolutely Free (1967). Collins died on 24th Dec 2012. via thisdayinmusic.com
&&&
On this day: 19 Nov 1964
The Supremes became the first all girl group to have a UK No.1 single when 'Baby Love' went to the top of the charts. Written and produced by Motown's main production team Holland–Dozier–Holland, it was also the second of five Supremes songs in a row to go to No.1 in the United States. via thisdayinmusic.com
***

What part of strip search don't you understand? Genius Award Winner.

Following his arrest for possession of a hypodermic needle containing methamphetamine, a 380-pound Florida Man was hit with additional felony charges after jail personnel discovered a bag of meth "wedged deep within the belly button cavity of the defendant," according to a court affidavit.

Police responding late Friday to a suspicious person call placed by employees of a McDonald's in Clearwater arrested Martin Skelly when a search of the 41-year-old St. Petersburg resident turned up the loaded needle.
***

It might be a bit dusty in here. Tonight's Feel Good Story of The Day.

On Nov. 17, the parking lot of Six Flags in St. Louis, Missouri, was packed with a fleet of brightly colored sports cars. Vehicles of all makes and models — but especially the fastest and most vibrant — waited for the word, and then they all started lining up and proceeded to the funeral of a 14-year-old boy.

Alec Ingram of Washington, Missouri, was diagnosed with osteosarcoma in 2015, and for the past four years has fought bravely against the disease.

A Facebook page called Alec Ingram's fight with Cancer was set up to keep people informed on his progress. They got updates of successes and setbacks, and the post received scores of comments from prayer warriors and well-wishers who all wanted Alec to overcome osteosarcoma.
***

Tonight's ONT has been brought to you by DIY Snow Plowers.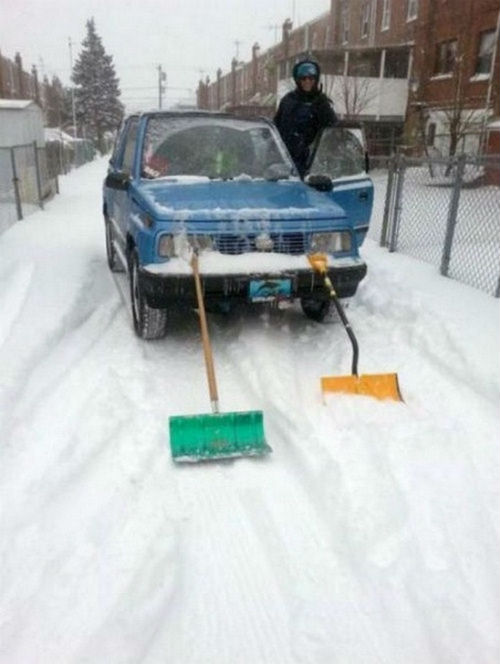 Notice: Posted with permission by the Ace Media Empire and AceCorp, LLC. Warning CA Morons see special order form for details.

posted by Misanthropic Humanitarian at
09:57 PM
|
Access Comments