« Saturday Afternoon Chess Thread 11-16-2019
|
Main
|
Saturday Overnight Open Thread (11/16/19) »
November 16, 2019
The Occasional Fishing, Hunting, Rugged Outdoors Thread, Prometheus Edition [Bandersnatch]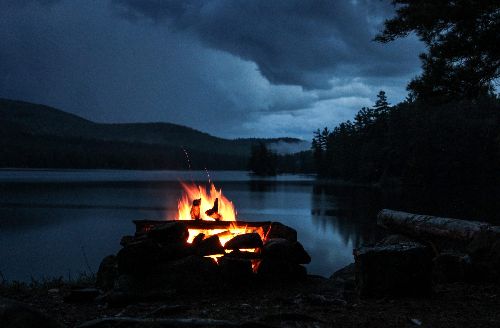 No, not that Prometheus, that's the obsession of another deranged and deluded occasional Saturday evening host who is deranged and delusional. I'm talking about fire. We're going to sit around this campfire and talk about campfires. And fishing and hunting and camping and such.
Welcome Piscators and Piscatrixes, Nimrods and Nimrettes, and pyromaniacs of all genders to the current installment of the occasional fishing and hunting and other wholesome outdoorsness thread.
This started a few weeks ago when I was having beers with a guy at a place that had comfy benches and a fire pit out back. The proprietor was just throwing lumber in the pit and dousing it with lighter fluid – which is morally and aesthetically wrong – but it was a fire on a Fall afternoon and fires are conducive to talking. So we talked about fires and their proper construction and maintenance. "How many pieces of newspaper do you use for tinder?". "Well, assuming we're using matches you are one-match-only, right?". "One match? One point of ignition". So I had met a fellow fanatic and we agreed that something as important as fire was worth arguing about and maybe even a post.
Staring into a fire is an ancient human experience. I can't help but think that the feelings and conversations evoked by a campfire are the same as they've always been. A young fire dances and licks. The mature fire roars in the night. The end of the night fire settles in to coals and glowing and quiet rumination. You stare at a fire and you think. If there are other people around the fire you might talk. The conversation will be different from that at a clean well-lighted place.
Beowulf, I'm certain, was recited around camp fires.
Now, it's possible for a passion to become self-destructive, especially in the hands of a gifted self-destructor. I was on my way to a camping trip with a girlfriend. This was an extraordinarily attractive woman with a deep hold on my psyche, and she's also a Girl Scout den mother and camping afficionado. She got to the campsite first and texted me pictures of a gin and tonic, an exposed breast, and the fire she had built, all waiting for me. This is a near perfect set of expectations. And when I got there I was so fussy and controlling about poking the fire that she nearly broke up with me right then. I'm an idiot.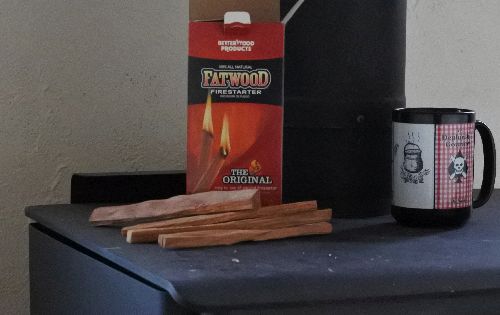 I would like a ruling on this. Is this cheating? Fire is made in three stages: tinder, kindling, and fuel. You can't light fuel (the log) directly, each stage has a low ignition point and burns up to a higher temperature. There are chemical log products which can be lit with a match, but these are haram. It is known. This fatwood claims to be all natural, it is just pine kindling with a ridiculous amount of sap in it so that it will match light. I think I'll start keeping some in the truck and in a backpack for emergencies, but it still seems somehow wrong.
I'm heating my lair entirely with wood this season and I'm enjoying the ritual of coming home and making the fire first, before I log on and see what you yobbos are up to.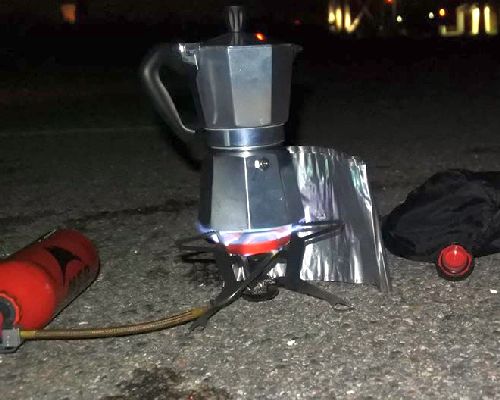 The other kind of fire at camp is the controlled cooking fire. I used to use propane cylinders and a Coleman stove, but I was introduced to the white gas Whisperlite stoves by the Mad Croatian. I learned much from him, like always put the overhead tarp up first and the importance of the J-stroke, but the Whisperlite might be the best. There was a thread here years ago where some people were saying that there were better options. I don't remember what they were supposed to be and I hope everyone who said so has been banned.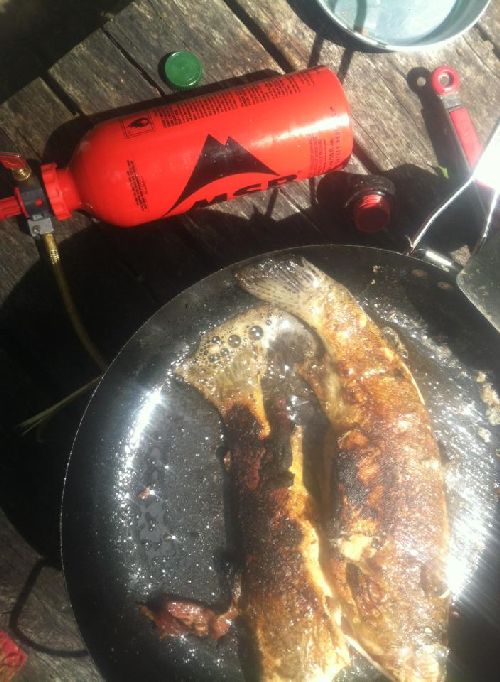 This is still a fishing thread. That is a brown trout (salmo trutta) and a rainbow trout (oncorhynchus mykiss).
I have asked for camp fire pictures and the only related entry was a camping picture from the estimable Nurse Ratched. That means she's better than you.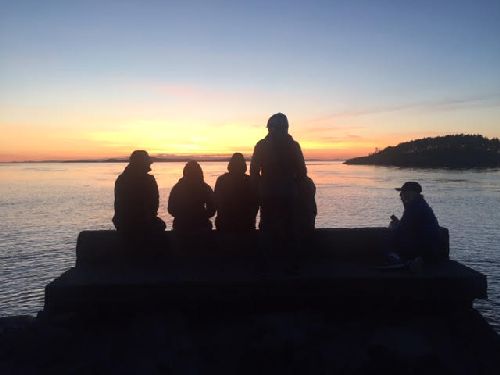 It's my boys, my Goddaughter, her parents and another friend. We've camped together since the adults were in high school. We first took the kids backpacking when they were babes and had to be carried. Deception Pass is one of our favorite car camping spots. On that particular trip, it was springtime and we saw three or four whales swimming by. It was amazing.
This comes from a lurker named JJ (not our JJ with the Godfather quotes).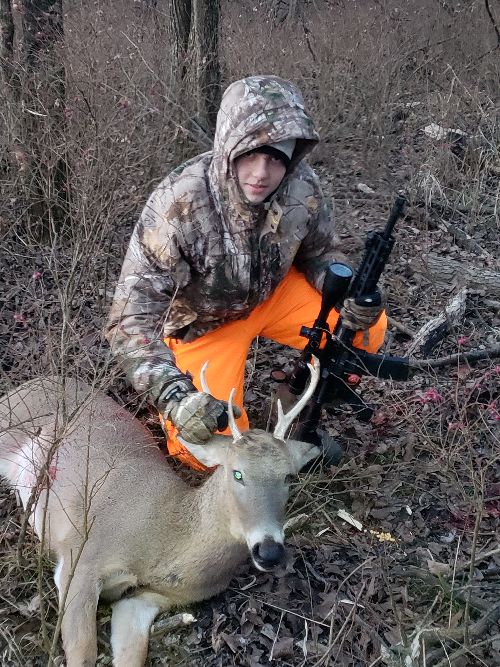 Long time lurker, just wanted to share a picture of my son(age 14) with his first deer. Looking forward to this season. I have never commented on the site but try to check at least couple times a day. Loved the pic of the young lady with her deer and wanted to share my son's progression.
Now, this has to be the most shameful non-submission in fish thread history. It's from fluffy.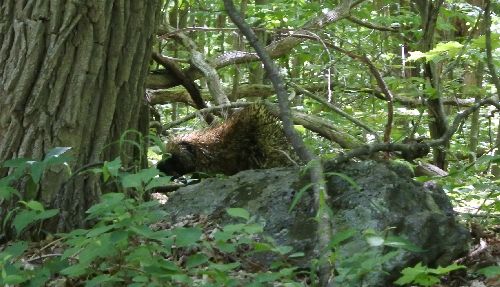 One of our infamous members (Soothsayer) announced that he had never seen a porcupine in the flesh. I would like the offer some photos and narrative to share with the Horde on the fishing/outdoors thread.

If you are interested, I can write up the occasion when I was nearly trampled by a stampede of love crazed male porkies.
That is not a picture of a love crazed porcupine trampling fluffy. It's a picture I took of a porcupine because it was so interesting to see one that was not splatterated on a roadside. I'm using it here because despite a couple of messages back and forth, fluffy did not write up this encounter. Shame on you, fluffy!
And with that we move on to the raison d'etre of this here HQ, the comments section. Brickbats, praise, and fish brag pics are welcome at aoshqfish at sign gmail thing.

posted by CBD at
09:00 PM
|
Access Comments