« The Legend Of Moon Moon ONT
|
Main
|
Mid-Morning Art Thread »
November 15, 2019
The Morning Report - 11/15/19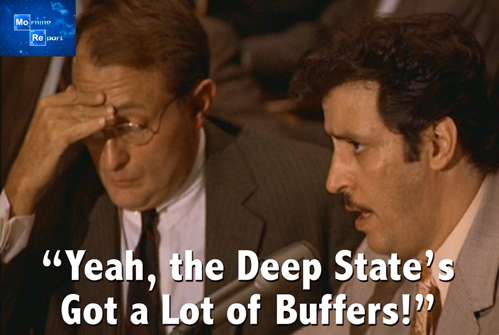 Good morning kids. The weekend is here and after the unmitigated fiasco of Wednesday's day one of the sham-peachment public hearings, day two is on tap for this morning. After vomiting up two dried hairball witnesses who offered neither anything new nor damning, today's super-duper-star bearer-of-false-witness is former ambassador to Ukraine Marie Yovanovitch, who IIRC was fired by Trump. The official propaganda on this broad is that she is an honest-as-the-day-is-long, hard-working, upstanding professional and that Trump axed her to cover up his crimes. The fact is, she is a highly partisan Leftist Deep State hack who worked to sabotage the President at every turn. From last April in Red State:
...Ukrainian Prosecutor General Yuriy Lutsenko and Deputy Head of the Prosecutor General's International Legal Cooperation Department Kostiantyn Kulyk must feel like invisible men.

They believe they have solid evidence that ties American Democrats and officials in the Ukrainian government to 2016 election interference and the obstruction of criminal probes, yet no one will pay attention to them...

... [The Hill's John] Solomon says that Lutsenko and Kulyk have been trying for a year to present their evidence to officials at the Sessions/Rosenstein led DOJ, however, not a single official they've contacted has shone any interest in pursuing the claims.

The men then decided to travel to the U.S. to speak with new Attorney General William Barr directly about their findings.

However, their attempts to obtain visas have been thwarted repeatedly by U.S. Ambassador to Ukraine Marie Yovanovitch, a highly partisan Democrat. Kulyk told Solomon, "We were supposed to share this information during a working trip to the United States. However, the [U.S.] ambassador blocked us from obtaining a visa. She didn't explicitly deny our visa, but also didn't give it to us..."
It should also be noted that diplomats serve at the pleasure of the President. Just as he dictates foreign policy, at least in theory and regardless of what the Dem-Media Complex claims, he has the right to hire and fire as he pleases for whatever reason. I fully expect Schiff-for-Brains to be banging his gavel so hard and fast at Jim Jordan and John Ratcliffe, it'll sound like John Bonham, Buddy Rich and Chick Webb doing throuple paradiddles. Then again, maybe he won't interrupt them in the hopes that their tough questioning will make them look mean, just as the Dems attempted to do with Ballsy Ford. Let's face it; the only thing Yovanovitch brings to the table is a talent for plucking nose-hairs so as to induce her tear ducts to secrete photogenic and sympathy-inducing imagery for the public to swallow, That is, if the public has the decency to cooperate by actually watching the hearings. They won't; the opener was a ratings disaster. And the Dems can thank their lucky stars for it considering the testimony from Tweedle-Dee and Tweedle-Dum on Wednesday actually helped Trump.
So, if today is anything like Wednesday, Nancy Palsi is going to stroke out. She has somehow got to find a way to pull the plug on this or else face what is sure to be an electoral disaster for the Dems next November. That said, all things considered, I don't think she can, given the build-up to this for the past three years. And then there was the news yesterday about both the Horowitz and Durham investigations about to finally drop. Stay tuned...

Anyway, links from around the world, across the nation and up your street. Have a better one and remain blessed.
NOTE: The opinions expressed in some links may or may not reflect my own. I include them because of their relevance to the discussion of a particular issue.
ALSO: The Morning Report is cross-posted at CutJibNewsletter.com if you want to continue the conversation all day.
Follow us on Twitter: @CutJibNews


posted by at
07:13 AM
|
Access Comments