« Monday Overnight Open Thread (11/4/19)
|
Main
|
Mid-Morning Art Thread »
November 05, 2019
The Morning Report - 11/5/19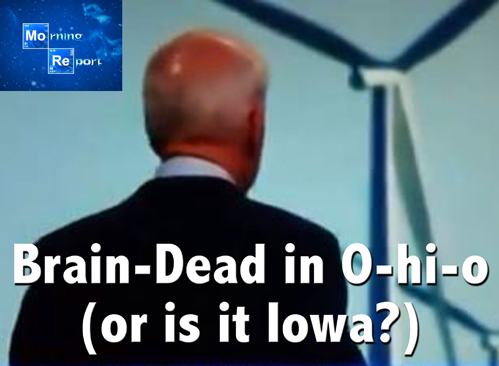 Good morning kids. Tuesday, and it's Election Day in some places so go to the polls and derail the Left as best you can.
I'm going to lead with the original coup against the President since there seems to be more things concerning that than the closely related impeachment follies, so here we go. Since what fuels the insurrection is this vast gaggle of informants, plants and outright traitors working from within the administration itself, the DoJ (at least the leadership since many of the aforementioned are buried in there) is taking steps to out this "anonymous" subversive who is urging insurrection from his fellow bureaucrats. At the same time, this insect is making money off of his crimes with a tell-all piece of agitprop. Nice work if you can get it, right Comey? The good Roger Simon echoes our sentiments for full sunshine to disinfect this cancer. We already know that this Eric Ciaramella fraud is more than likely the whistleblower, despite the media's game-playing in not mentioning his name. The maddening thing is that there are laws protecting his whistleblower status and so he can't be fired, which is ridiculous on the face of it since his documented actions of going to Schiff-for-Brains first and not the IG prove he's a political operator and as such not protected by those laws. Meh, go tell it to the Marines.
Meanwhile, Margot Cleveland informs us that Stefan Halper worked directly with WaPo agitprop stenographer David Ignatius as his CIA source for leaks, as new filings in the Flynn persecution dismantles the government's "case" against him. Lastly, infuriating as all of this is, Lee Smith's book, which really is the go-to chronicle of what is without doubt the most horrendous political crime in American history is sure to make your head explode.


CLINTON/OBAMA COUP, CONGRESSIONAL PERSECUTION, SPYGATE, DEEP STATE, MUELLER DECEPTION

Anyway, links from around the world, across the nation and up your street. Have a better one and remain blessed.
NOTE: The opinions expressed in some links may or may not reflect my own. I include them because of their relevance to the discussion of a particular issue.
ALSO: The Morning Report is cross-posted at CutJibNewsletter.com if you want to continue the conversation all day.
Follow us on Twitter: @CutJibNews


posted by at
07:15 AM
|
Access Comments