« If It Sounds Too Good To Be True. It Usually Is.
|
Main
|
Gun Thread: PSA: Winter is Coming, is Your S#!t Lubed? [Weasel] »
November 10, 2019
Food Thread: Good meals Are As Close As Your Refrigerator's Remainder Bin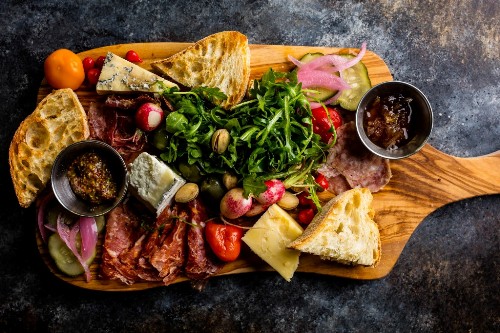 The older brat loves this sort of thing: meats and olives and cheeses and other little munchies, all served with some dipping oil and a few slices of good bread. And I can't say that I blame him, because it really does hit the spot, and it sure looks good on the table.
But you don't have to fly in the stuff from the best salumeria from Italy or Spain. And that's for a couple of reasons. The first is that if you want high-end stuff, there are enough fantastic producers in America that it will be stylistic differences rather than qualitative between us and them. But the second is just as important...plain old deli meats from the supermarket case are pretty good. Not great, not ethereal, not mind-boggling, but good enough for a satisfying meal, that doesn't break the bank and doesn't require you to do much more than pillage the refrigerator for the odds and ends that most people have.
A chunk of cheddar, some crusty bread, slices of salami, and maybe some pickled vegetables, and you are all set. So pop open a can of beer with your church key, plop yourself in a comfy chair with a good book, and enjoy!
Good meals don't have to be defined by what you had when you were a kid. Five or six or twelve little plates of fun stuff is a real pleasure, and it seems as though the smaller portions makes for a more relaxed meal, and maybe even more lively conversation. That's assuming you want to talk to your guests or wife or kids or dog...
******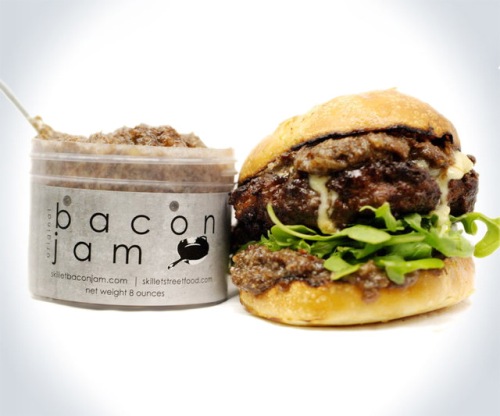 I was watching some food show (DD&D?) a few days ago and saw a particularly attractive burger that had been liberally smeared with bacon jam.
There's nothing particularly complicated about it...just bacon and maybe something tart and some caramelized onions or shallots. But all of the photos I could find looked like cat puke...thus the commercial photo. I'm not plugging that brand; for all I know it tastes like cat puke.
Here's David Lebovitz with a stripped-down version. I would add caramelized onions and go to town!
******
What's the Difference Between Ragù and Ragout?
It is a question that I have never contemplated, but it's interesting!
[Hat tip: artisanal 'ette]

******
I love caramels. I really love salted caramels. And if I can ever figure out how to coat salted caramels with dark chocolate and not get extra chocolate on the ceiling and the floors and in my hair and...I will be a very happy Dildo,
This sounds like a pretty good recipe, and the writer is not one of those perfectionist candy makers who sneer at us normals.

******
From commenter "Top.Man."
Hot Buttered Rum

Autumn is here, and our thoughts turn to raking leaves, logs burning briskly in the fireplace, and tasty hot beverages. Here's a recipe for a drink most people have heard of, but never actually tried.

As with all fine cocktails, there's a trick to it. Butter and booze don't mix without some persuasion. In this case, some simple prep is required. The results are spectacular. By the way, this recipe is attributed to Trader Vic himself.

We start by making:

[u]Hot Buttered Rum Batter[/u]

1/4 lb. (1 stick) unsalted butter, softened
2 1/2 cups brown sugar, packed
1/2 tsp. ground cloves
1/2 tsp. ground nutmeg
1/2 tsp. ground cinnamon
pinch salt

Beat sugar and butter until creamed. Beat in remaining spices. Transfer to an airtight container and refrigerate.

[u]Hot Buttered Rum[/u]

Add 1 heaping teaspoon batter to 1 1/2 oz. rum in a heavy mug. Top with HOT water. Stir until batter is dissolved. Garnish with a cinnamon stick (optional).

That's it! Use a decent quality rum - Appleton Estate Signature or similar. No, the hot water will not cause the alcohol in the rum to evaporate, that's a myth.

I like this recipe, because it can be made ahead of time and just portioned out when your horrid family descends upon your home and you have to get them drunk so their punches are badly aimed and they just fall down.
******
Curry is great! And yes, I know that it is a catch-all word, but that doesn't detract from its deliciousness. But I rarely make anything with curry powder or the 19 spices demanded by classical Indian cooking. And I don't know why, other than stupidity.
Indian cooking is divine. The last Indian meal I had was in London, and it was spectacular. Wonderful and inventive dishes with fascinating flavors and textures, and what they did to lowly vegetables was magical!

******
This isn't a recipe. It's just winging it with some basic concepts, and it is easy to learn if you have any interest in cooking.
I made some stuffed chicken breasts, and because the chicken was on sale I bought a big package, and didn't want to make that much of the dish. So I cut the rest of the chicken into big chunks (two bites each), tossed them with some olive oil, salt and pepper, and Sous Vided it along with the other dish. So I was left with a couple of pounds of perfectly cooked, lightly seasoned chicken.
What to do when we needed a quick dish after a late night? Grab some grape tomatoes, slice them in half, and saute them in a bit of olive oil. Then rummage through the freezer because didn't I toss a bag of frozen artichoke hearts in there about five years ago? Nuked the artichoke hearts and tossed them in with the tomatoes (and got splattered because they were a bit wet) and cook until they start getting some color. Increase the heat to high and toss in some of the chicken that I cut into more manageable bits. After the chicken was warmed, I deglazed with a splash or three of white wine, then boiled that down by half and finished with a knob of butter. Yes, a knob. I have always wanted to write that! Cooked on high until the liquid was evaporated and coating the food.
It was undersalted, but that was the only problem. It was really good, really quick, and required just a bit of cooking experience and a few minutes of attention.
Cooking doesn't have to be complicated or take forever or require fancy tools (I could have poached the chicken or roasted it).

******
Food and cooking tips, Castelvetrano olives with a sprinkle of chili flakes, young wild pigs, crisp bacon (although I am moving toward less crisp), thick and fluffy pita, and good tomatoes that aren't square, pale pink and covered with Mestizo E.coli:
cbd dot aoshq at gmail dot com
. Any advocacy of French Toast with syrup will result in disciplinary action up to and including being
nuked from orbit.
And yes, shaking a Manhattan is blasphemy...it's in the Bible!
&topic=world_news">

posted by CBD at
03:45 PM
|
Access Comments