« Mid-Morning Art Thread
|
Main
|
Democrats Are Running the Exact Same Playbook in Russia Hoax 2.0 as They Did in Russia Hoax 1.0, Now Demanding (Stop Me If You Heard This One Before) That Trump's Attorney General Must Recuse Himself »
October 30, 2019
The Morning Rant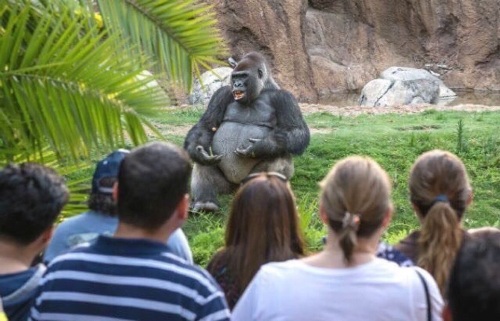 "Nancy Pelosi has said there's going to be a vote on impeachment. You mean the whole House is going to have a vote on whether to impeach Donald Trump and then send it to the Senate? Well, no. It's a vote on an impeachment *inquiry*. But wait, you ask, isn't that what they're doing now? What's going on with all this hush-hush folderol going on in the SCIF room? You know, the one that the human cockroach Adam Schiff skulked out of when the Republicans came in.
(speaking of which, I love the media reports saying that the Republicans 'stormed' the SCIF room. From that description, you'd think they went in with guns blazing after smashing the door open with a battering ram. But no, I saw the video, and they just kind of sauntered in at a slow walk).
"But getting back to my main point what this vote actually does, Pelosi says it merely "formalizes" the inquiry. Oh, OK. Not sure why you need to do it. The Democrats control all of the committees, seems to me they can just conduct any proceedings they damn well feel like.
"But I think Nancy is deliberately slow-walking this thing. The last thing she wants is an impeachment vote. Because not only will it fail (and I think she knows this), but Republicans will then be able to take advantage of the due process rules and start submitting evidence and calling witnesses and when that process starts, a bunch of Democratic malfeasance is going to bubble up to the surface (cough)Hunter Biden(cough) and that's the last thing they want.
"So they're just going to put up some resolution to consider to discuss the possibility of talking about a plan to move forward with an investigation as to whether to proceed with the impeachment inquiry and nothing will happen, but it won't go away, and Pelosi is probably hoping to string this out past the election to see if they can pick up more seats in the House, or flip the Senate. If that fails, the 'investigation' will be continued in whichever way they think it will damage Trump the most."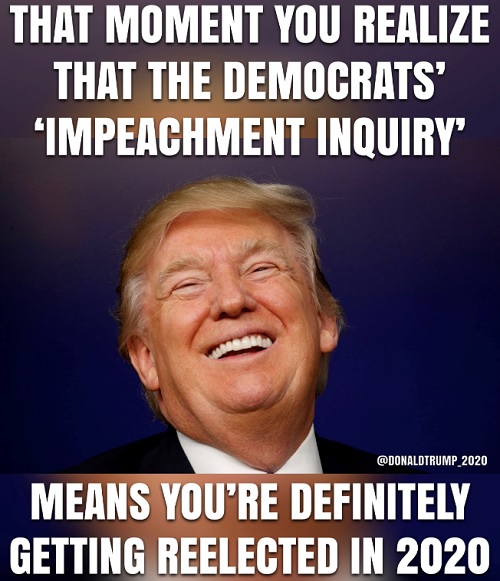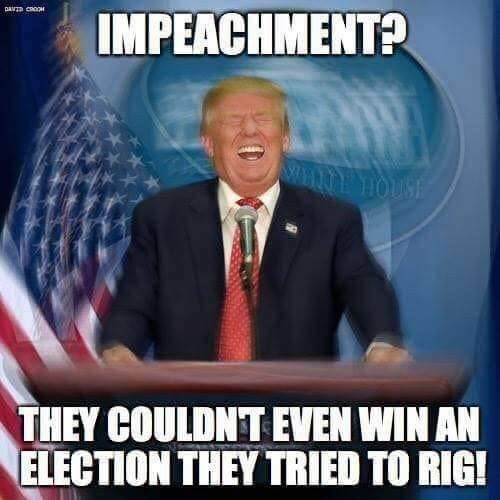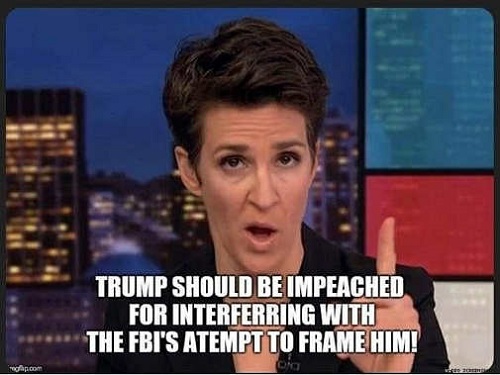 Democrat Delusions: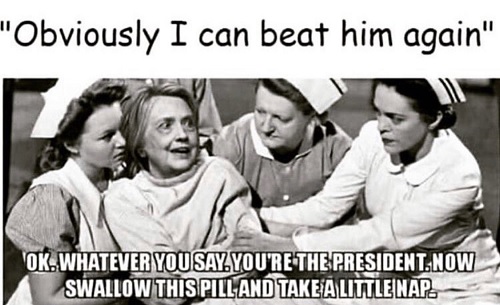 Celebrating Americans Who Are Making America Great Again:



Would Any Jury Actually Convict Him?


Who Dis: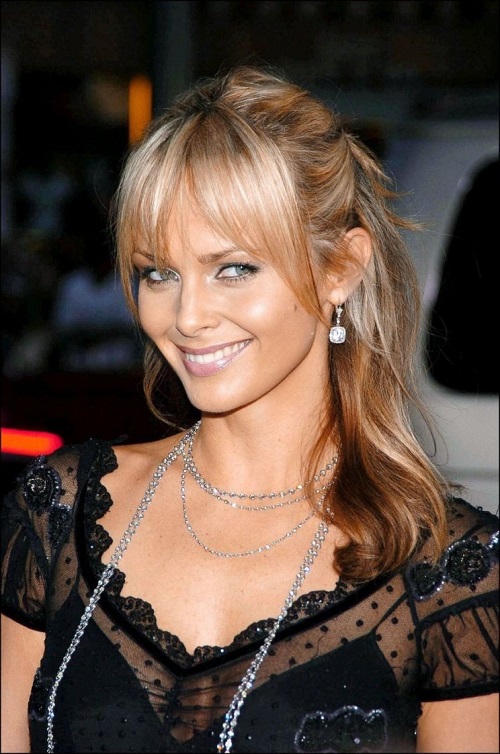 Photo 2
Photo 3
Photo 4


For the 'Ettes: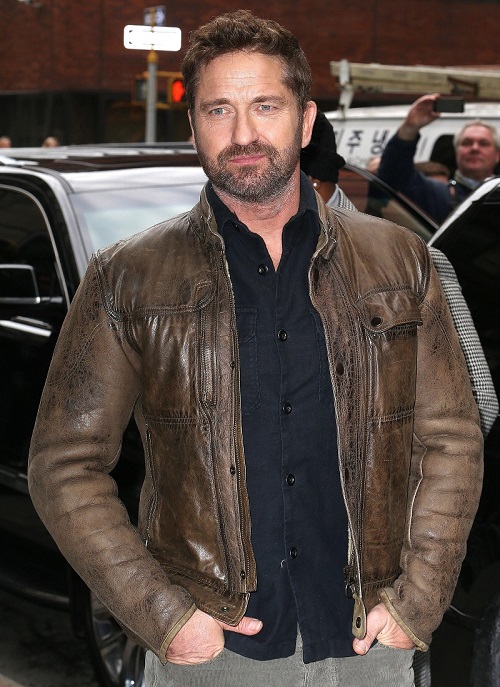 Photo 2
Photo 3


Monday's celebs: I remember seeinng Anna Maria Alberghetti in TV commercials where she'd be announced like: [Voice-Over]: "And now, here's Anna Maria Alberghetti for Good Seasons salad dressing", and that always irritated me, because it was just assumed you knew who she was, and I had no idea. I had never seen her before. She was mainly a singer, and, according to her wiki page, a bit of a child prodigy. She did some stage work (winning a 'Best Actress' Tony Award in 1962) and was in a handful of movies, including one called The Last Command, along with actor Sterling Hayden, a rat bastard commie who repudiated being a rat bastard commie when they hauled his ass up before HUAC, and then later on, repudiated his previous repudiation.


AoSHQ Weekly Prayer List
Please submit any prayer requests to me, "Annie's Stew" at apaslo atsign hotmail dot com, as I will be filling in for Fenelon Spoke on the prayer list, for the next 1-2 months while Fenelon recuperates. If you could include the words "prayer request" in the subject of the email, that will help me distinguish it from spam emails.
If you see a prayer request posted in a thread comment, please feel free to copy and paste it and email it to me.
Updates and new requests:

9/25 - DMB asks for prayers for Amelia, who was just diagnosed with cancer.

10/2 - vmom asks for prayers for "my daughter KTE, for health and anxiety issues, and that she may find a good opportunity in her field".

10/9 - West asks for guidance for the family of a friend named Hilary, who is near death from cancer. He asks for easing of suffering for Hilary, and an easy entry into the arms of God.

10/9 - West asks also for healing of 2 broken vertebrae, a broken rib, and an assortment of contusions after his motorcycle accident, and thanks God that there was no permanent damage!

10/23 - HB requests prayers for "Tikvah" for healing from serious infection of diabetic foot wounds.

10/24 - Cybersmythe requests prayers for his son, who is scheduled to have brain surgery on November 20 to ease his seizures.


Praise reports:

10/17 - sock_rat_eez sends thanks for all the prayers! His pre-surgery tests went well and he is hoping for the same for the mid-November tests, so surgery can take place before Christmas!


Requests for continued prayer:

For healing from cancer:

- OldDog'sinMo's wife, Slapweasel (also for an organ donor) and strength in caring for elderly parents with have memory and other issues, Cheribee, also Tami's daughter, Circa's brother,

- VNRedLeg, Scott M., Fox 2!'s friend, Mary Beth for healing from bladder cancer, Mother of a co-worker of Josephistan , Rickl-healing from cancer-he has an additional lesion and numbness in back area, Suzanne's friend Kevin-told that he has six months to live-is praying for a miracle.

- For Laura who has metastastic breast cancer and told she has 3 years to live. Flounder's MIL, continued healing from cancer.

9/25 - Update from VNRedLeg - "Still on Luprin for my cancer. 9 weeks of radiation begins in Dec. Next PSA and blood tests 1 Nov. In the meantime had surgery for a distal bicep tendon tear (R arm) and emergency eye surgery for vitreous hemorrhage (R eye). Very grateful for your prayers!"

Other continuing health issues and requested prayers for healing:

- Fixeupperupper's mothers-kidney function.

- Michelle's son- continued recovery from car accident.

- Sock_rat_eez, thanks that recovery is going really well, the medical guys have released me from treatment for the dangerous embolisms that occurred during my emergency surgery back in February, so the path is clear to the next step; the surgical team wants a colonoscopy to get a look at things in there before the reversal. Nothing scheduled yet, but hopefully soon.

- USNTakin and wife-he asked particularly that she have relief from pain, but strength and relief from pain for both of them.

- For Allison- in her 30's-for complete healing after a stroke after having a baby.

- For healing for Josephistan's mom who has difficulty with daily tasks and is anxious and withdrawn. Also strength for him caring for his mom as he is alone in doing this. Help in finding a caregiver. He also needs job help.

- Hrothgar's SIL, for diabetes related neuropathy.

- Poster ET going through a difficult time.

- Beltway Elite's mother-recovery while in recovery from stroke.

- Hrothgar's friend, a hospice counselor who needs healing after being affected by fumes from muriatic acid.

- Healing for Blaster's son who has issues with depression.

- 10/17 for continued blessings on sock_rat_eez' medical condition and care.

- 10/17 LR has pneumonia, and could use prayers for healing.

Job needs and concerns:

- Emperor County Boy asked for prayers for wisdom and guidance and direction in his job search and in other areas.

- Donna&&&& needs FT job in areas of expertise

- PDX Republican needs sedentary PT job.

- Hadrian IV is looking for new job and has Skype interview, today I believe.

- Insomniac has been in touch with a company about receiving some work in his field. Please continue to pray for him in this endeavor that this does indeed work out for him as there have been many false starts and dead ends.

- Anonymous poster needs prayers for more work and rough places made smooth.

9/25 - HobbieHawk asks for "direction, guidance, & courage to get some work since my savings is depleted since I was laid off." Also requests help related to anxiety and desperation, and sends thanks to all for thoughts and prayers.

Wednesdays are days in which mothers in the horde and anyone else says special prayers for children of horde members. Please include the grandchildren as well.
Please note: Prayer requests are generally removed after five weeks or so unless we receive an update.
This in NOT because we don't care; It's simply because of lack of space. Updates as well as thanks for answered prayer and new prayer requests are always welcome. Please feel free to copy requests which you see on the board and send them to apaslo@hotmail.com. I won't know unless someone tells me! Thank you and God bless!
Please remember the Prayer of St. Francis:
http://www.prayerguide.org.uk/stfrancis.ht


Today's Edition Of The Morning Rant Is Brought To You Mixed Berry Cream Cheese Crepes: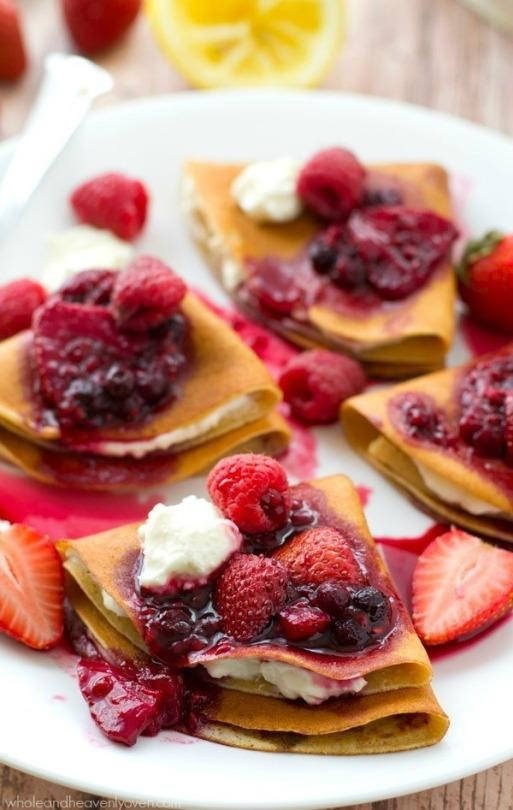 posted by OregonMuse at
11:14 AM
|
Access Comments