« The Liberal "MSNBC Republican" Washington Examiner Breaks the Sacred Journalistic Rule, Printing OFF THE RECORD Comments and Then Lying About It to Get Twitter Clicks and Maybe Some Liberal Media Gigs
|
Main
|
John Durham Has Reclassified Russian Hoax Inquiry as an Official DOJ Criminal Investigation »
October 24, 2019
The Soyciety Page: "Judge Nap" Shows Himself to be a Bluffer and an Incompetent Yet Again
Shitty, incompetent I Play a Lawyer on TV "Judge" Napalitano gets another big legal claim wrong.
Napolitano claimed that Boehner, when Speaker, had changed all the rules of impeachment to allow what his liberal and libertine friend Adam Schiff is doing.
Um, no, John Boehner just said. I changed one thing and one thing only and it had nothing to do with impeachment.
This is a Woody Allen pulling Marshall McLuhan out from behind the placard moment:
Tell me more about the law, "Judge" Nap!!! You're such an expert!
I mean, you're on TV right? Only the Smartest people are allowed on TV!
By the way: I don't know why, but "Judge" Nap really reminds me of Jame Gumm.
Or the guy who befriended Arnold Jackson and gave him a free bike. (Lesson: there's no such thing as a "free" bike.)
Here's a shocker: A Free Beacon writer, the translucent soybag Alex Griswold, really likes "Mayor Pete" Buttgieg and says "we're almost the same person."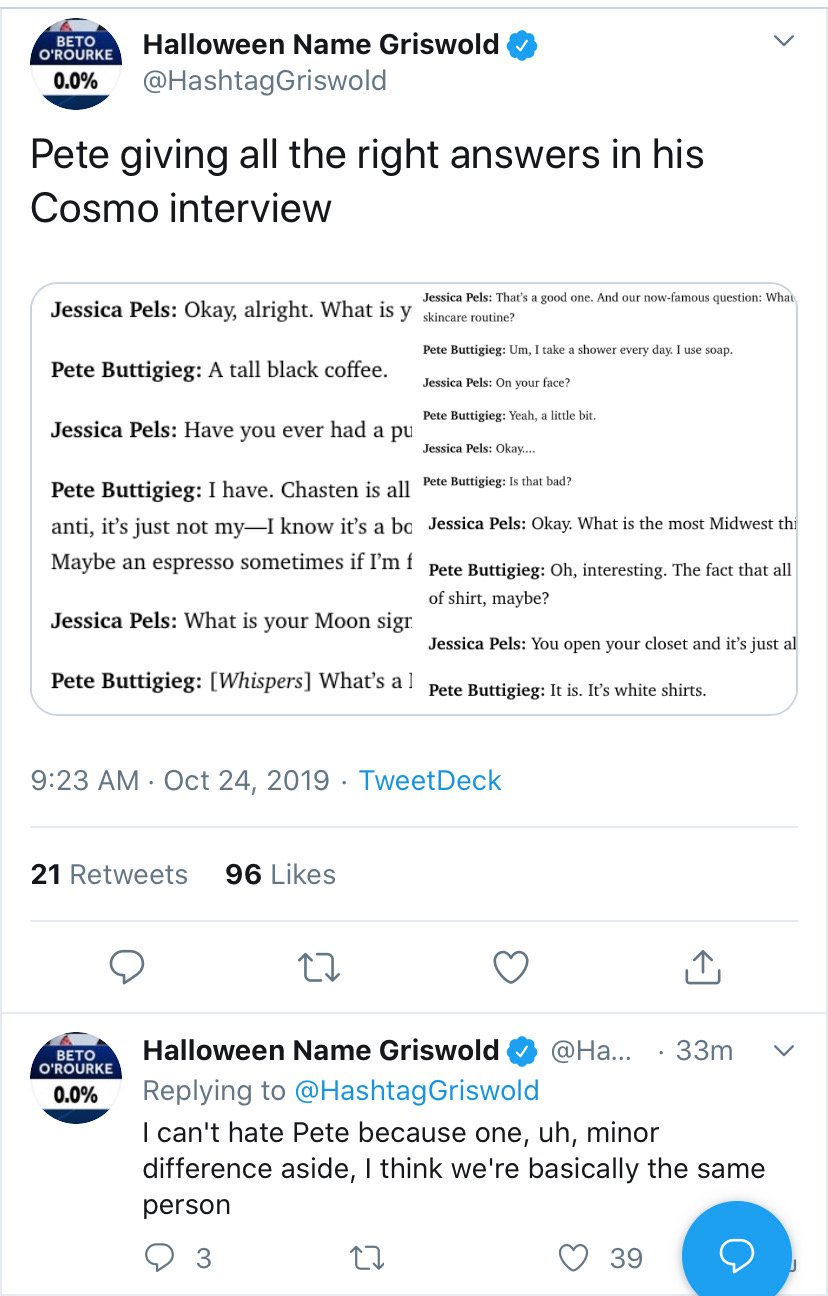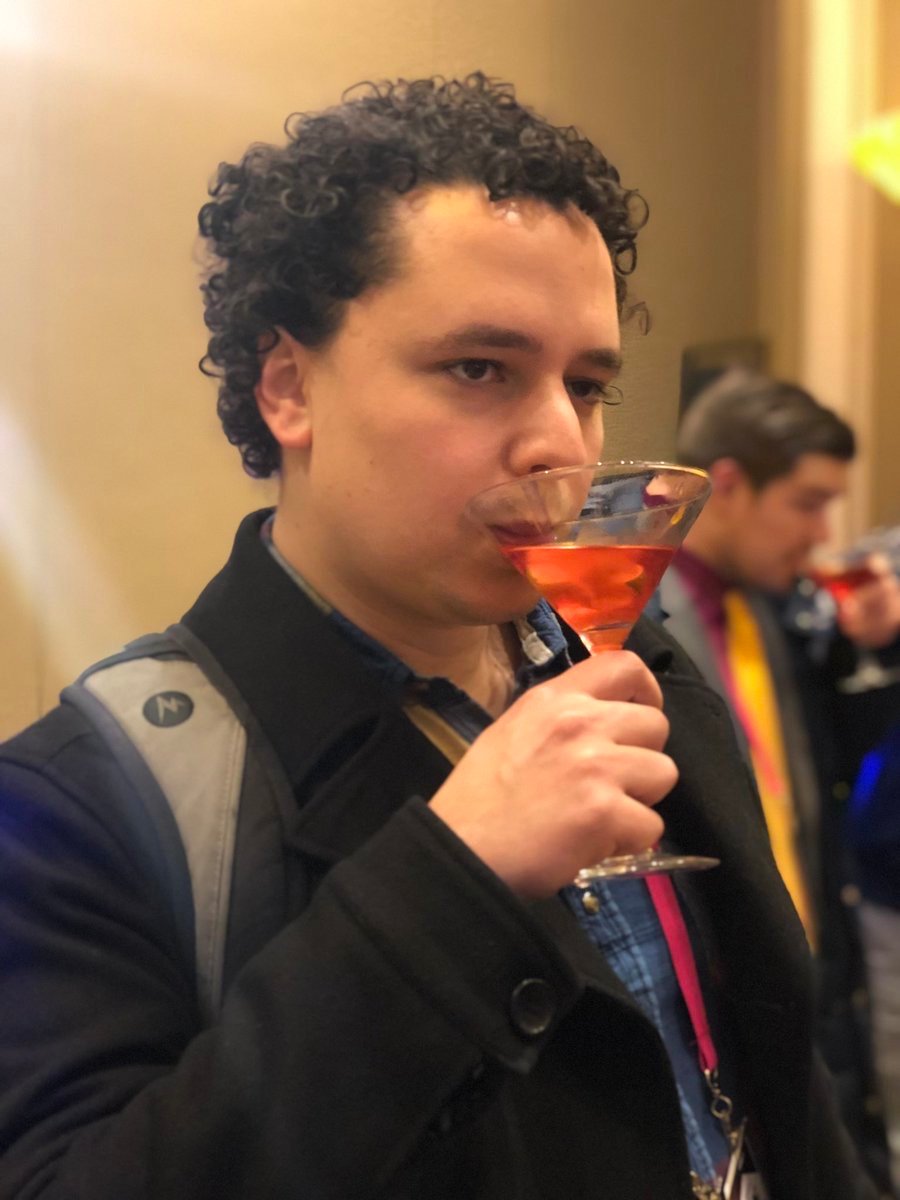 Um, the difference is that Mayor Pete drinks beer?
Help me out here, "Hashtag."
Third assistant swabbie-in-training on the sinking Ahoy Cruise Boat Jim Swift decides he's not getting enough attention today, so he accuses Republicans -- not just Trump this time -- of treason.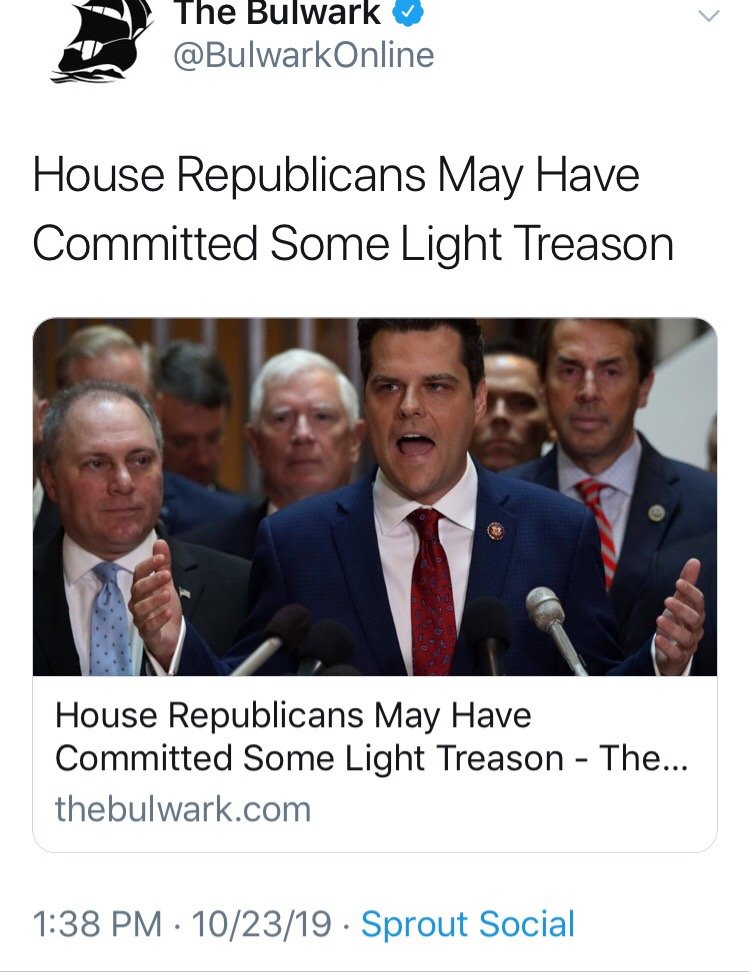 It only took Jim Swift and his obscenely pendulous pud-bubble of a gunt one day to prove this tweet correct:
Joel Stein -- a liberal and "smug elitist" who, unlike our party's Cruise Control, at least admits those things instead of trying to dupe ups by pretending to be So Super Conservative You Guys!!!, is a bit worried that his fellow smug elitists are provoking a revolution against them that will sweep them all away
He writes amusingly about NeverTrump and the self-claimed "Intellectual Elite."
Bill [Kristol] is already starting to work on [creating an "Intellectual Elite" political part], in exactly the way I hoped he would: he's joined a secretive, elitist organization that works to save the Intellectual Elite. Even better, he is a member of two secretive, elitist organizations that do this. Patriots and Pragmatists consists of a mix of about fifty Republicans and Democrats who meet a few times a year.
One conference was held at Sausalito's Cavallo Point, a resort built on a former army base that has rooms that were former officers's residences and a spa offering "energy work," thereby pleasing and annoying both left and right. The group has yet to talk about forming a new political party, instead focusing on ways to tout democratic ideals. This sounds lazy to me. I fear they spend too much time in conference rooms and not enough time doing energy work.


In case Patriots and Pragmatists fails, the second secretive, elitist organization that works to save the Intellectual Elite that Bill belongs to has a more direct plan: Since the 2016 election, Bill and more than one hundred other Intellectual Elite Republicans meet every other week to figure out how to regain control of their party. This organization also has a great name: the Meeting of the Concerned.

"Concerned is a euphemism. It's the Meeting of the Freaked Out," says member Brink Lindsey....

I am not allowed to attend the Meeting of the Concerned since some members are worried that I'll reveal their names and Republicans will expunge them from the party, thereby decreasing their power to change it. The group is so secretive that CNN has never covered it despite the fact that their meetings are in the same building as CNN's DC headquarters.
CNN is deliberately burying a story in order to help a liberal political faction subvert a conservative political faction?
I shan't believe it. I simply shannot.
Let's check in with the leftwing propaganda operation -- DNC TV -- that has formed a not-so-secret alliance with supposedly conservative NeverTrump:
I love the open-shirt look for a bald, ugly man.
It has kind of a Swingin' Matt Lauer look to it.

Speaking of Ana Navarro and how stupid she is and how greasily obese she's become -- and she was already fat, but now she looks like former very fat offensive lineman for a team of walruses that got cut in the preasson but then continued eating 5000 calories per day as if she were still playing/practicing football six days per week -- she showed why CNN pays her the big bucks as a "real conservative analyst" here.
What? Que?!
Finally, via Twitchy, Mollie Hemingway and Chuck Ross both roast the establishment liberal propaganda consortium's insistence that there's no legitimate reason to... probe 2016 election interference.

Wow, Fusion Ken wrote that? I did not see that coming!
I mean, sure, why not ask one of the conspirators to write a story absolving his fellow conspirators of any conspiring...
By the way, the way they cast questions about whether the spying we know in fact took place -- and whether a man was represented as a Russian asset when Mueller and the Democrats knew all along he was a Western asset -- as "conspiracy theories" is hilarious, given that we are now deep into Year Three of an ever-mutating Russia Conspiracy Theory.
On to the roasts:
Dude, I think they know.
They just don't want the voting public to know.
Finally, some finishing touches on Quin Hillyer:
BTW, I'd like to see the #Receipts of all these wages lost.
I think a lot of these guys are like government union teachers: They value themselves far more highly than any rational market does.
And Open Thread because I'm So Tired You Guys.
Bonus: Hard-hitting video of David French and the "Blessings of Liberty" he helps promote.

posted by Ace of Spades at
07:50 PM
|
Access Comments