« Tuesday Overnight Open Thread (10/22/19)
|
Main
|
Mid-Morning Art Thread [Kris] »
October 23, 2019
The Morning Report - 10/23/19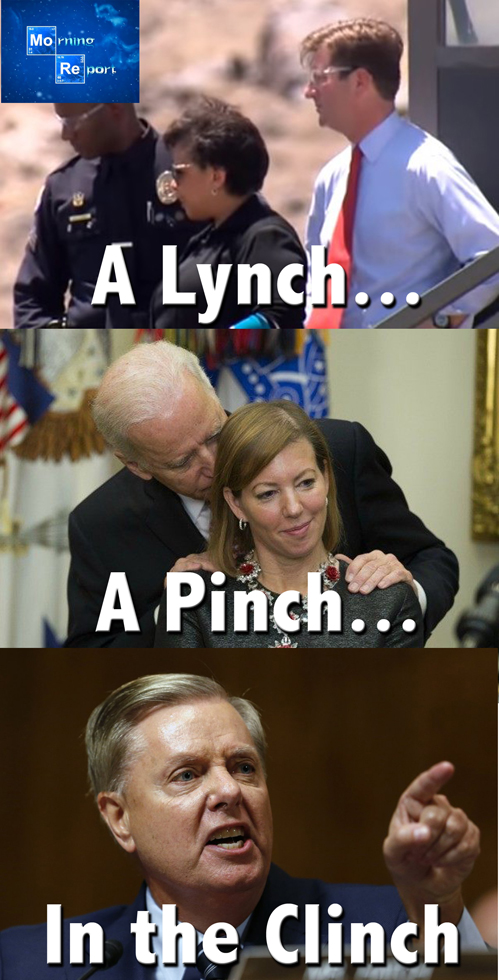 Good morning kids. Midweek and the theme for today, to paraphrase the Brothers Gibb, is "it's only words, and words are all they have, to take your life away." For the Bee Gees, it was a plaintive refrain of powerlessness. For the Left, it's just the opposite; it's both their ultimate weapon as well as a shield. That said, the seemingly invincible power that comes from wielding it has one fatal chink in the armor (SWIDT?): It derives its power from those willing to knuckle under and crawl to those who claim to be the arbiters of what can and cannot be said and to whom.
Case in point: Yesterday, the President tweeted out that what was being done to him - and never forget by extension the American people - amounts to a "lynching." Any sane, logical, reasonable understanding of the events that have unfolded for the past three years and continue to unfold would confirm his statement as a metaphor not only not hyperbolic, but frighteningly close to accurate. Especially given what happened to Steve Scalise and what ex-Admiral Mc-Craven penned in the Slimes the other day, but I digress.
The reaction was nothing if not predictable. The Left went into paroxysms of outrage and anger, claiming everything from proof positive that Trump is a white supremacist to further evidence that he must be removed from office, for using the word alone, the mountains of phony evidence not even necessary at this point. Funny, that is pathetic, considering the official media talking point that virtually every Democrat spouted back in 1998 when Bill Clinton was justifiably impeached for lying and suborning perjury was to describe what the Republicans did to him as a "lynching." And that includes the 48-year bedsore on the American body politic Joe Bidet. He blasted President Trump for using the word to describe the criminal attempt to remove him from office (in the words of the real schmuck controlling his Twitter account), "...our country has a dark, shameful history with lynching..."
It sure does, brainiac. It was a preferred technique of the Democrats and racists, BIRM, of the KKK, the armed militant wing of the Democrat Party (that is, its very own organized official death squad) to terrorize blacks as well as white Republicans in order to subvert and sabotage reconstruction and integration. As an aside, I don't see any of the other Presidential candidates who excoriated the girl-groping hair-sniffer for boasting of being friends with vicious Democrat segregationists early in his career calling him out for his gall and hypocrisy here (will Tulsi Gabbard, please pick up the white courtesy hood and robes).
Be that as it may, the only way this has any significant effect is if President Trump backtracks and apologizes. If history is any indicator, the odds are he won't, and if he's smart he'll double down on it because it will create the opening for him to tar and feather his attackers for their horrendous history as I had just mentioned. He's done this rather effectively vis a vis the hellhole that is Baltimore and its direct relation to the career of the late Elijah Cummings.
Unfortunately, and most angering, is the GOP's almost complete lack of any sort of spine in dealing with something so petty, irrelevant and hypocritical as this. Once again, the Left tees up a giant watermelon-sized slow hanging curve right over the plate and the Republicans whiff. Worse, by idiotically trying to equivocate, as both of our Congressional leaders Kevin "Charlie" McCarthy and Mitch McYertle have done, it lends legitimacy to a thoroughly illegitimate argument, and also adds fuel to the fire to those who want to see Trump lynched, metaphorically and literally. Nice going, chumps. I give the Democrats this much; they sure as hell are unified, even for a little while, when an opportunity to bash Republicans and conservatives comes along.
Amazingly, the most vocal defender of the President has been Lindsay Graham. I don't know, I can't figure this guy out. On the one hand, he has a long history of being a swamp creature and open borders supporter. Then, he breathes fire at the attempted Brett Kavanaugh lynching, but disappoints on his Syria pullout opposition. But, here he is again, and not mincing (no pun) any words. G-d bless him for that.
It reminds me that yesterday, I had two long essays from writers who I really like; Mark Hemingway and Victor Davis Hanson, who while defending the President still manage to either fall into the rhetorical trap of describing him as "crude" or "vulgar" (they use none-too-clever rhetorical tricks by writing "while some may call him crude and vulgar"), or worse that they actually believe he's crude and vulgar. Dear Lord, the man has delivered and fought for, virtually singlehandedly, the actual policy positions that so-called conservatives have made money off of us by only writing about, or selling cruise tickets. The country is a red nether hair's breadth of being overthrown by Maoists and even those we see as allies are dicking around with semantics for G-d knows what reason.
It comes down to this: Donald Trump needs to be defended to the fucking hilt. Period. Full stop. You are either with us and him or you are with the terrorists.


LYNCH DISTRACTION/HYPOCRISY

Anyway, links from around the world, across the nation and up your street. Have a better one and remain blessed.
NOTE: The opinions expressed in some links may or may not reflect my own. I include them because of their relevance to the discussion of a particular issue.
ALSO: The Morning Report is cross-posted at CutJibNewsletter.com if you want to continue the conversation all day.
Follow us on Twitter: @CutJibNews
AND... Love, It's a....

posted by J.J. Sefton at
07:40 AM
|
Access Comments