« Monday Overnight Open Thread (10/21/19)
|
Main
|
Mid-Morning Art Thread »
October 22, 2019
The Morning Report - 10/22/19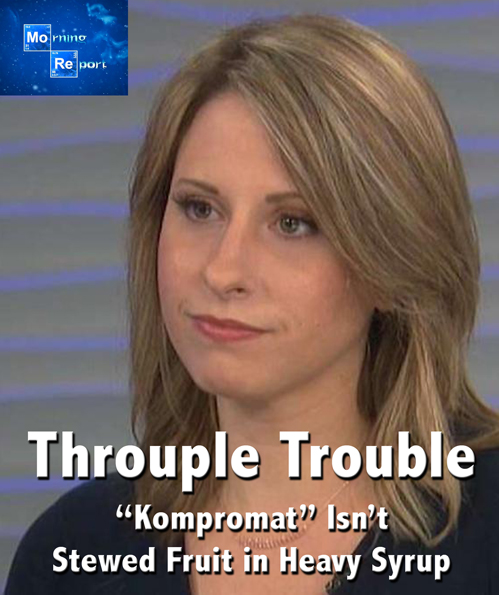 Good morning kids. Tuesday and in the words of Jerry Colonna, "Ah! Something new has been added!" In this case a very interesting wrinkle, if you will to the Democrats' impeachment show. It involves the gracious and lovely, or deceptive and slatternly (depending on how you look at it) dewy-eyed, or -thighed in this case freshman Rep. Katie Hill, or in this case Katie Thrill. Man, the jokes keep coming, among other things with this dame, don't they? In any case, Hill got into a bit of trouble with the revelations that she invited at least one campaign staffer into her bed with her now estranged husband to form a "throuple." Well, it's not for me to judge but I believe this violates ethics rules insofar as having sexual relationships with campaign staffers, whatever the "-ouple" status may or may not be.
But, as I have alluded to up top, it's been learned that nude photos of Hill with the female staffer have emerged AND that contrary to her story that she ended the relationship "to concentrate on her work" (funny, they usually quit Congress to focus on their family), she had someone else on the side - her legislative director Graham Kelly. For crying out loud, lady, shove an aspirin between your damn knees. Seriously, aside from the legal and ethical questions this raises (okay, stop laughing), there are other ramifications insofar as the impeachment theatrics:
...In addition to the legal and ethical issues raised by allegations of a congresswoman having not one, but two extramarital affairs with people on her staff, concurrently, there are issues of national security. Hill serves on two influential committees in that regard: Oversight and Reform and Armed Services. She has access to extremely sensitive national security information. If people who don't have our nation's best interests at heart had access to the photographs, text messages, and other information provided to RedState, Rep. Hill would be an easy blackmail target...
Funny how for almost two-and-a-half years, we had nothing but shrieking and wailing about how President Trump was owned by Putin because the latter had fictional "kompromat" on him, while Schiff-for-brains popped a pencil-eraser-sized stiffie when he thought what turned out to be the Ukrainian version of Opie and Anthony pranked him into thinking they were Russian agents who had nude shots of Trump. In this case, the nude shots of Hill exist and were sent to one source (in this case Red State). My oh my, what is a Speaker of the House supposed to do? If you said cover it up and continue blaming Trump, you win a cookie. If you said, do what's right and remove Hill from any and ally sensitive committee posts and perhaps remove her from office you win a big Nelson Muntz laugh.
IMPEACHMENT FOLLIES While we're on the subject, the media pulls a Charlie Gibson on Trump's Ukraine "conspiracy theory" now that it's confirmed as fact, shut up while Levin educates you on quid pro, Mulvaney clarifies what he said/meant in that regard, and the proof is in the pudding vis a vis actual promised aid being delivered by Trump and withheld by SCOAMF.
Anyway, links from around the world, across the nation and up your street. Have a better one and remain blessed.
NOTE: The opinions expressed in some links may or may not reflect my own. I include them because of their relevance to the discussion of a particular issue.
ALSO: The Morning Report is cross-posted at CutJibNewsletter.com if you want to continue the conversation all day.
Follow us on Twitter: @CutJibNews


posted by J.J. Sefton at
07:27 AM
|
Access Comments