« Mid-Morning Art Thread [Kris]
|
Main
|
Slovenly Trull and Haughty Courtesan Ilhan (Nur Said) Omar Proven To Be Having Affair With Sly Pimp Campaign Staffer »
October 23, 2019
The Morning Rant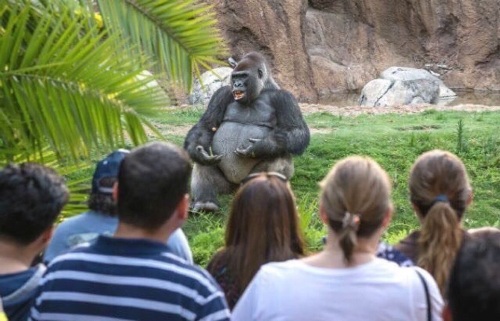 "The problems with the Democrats and their crypto-Democrat NeverTrumper allies is that that they're all high.
"More precisely, they're drug addicts. They've spent the last 2.5-3 years pumping themselves full of TDS-fueled hallucinations about the evil Orange Man, and bringing him down for colluding with Russia. Of course, the whole thing was a hoax, but drug addicts prefer living in their feel-good fantasy world than facing reality, which is to sober up, kick the habit, and get on with their lives.
"But of course, just like chemical highs, anti-Trump highs don't last forever, and when Mueller released his much-awaited report that really wanted to find evidence of Trump's nefarious deeds, but couldn't, all the junkies crashed and burned.
"But they wanted to get high again, badly. They were jonesin' for a fix.
"And they finally found one: A quid pro quo with Ukraine! So all of the NeverTrumpers of both parties mainlined a stiff dose of this new juice, and it's powerful stuff! Every single one of of them got completely baked.
"But now...
"Adam Schiff is holding an investigation in private, and is excluding the GOP. He's getting testimony from 2nd and 3rd hand witnesses, and even though their media is desperately trying to pump this up, you can see the crash coming. Because it's obvious that it's all smoke and mirrors, and Schiff has got bupkis.
"So, get ready for the crash. The NT crowd may be miles above you, but whether they know it or not, they've already crested the peak, and they're coming down fast. And after they go splat, they'll all going to get hit with the mother of all hangovers. After the Russian collusion failure, they went from "Trump is a racist and a bigot and a big poo-poo head" to "Anybody who voted for Trump or supports him is a racist and a bigot and a big poo-poo head." They flailed about in their agony of withdrawal, and instead of getting clean, they went out and got high again. So it'll be worse this time.
"TDS is a hell of a drug."


Has Everybody Lost Their D*amn Minds? (Part 3)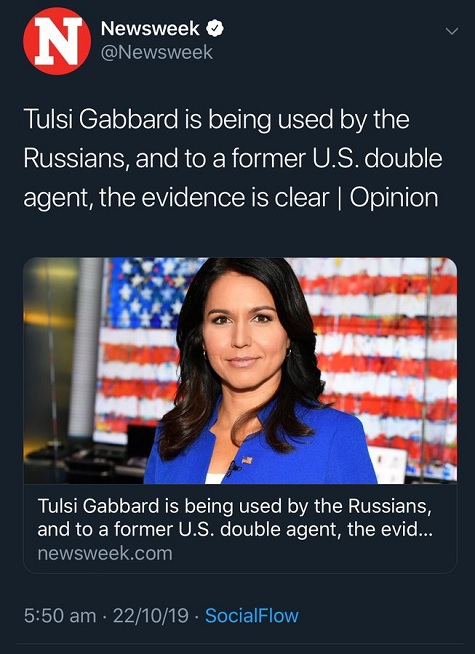 OK, so somebody (Soros?) has decided that Tulsi needs to be taken out. Is it because they think she's some sort of threat, and if so, what kind of threat, or do they just prefer Biden, or Warren, or some other candidate?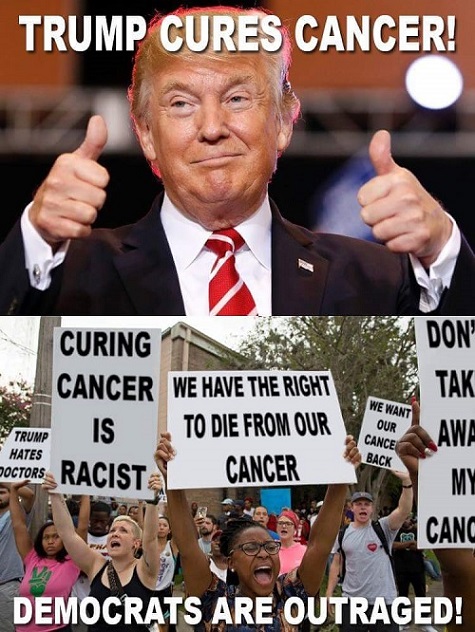 This Is Totes Normal: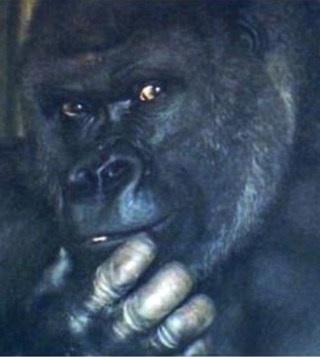 "So, millions of women will
benefit because Gigi carved her
pumpkin in the shape of a hoo-hah?"


The Mitt Romney We All Know: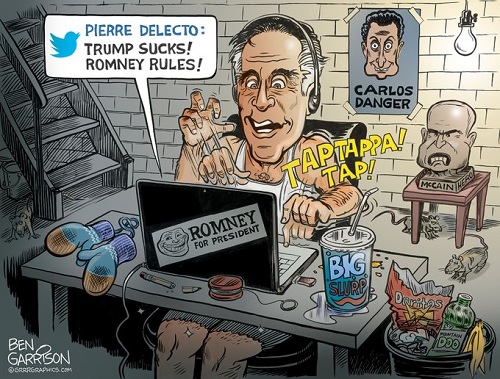 Julie Kelly's takedown of Tasty Peter
that ace linked in the sidebar is absolutely brutal.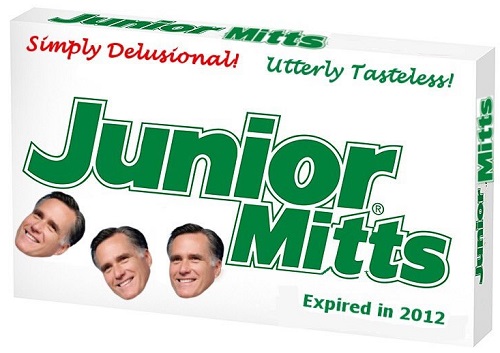 Who Dis:"I'm telling you, Morty, she could be wearing a potato sack and she'd still look great!"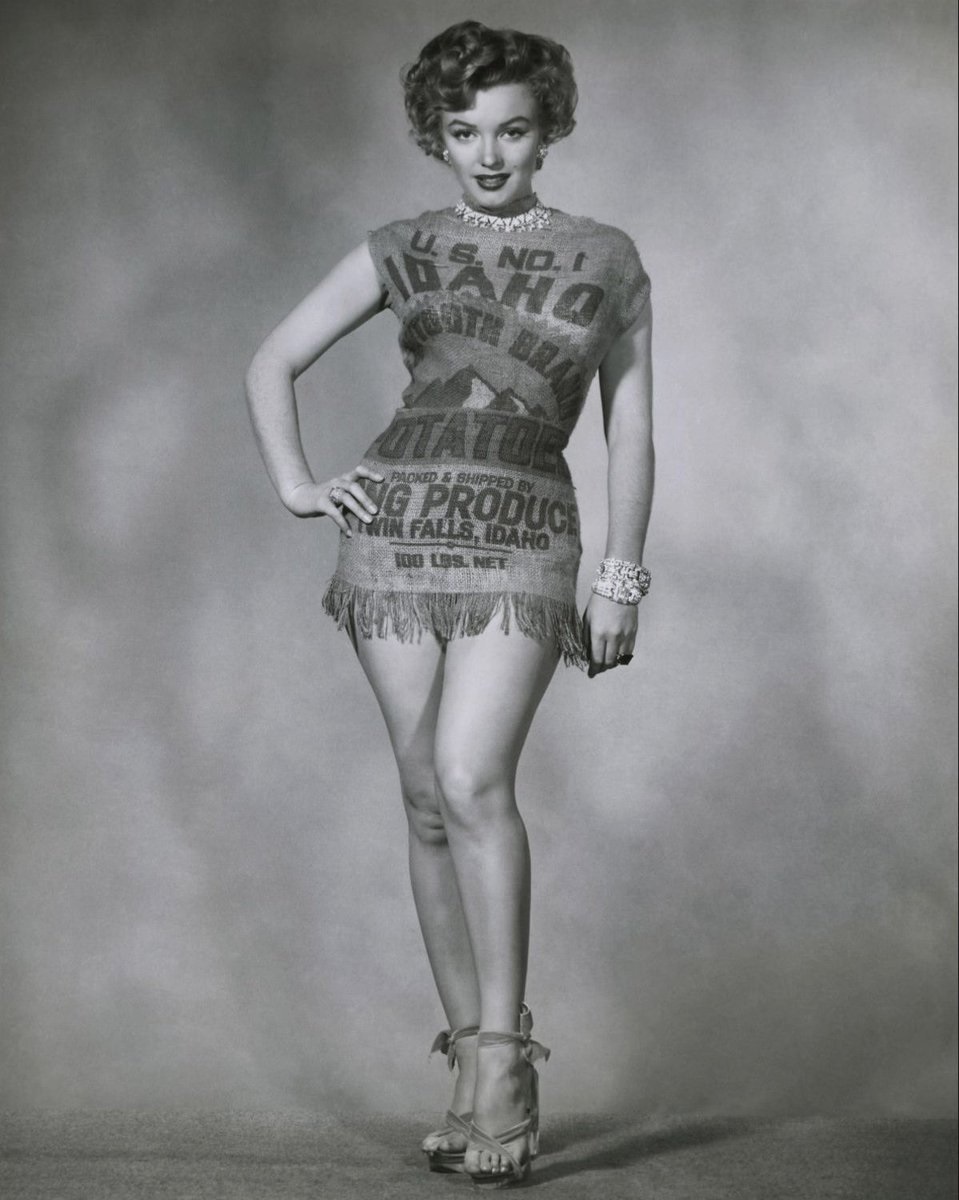 (click to enlarge)


Many Women Like A Man In Uniform: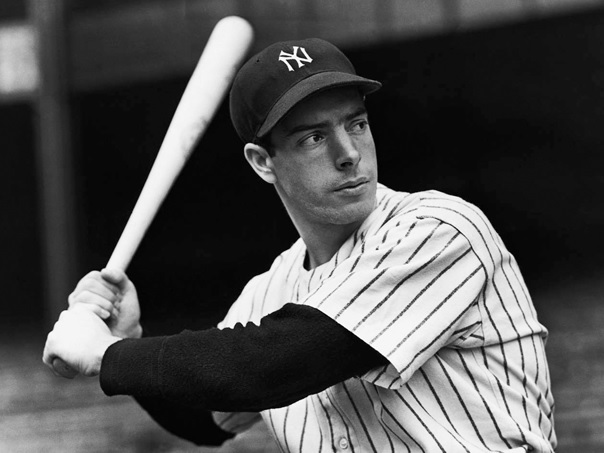 Monday's celebs: Hope Lange played Charles Bronson's wife in the 1974 classic film Death Wish, back when the country was going to hell in a handcar and everybody knew it (unlike today, when the country is going to hell in a handcar and half of the people in the car are trying to cut the brake lines). And Jeff Goldblum played one of thugs in the gang who murdered her. It was his first movie role.


AoSHQ Weekly Prayer List
Please submit any prayer requests to me, "Annie's Stew" at apaslo atsign hotmail dot com, as I will be filling in for Fenelon Spoke on the prayer list, for the next 1-2 months while Fenelon recuperates. If you could include the words "prayer request" in the subject of the email, that will help me distinguish it from spam emails.
If you see a prayer request posted in a thread comment, please feel free to copy and paste it and email it to me.
Updates and new requests:

9/15-Hrothgar asks for prayers for a dear friend (Roxanne) and her husband Terry. Terry is scheduled for a 30 day cycle of chemo and radiation.

9/18-DaveKinNC asks for prayers for his daughter-in-law and son as she is nearing her delivery date for their first child.

9/25 - DMB asks for prayers for Amelia, who was just diagnosed with cancer.

10/2 - vmom asks for prayers for "my daughter KTE, for health and anxiety issues, and that she may find a good opportunity in her field".

10/9 - West asks for guidance for the family of a friend named Hilary, who is near death from cancer. He asks for easing of suffering for Hilary, and an easy entry into the arms of God.

10/9 - West asks also for healing of 2 broken vertebrae, a broken rib, and an assortment of contusions after his motorcycle accident, and thanks God that there was no permanent damage!


Praise reports:

9/18 - CJO's wife NJO does not have breast cancer, and the issues she is having are treatable.

10/17 - sock_rat_eez sends thanks for all the prayers! His pre-surgery tests went well and he is hoping for the same for the mid-November tests, so surgery can take place before Christmas!


Requests for continued prayer:

For healing from cancer:

- OldDog'sinMo's wife , Slapweasel (also for an organ donor) and strength in caring for elderly parents with have memory and other issues, Cheribee, also Tami's daughter, Circa's brother,
- VNRedLeg, Scott M., Fox 2!'s friend, Mary Beth for healing from bladder cancer, Mother of a co-worker of Josephistan , Rickl-healing from cancer-he has an additional lesion and numbness in back area, Suzanne's friend Kevin-told that he has six months to live-is praying for a miracle.

- For Laura who has metastastic breast cancer and told she has 3 years to live. Flounder's MIL, continued healing from cancer.

9/25 - Update from VNRedLeg - "Still on Luprin for my cancer. 9 weeks of radiation begins in Dec. Next PSA and blood tests 1 Nov. In the meantime had surgery for a distal bicep tendon tear (R arm) and emergency eye surgery for vitreous hemorrhage (R eye). Very grateful for your prayers!"

Other continuing health issues and requested prayers for healing:

- Fixeupperupper's mothers-kidney function.

- Michelle's son- continued recovery from car accident.

- Sock-rat-eez, thanks that recovery is going really well, the medical guys have released me from treatment for the dangerous embolisms that occurred during my emergency surgery back in February, so the path is clear to the next step; the surgical team wants a colonoscopy to get a look at things in there before the reversal. Nothing scheduled yet, but hopefully soon.

- USNTakin and wife-he asked particularly that she have relief from pain, but strength and relief from pain for both of them.

- For Allison- in her 30's-for complete healing after a stroke after having a baby.

- For healing for Josephistan's mom who has difficulty with daily tasks and is anxious and withdrawn. Also strength for him caring for his mom as he is alone in doing this. Help in finding a caregiver. He also needs job help.

- Hrothgar's SIL, for diabetes related neuropathy.

- Poster ET going through a difficult time.

- Beltway Elite's mother-recovery while in recovery from stroke.

- Hrothgar's friend, a hospice counselor who needs healing after being affected by fumes from muriatic acid.

- Healing for Blaster's son who has issues with depression.

- 10/17 for continued blessings on sock_rat_eez' medical condition and care.

- 10/17 LR has pneumonia, and could use prayers for healing.


Job needs and concerns:

- Emperor County Boy asked for prayers for wisdom and guidance and direction in his job search and in other areas.

- Donna&&&& needs FT job in areas of expertise

- PDX Republican needs sedentary PT job.

- Hadrian IV is looking for new job and has Skype interview, today I believe.

- Insomniac has been in touch with a company about receiving some work in his field. Please continue to pray for him in this endeavor that this does indeed work out for him as there have been many false starts and dead ends.

- Anonymous poster needs prayers for more work and rough places made smooth.

9/25 - HobbieHawk asks for "direction, guidance, & courage to get some work since my savings is depleted since I was laid off." Also requests help related to anxiety and desperation, and sends thanks to all for thoughts and prayers.

Wednesdays are days in which mothers in the horde and anyone else says special prayers for children of horde members. Please include the grandchildren as well.
Please note: Prayer requests are generally removed after five weeks or so unless we receive an update.
This in NOT because we don't care; It's simply because of lack of space. Updates as well as thanks for answered prayer and new prayer requests are always welcome. Please feel free to copy requests which you see on the board and send them to apaslo@hotmail.com. I won't know unless someone tells me! Thank you and God bless!
Please remember the Prayer of St. Francis:
http://www.prayerguide.org.uk/stfrancis.ht


Today's Edition Of The Morning Rant Is Brought To You By Steak Enchiladas: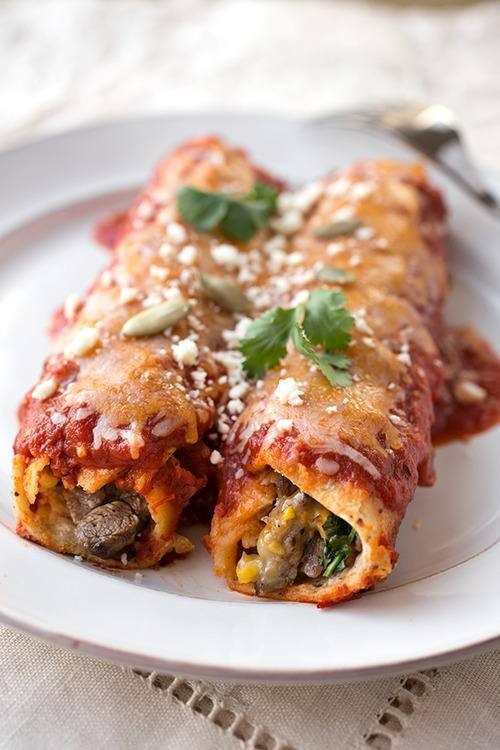 Thank you to all you 'rons and 'ettes for sending me suggestions. Just so everybody knows, I am always open for celebrity 'who dis', food pr0n and shoe pr0n suggestions. You can e-mail suggestions to me at my AoSHQ nic at yahoo.

posted by OregonMuse at
11:18 AM
|
Access Comments