« Her Majesty? [KT]
|
Main
|
Ace of Spades Pet Thread »
October 19, 2019
Saturday Gardening Thread, October 19 [KT]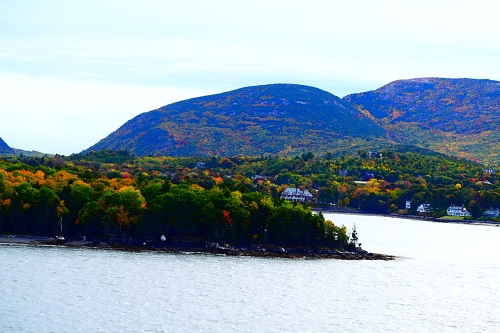 Hello, Gardeners, Putterers and those who just like to observe their handiwork! It's getting fall-ish where I am. How about where you are? Today, we've got a few landscapes as we move into fall. There are still a few critters out there, too. Expecting some more fall foliage photos to come in from The Horde. Love the landscape above from Larro. It's from Bar Harbor, Acadia National Park.
Landscapes
This is a photo of a professional landscape, taken by The Invisible Hand during the summer. A Japanese garden. Lovely. We're all pulling for you, by the way.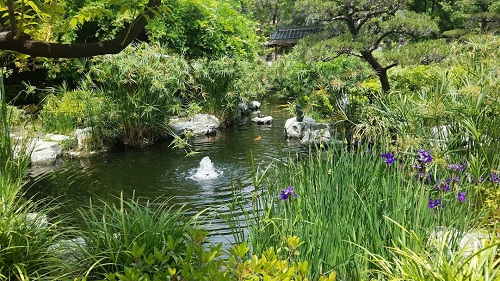 This photo is from the backyard of Admirale's Mate. Looks relaxing. The daylilies fit the setting.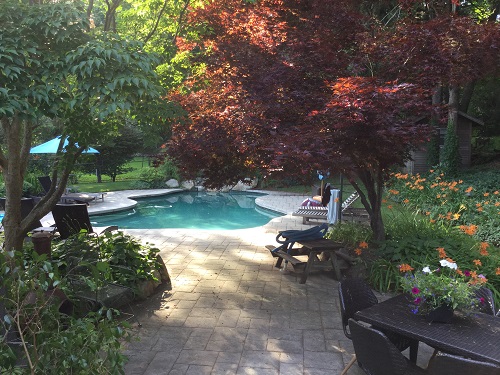 Plant/Insect Identification Challenge
Two vines/scramblers and an insect today. Remember Hank Curmudgeon's excellent Moron's Guide To Identifying Insects last week for the butterfly.
From Le Vieux Garde. Down by the lake, near a fig tree. Photos were taken a while ago. Maybe we can get him to describe the seed heads that developed from the flowers now.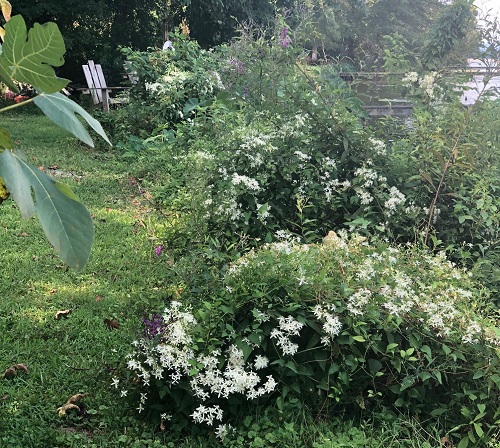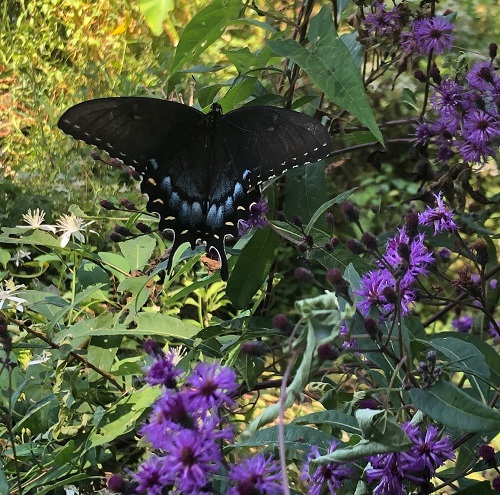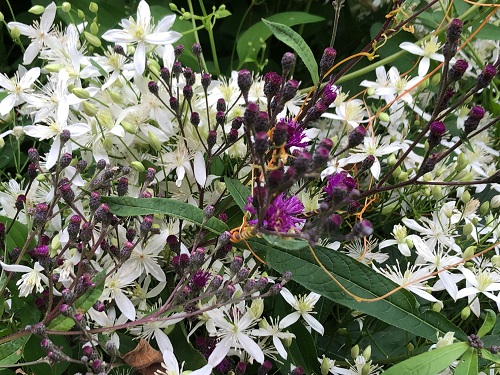 Monarch Butterflies are going south
Numbers are rebounding some. Good news. Have you seen any this year?
Other Critters
Weasel sent in this great photo of a Tractor Spider! Notice the color coordination. I asked if the web was nice and orderly. He said,
Yes, but it seemed a lot thicker right under the spider.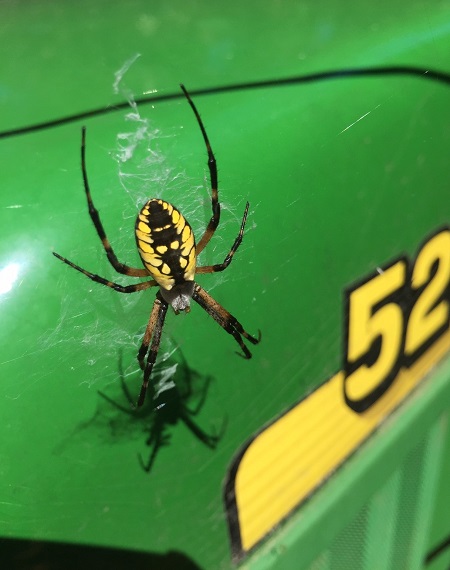 Recognize that spider?
I'm not sure I can recommend a mouse village for the average gardener. But certain mice are kind of cute.
Simon Dell, a wildlife photographer from Sheffield, United Kingdom, was taking pictures of birds in his garden, when he spotted a cute little house mouse standing on the grassy ground. He knew he couldn't miss the opportunity, so he came up with the brightest idea. With the intent of protecting the mouse from neighboring cats, and providing wonderful backdrops for his new subjects, Simon fashioned a house for the small mouse, that he named George. He built him a nice and functional house made from piles of logs, old fruits, and vegetables. It didn't take long for George to notice the lovely house Simon made, and he was more than happy to move there with his fellow mice That Simon named Mildred and Mini. Take a look at Simon's wonderful photographs of George and his little family, while having the time of their lives in their cozy, new home.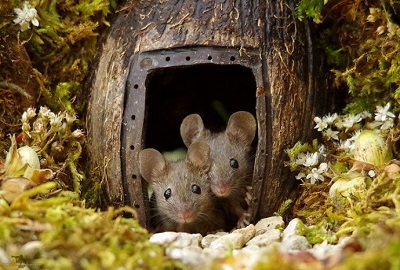 Halloween approaches
Today, a couple more photos of that remarkable corpse flower sent in by Moron Robbie,
Not only smells like a corpse, kind of starts to look like it could accompany a corpse.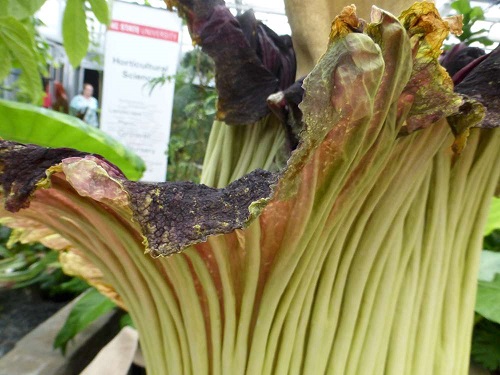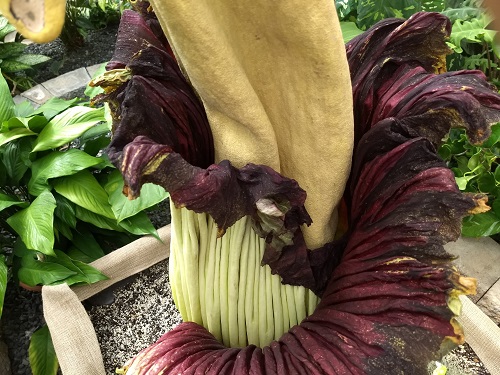 Moron Robbie didn't mention seeing this guy at the botanical garden: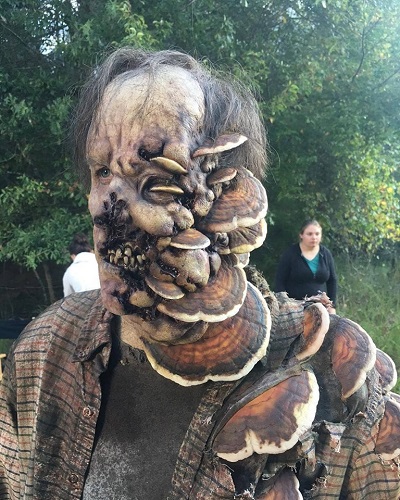 Got any other garden-related costume ideas?
The Edible Garden
We have been discussing paste tomatoes in the comments. I wish they would think of another name for "paste tomatoes". Anyway, 40 miles north sent in this:
Those San Marzano tomato vines in the picture below have produced a lot of great tomatos. However, those two vines as well as another one were stripped of nearly every leaf by two tomato worms. However, the two caterpillars responsible for all the damage will never become hawk moths. I feel better now.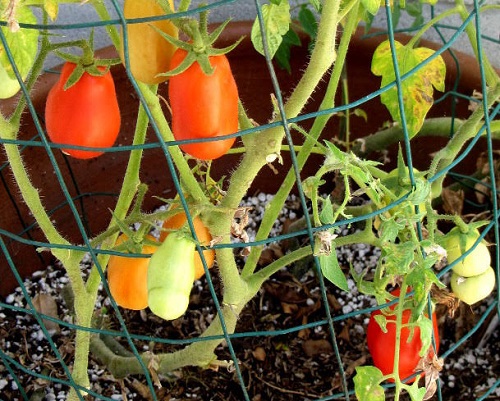 Got a tomato recipe to share?
Looking for a vacation idea? You can sign on for tours to go foraging in Sweden. Especially for mushrooms and berries.
The Right of Public Access . . . is a unique principle, dating back to the Middle Ages and protected by law, which allows everyone to roam pretty much anywhere in the countryside (except for private residences, cultivated land or within 70 meters of a house). Whether you fancy kayaking or swimming in a lake, fishing on the coast, camping in a beautiful meadow or foraging in the forest, being at one with nature is positively encouraged. The only caveats? Don't disturb and don't destroy.
"According to the government, only four percent of all berries in Sweden are picked each year," says Marcus Eldh, founder of WildSweden, who often incorporates foraging into his wildlife adventure tours. One of the most abundant - and packed with antioxidants - is the Nordic blueberry (or bilberry), which can be found on low-to-the-ground shrubs that grow everywhere from the roadside to deep in the forest. Another staple of the Swedish diet - and also known for their health benefits - are arctic cloudberries (similar to raspberries but smaller and orange) and lingonberries (often served up alongside meatballs), both of which are ripe for picking during the summer.
Gardens of The Horde
40 Miles North also sent in this lovely photo of a Phoenicia Azalea: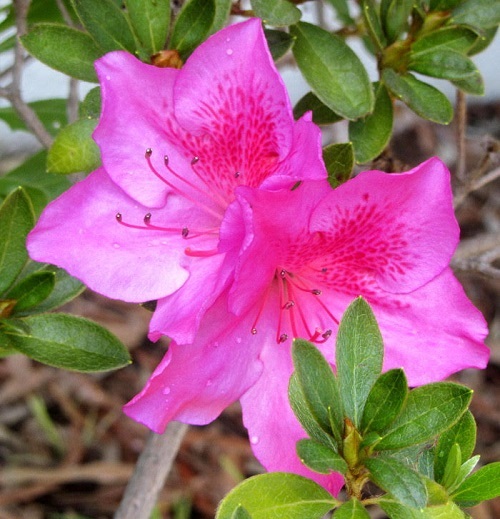 If you would like to send information and/or photos for the Saturday Gardening Thread, the address is:
ktinthegarden
at g mail dot com
Include your nic unless you want to remain a lurker.


posted by Open Blogger at
01:03 PM
|
Access Comments