« Able was I ere I saw ONT
|
Main
|
Mid-Morning Art Thread »
October 11, 2019
The Morning Report - 10/11/19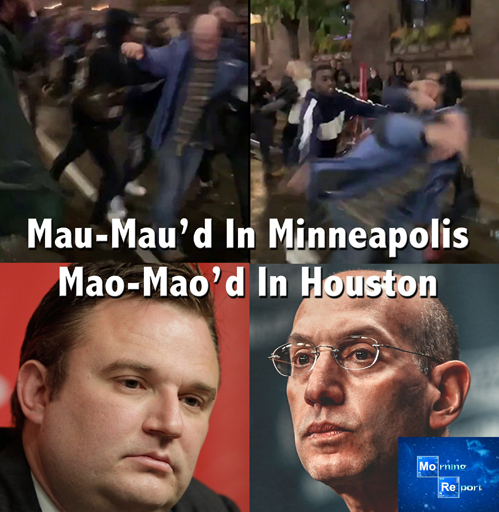 Good morning kids. The weekend is here and we've got lots of ground to cover so here we go. First up, before it gets lost in the sauce, the President held another incredible rally in Minneapolis last night. He let fly with yet another rousing defense of America and Americanism while ripping into the Democrat-Left-Media Complex's cancerous rot attempting to bring him and us down. Unfortunately, that too was on full display after the fact as Leftist scum that included a contingent of Antifa terrorists rioted and attacked rally-goers as they exited the arena. It should be noted that the mayor, Jacob Frey, a radical leftist and Trump-hater, attempted to prevent the rally by engaging in a last minute extortion attempt over security fees, but ultimately relented when faced with litigation. Considering the nature of Minneapolis and Leftist politics in general these days, one has to wonder if Frey pulled a Ted Wheeler and allowed the goons to go wild as revenge, so he can blame Trump and the rally-goers for incitement, as well as to conveniently claim "see, I told you so!" In any case, this is sadly indicative of the cultural and political divide we find ourselves in. And it's not going to magically get better when Trump leaves office in January of 2025 (please G-d). Writing in Frontpage Mag, Daniel Greenfield states:
...We aren't facing a civil war because of the strain on our political system, but on the tribes of our culture.

Free nations where people elect their leaders don't fall apart because of political differences, unless they reflect deeper cultural divisions. That's why the Left made winning the culture war its priority.

The Founders didn't create a system for coping with cultural differences. We had one or we didn't. While the Left claims to war on intolerance, no political system can do that. Only a moral system can. Our values can bring us together or tear us apart. They can convince us to fight for each other or kill each other. They can remind us of what we have in common or make us deadly enemies.

These days, it's mostly the latter...
And the 2020 election season is only just beginning. Oh joy.


JOE BIDET UKRAINE SCANDAL

Now on to the Joe Bidet Ukraine Scandal, meant to both smear the President to cover up Bidet's crimes as well as the original Russian collusion hoax meant to overthrow Trump and protect Clinton and Obama. The big headline this morning is that the whistleblower evidently worked with none other than Joe Bidet himself. There's lots of speculation as to who he or she might be, but one of the easiest way to Sherlock Holmes the guilty party is for the White House to grab the flight manifests for Air Force Two's trips to the Ukraine and cross check the names with anyone who had access to the Oval Office at the time of the phone calls, and really who might have stayed on after January 2017. My guess is that those particular manifests are lying at the bottom of the Marianas Trench along with Sandy Burgers soiled BVDs and Hillary's servers. Also, the Left is jumping for joy at the announcement that the SDNY is going after two Giuliani associates involved in the Ukraine probe... except the case has nothing to do with the probe at all, but the Media won't let that disrupt a good narrative. Funny how this is announced as Rudy reveals the Burisma paid the paste-eating girly hair-sniffer almost a million bucks. Meanwhile Ukie prexy Zelensky will "happily" investigate any meddling in the 2016 US election while a spokes-whore for Team Bidet assures us that Preezy Kenya Kona Blend cleared Hunter-of-Cocaine-and-Poozl Bidet to serve on the Burisma board. Wow, the sheen of respectability, that is.
Anyway, links from around the world, across the nation and up your street. Have a better one and remain blessed.
NOTE: The opinions expressed in some links may or may not reflect my own. I include them because of their relevance to the discussion of a particular issue.
ALSO: The Morning Report is cross-posted at CutJibNewsletter.com if you want to continue the conversation all day.
Follow us on Twitter: @CutJibNews

posted by at
07:35 AM
|
Access Comments