« The Morning Report - 10/9/19
|
Main
|
The Morning Rant »
October 09, 2019
Mid-Morning Art Thread [Kris]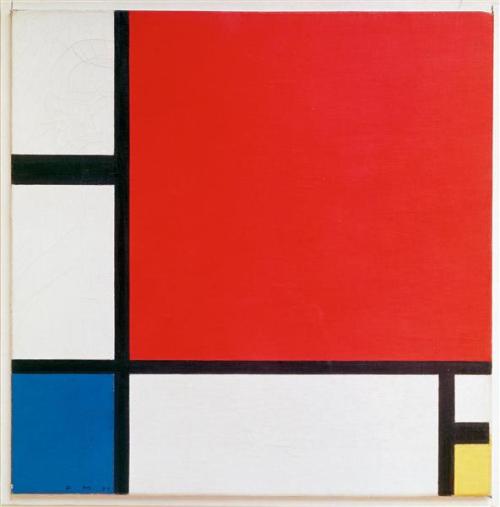 Composition In Red, Blue And Yellow
Piet Mondrian
"There is an old and a new consciousness of time. The old is connected with the individual. The new is connected with the universal. The struggle of the individual against the universal is revealing itself in the world-war as well as in the art of the present day."
These are the first words of the first manifesto of "The Style to End All Styles", more commonly known as de Stijl, written in 1918 as World War I was still raging. The War was an apocalypse and European artists dealt with this cataclysm by developing socialist utopianist movements: Russia developed Constructivism, Suprematism, and Socialist Realism; America had Regionalism, and the Dutch formed de Stijl. De Stijl's basic idea was to follow in the War's footsteps by destroying the traditions that allowed the War to happen, to create an art that united Mankind using the most basic and universal elements of art. It removed symbolism and meaning that only spoke to a few and replaced it with a new "global" symbolism. This art is very communistic in its philosophies but I don't know if all these artists were full-blown Communists.
Evolving out of Cubism, de Stijl is absolutely abstract, reducing art to geometric shapes, primary colors, and basic tones. De Stijl artists would reject the abstract label, however. They would say that there is nothing more concrete than the universal elements. These are the most real because everyone knows them and recognizes them for what they are. It stimulates the most primal human emotions and unifies Man at the most elementary level.
In this work by Mondrian, composition is the most important element of style. He is taking the most basic colors and forms and trying to find the most perfect balance between them. He uses the primary colors, simple black and white, and basic geometric shapes (and only quadrangles cuz curves are too wild). The lines are just vertical and horizontals. From these fundamentals all the other elements of style are created; they are the atoms of artistic creation.
The hues are pure. Red is the most vivid and has a lot of weight. Yellow is the brightest but has the least weight. Blue is heavy and vivid and bright. Blue and red counteract each other's vividness, but because blue has the most of all three traits it must be smaller than red for balance. Yellow must be even smaller because even though it is very light, it is very bright. If it were any bigger, its brightness would be too distracting.
White should be seen as the background upon which everything rests. The black lines break up this blankness into clean squares into which the primaries are arranged. Eliminate one black line, or make them thinner than they are, and the white becomes dominant. They also form a grid upon which everything is logically arranged and which ties everything together.
De Stijl was not just an art style, it was a way of life. De Stijl infused art, design and architecture with the ideas of logical arrangements of basic, universal elements. The idea was to surround yourself with objects so perfectly balanced, with complimentary ideas at perfect peace that it would bring peace and balance to your life and mind. If enough people did this, then society itself would be at absolute peace. It was called "The Style to End All Styles" because when its mission was achieved, art would no longer be needed. In this work, Mondrian creates a Western version of the yin/yang—opposites in perfect balance, complimenting each other while in constant, dynamic movement.

posted by CBD at
09:30 AM
|
Access Comments