« Food Thread: Braising And Cold Weather -- A Match Made in Heaven
|
Main
|
Sunday Overnight Open Thread (10/6/19) »
October 06, 2019
Gun Thread: Guns For Sale [Weasel]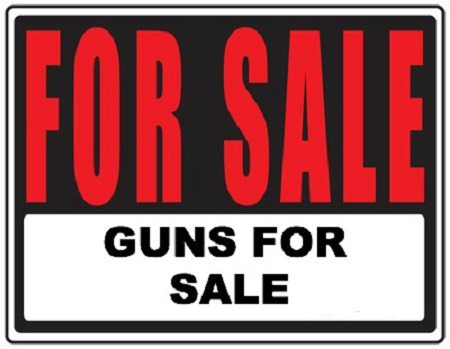 Rather than doing a lot of hard thinking and coming up with original content, I think I'm just going to rip off other people's ideas this week. Sound good? Let's jump in and take a look below the fold, shall we?

You just never know where material for the Gun Thread will pop up. Saturday morning over my first cup of coffee I peeked at the EMT, and found krakatoa asking a gun question.
Anyone know what a NIB HK SL8-1 is worth?

Had it for a long time. Fired one at an HK days event back in aught one or so, hated it, then won the raffle for a new one.

Seeing some pretty steep prices for used ones online.

There's a lot of more practical things I could use that kind of money on. Yeah I could shell out the dough to do the G36 conversion which would make it a fantastic piece, but I don't have much of a need for it.

Thinking about throwing it on a gun broker auction and seeing what happens.
Let's start with the question. What is a NIB H&K SL8-1 worth? A very quick and lazy internet search would suggest north of $2,000. That's a lot of money!
The next part isn't really a question, but rather about a G36 conversion, which means changing a bunch of parts and ending up with something like the military version of the firearm. Depending on your budget it might then be configured with a folding stock and a short barrel. I'm not sure if the SL8 can be converted to full auto or not, but if it can, that would be bigly mucho dinero.
The part I'd like to talk about, however, is selling a gun you own and for whatever reason, do not shoot very much.
Let me start off by saying I have never sold a gun. I still have every one I've ever purchased. Why? Well, because I'm lazy, but also because I don't want to be one of the guys who deeply regrets having sold a gun later on. But mostly because I'm lazy. I swear to John Moses Browning that I had a very good reason for buying each and every firearm I own, I just cannot always remember what that good reason was in many cases, so now I'm telling myself they're "investments" which might even be a little bit true!
I know there are dealers who buy entire collections because that's how I've obtained some of the guns I own, and I also suspect a seller would take an enormous hit on the fair market value when going that route. As a result, I have mutual agreements with a couple of very good shooting buddies where we've each agreed to step in if one of us kicks the bucket to make certain our spouses don't sell our guns for what we said we paid for them to begin with. Yeah, it's an old joke, but it's true!
So here are some questions for you all. Do you have a plan for eventually selling your guns? Do you quickly part ways with a firearm that has fallen out of favor, or do you tend to hang onto them as I do? If you're a seller, how do you go about it? Gunbroker or another online marketplace, or on consignment at your local gun shop? How about face to face transactions?
Finally, for those of you who have sold guns, do you regret letting go of any one in particular?
*******
Here is a very good article on ideas to extend barrel life that I didn't want to get lost in the other links below. It's a great follow-up to the article on barrel throat erosion linked a couple of weeks back. Most barrels chambered in common calibers, and here I'm thinking about the .308 Winchester and the like, will last several thousand rounds under normal use. Some overbore calibers though, for example the 6.5-284 I use in my long range rifle, might last as little as 800 rounds before losing their match grade effectiveness. It would still be a good shooter for a little while, just not for competition, and when a barrel goes bad, it goes bad surprisingly fast.
If your favorite older rifle isn't shooting the way you think it should, have someone take a peek inside with a borescope. Having a rifle rebarreled isn't a big deal, but you will need a competent riflesmith. Look for someone who is willing to spend some time discussing the type of shooting you do and the specific ammo you normally use for best results.
*******
Link-O-Rama
MSSBlog Review: Remington 870M
MSSBlog: Colt Halts Civilian Sales of AR15
American Rifleman: Henry Lever-Actions
American Rifleman: Savage Precision Chassis Rifles
NRA Goes Pink!
Ammoland: A Look at the Savage Model 99
Ammoland: Sig Sauer P365 SAS (Sig Anti-Snag)
Georgia Arms: Ammo is Plentiful Now - Stock Up
***Mail Bag***
Last week we talked about tips for taking new shooters to the range. We had lots of great suggestions in the comments, and I received this in an email from our shy pal anonymous:
Some suggestions for range time with new shooters:

1.Practice picking up, setting down, and passing a firearm with a blue gun before handling a real gun.

2.Before using bullets, have the new shooter practice stance, trigger control, and sight alignment with an unloaded gun while you rack the slide for them.

3.The first shot is just that. Load only one bullet for the first shot.

4.Very early on, like second magazine, start mixing in snap caps to prevent bad habits from forming.
These are good suggestions, too. Thanks anonymous! Does anyone have any others? How are you all doing with your homework assignment of taking a new shooter to the range, hmmmm?
******
Please note the new and improved gmail account morongunthread at gmail dot com. An informal Gun Thread archive can be found HERE. If you have a question you would like to ask Gun Thread Staff offline, just send us a note and we'll do our best to answer. If you care to share the story of your favorite firearm, send a picture with your nic and tell us what you sadly lost in the tragic canoe accident. If you would like to remain completely anonymous, just say so. Lurkers are always welcome!
That's it for this week - have you been to the range?

posted by Open Blogger at
07:00 PM
|
Access Comments