« Thread before the Gardening Thread: October 5 [KT]
|
Main
|
Ace of Spades Pet Thread »
October 05, 2019
Saturday Gardening And Puttering Thread, October Begins [KT]
Hi, everybody! We are coming up on Halloween soon, but there are still things happening in the garden and workshop. Below, some happy hens at Illiniwek's farm:
Finally got the tiller out, and started some tillage radish and beets the end of August.

Good greens for keto diet.?? Chickens are friends with benefits (eggs)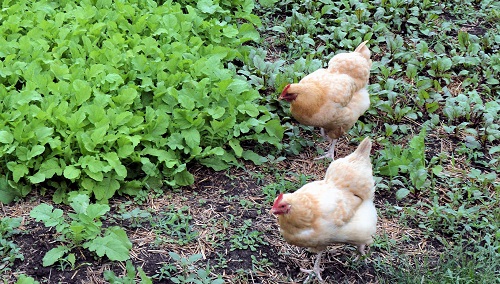 Anybody eaten radish greens on their keto diet? There are some with hairless greens intended for that purpose. Otherwise, I think I would prefer them cooked. I grew a hybrid radish with hairless leaves once. It had some red coloration. From Johnny's. Don't remember the name. They were nice. In Cornell's list of various radishes, Pearl is a Korean leaf radish.
People used to grow winter storage radishes. Some of them have black skin. Don't know that planting times for these are made explicit in this complete guide to growing radishes. Anybody ever grown winter radishes? How did you use them?
And another photo from Illiniwek:
Chicory at the yard's edge, soybeans turning yellow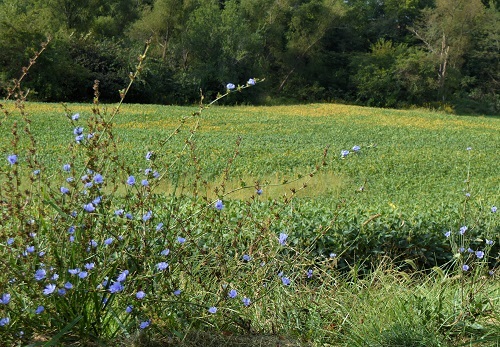 Nice color contrast. Love that blue chicory. Are you supposed to harvest chicory (of the correct variety) before it flowers if you want to force roots for winter?
From S. Lynn, some chickens and chicken art, which I love:
I found the caricatures online and copied them on an old window. It's weathering nicely.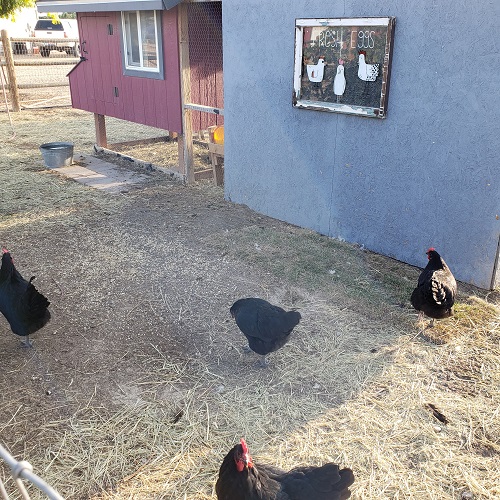 More on backyard chickens
First Northern California, now Southern California goes big for designer chicken coops.
In a city obsessed with design and indoor-outdoor living, it makes sense that some chicken owners want to house their pets in high-style comfort. In addition to giving homeowners the opportunity to personalize their living spaces, urban homesteading offers a taste of pastoral life that is elusive in a city of more than 4 million.

As backyard chickens continue to make the news in California after recent cases of Newcastle disease, it is worth noting that chicken-tending can be traumatic. Free-ranging can be deadly. Coyotes, raccoons, hawks -- even mountain lions -- will prey on hens. Extreme heat can overwhelm chickens because they don't sweat. And something as simple as a backyard avocado can prove fatal to chickens.
And still, they persist. With air conditioning, chandeliers, and automatic doors. These chicken coops come in a wide range of styles and prices.
There are more practical sources of information on the web about building chicken coops, but how about adding a little jazz, too?
A chicken xylophone: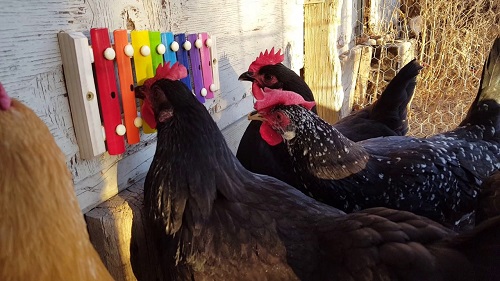 This hen is a real swinger: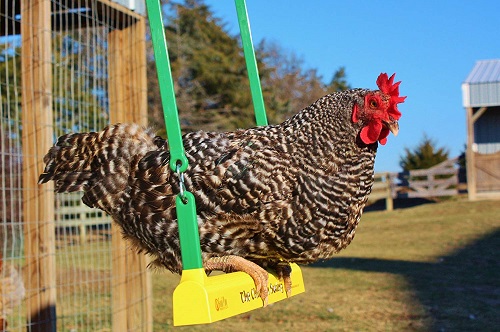 California is also home to a lot of chicken sculptures. Here's one in Fair Oaks, where homeless roosters may still wander in some neighborhoods. It's a Giant Chrome Rooster! I think the photo is from 2012.
Colorado artist Sean Guerrero created this enormous rooster, made out of vintage recycled auto bumpers. It serves as a visual focal point for shoppers entering the Safeway shopping center here, and is a reminder of Fair Oaks' agricultural roots. Wild chickens still roam Old Fair Oaks to this day!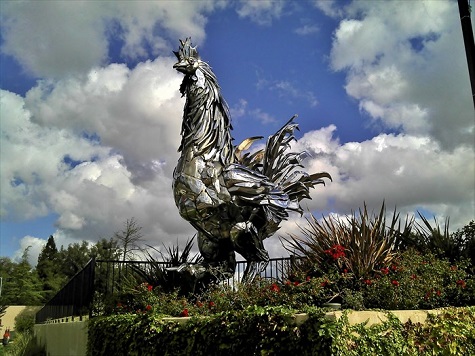 And here's a photo taken by a friend this summer. The rooster is still there, but it has to compete with trees, light poles and such now.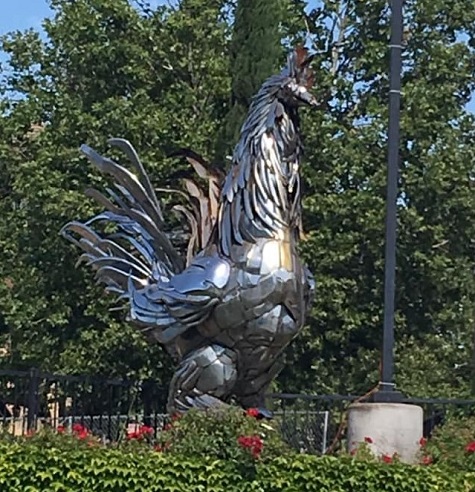 Here is a list just of one type of giant fiberglass roosters in California. Maybe you would like one in your yard for Halloween. Perhaps with a few pirates or vikings. The "Weird California" site is kind of fun.
Or maybe some chicken sculptures like these might fit better in your garden. Easier to care for than live chickens: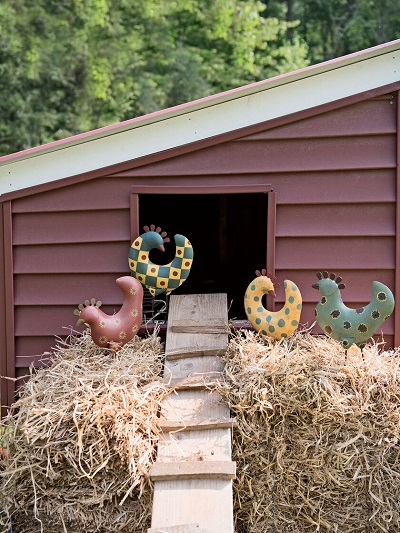 Plants that inspire Halloween costumes
Why settle for dressing up like a Viking when you could be a Berserker? Or a witch who can actually fly (in your mind)?
Recent evidence suggests that Viking berserkers may have gone berserk in battle not due to mushrooms, but due to Henbane. Scientific name: Hyoscyamus.
It is said to have made them act like wild oxen.
Vikings liked other plants too.
Did you know that your Forest Service had an Ethnobotany department? They have written a fairly long piece on The Powerful Polanaceae: Henbane. Jason and Medea are mentioned.
Hyoscyamine is still used in modern medicine as an antispasmodic and to treat stomach and intestinal such as irritable bowel syndrome, cramps, and Parkinson's disease.
Hamlet's uncle Claudius poured a henbane tincture of the "cursed hebenon" into Hamlet's father's ear to murder him.
Black henbane is a widespread, noxious weed in many parts of the United States
Vikings weren't the only people who used H. niger.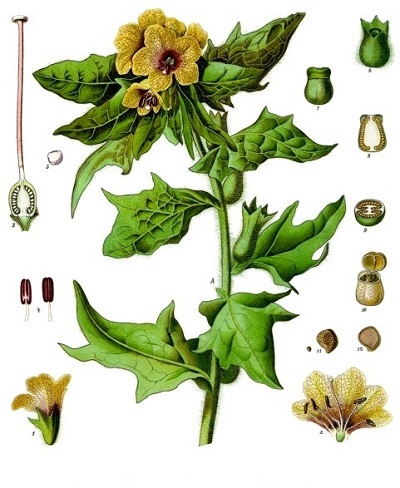 The name henbane dates at least to AD 1265. The origins of the word are unclear, but "hen" probably originally meant death rather than referring to chickens.[2] Other etymologies of the word associate it with the Indo-European stem *bhelena whose hypothetical meaning is 'crazy plant'[3] and with the Proto-Germanic element bil meaning 'vision, hallucination; magical power, miraculous ability'.
Henbane was one of the ingredients in gruit, traditionally used in beers as a flavouring. Several cities, most notably Pilsen, were named after its German name "Bilsenkraut" in the context of its production for beer flavouring. The recipe for henbane beer includes 40 g dried chopped henbane herbage, 5 g bayberry, 23 l water, 1 l brewing malt, 900 g honey, 5 g dried yeast, and brown sugar. Henbane fell out of usage for beer when it was replaced by hops in the 11th to 16th centuries, as the Bavarian Purity Law of 1516 outlawed ingredients other than barley, hops, yeast, and water.
Puttering
It's fall. As gardening slows down some, puttering picks up for some people. Hank Curmudgeon sent in a piece about a tiny, very well-organized workshop, featuring a surprisingly relaxing video.
[Stephen]'s woodshop is a cozy 6? x 8? (1.8 m x 2.4 m) garden shed. The front wall is almost entirely occupied by the door and a window, reducing the amount of wall space available but providing ample natural light and keeping the small space from inducing claustrophobia. Absolutely every square inch of the remaining space is optimized and organized. [Stephen] wisely eschews bulky cabinets in favor of hanging tool racks, all mounted flexibly to the wall on French cleats. Everything has a place, and since every hand tool is literally within arm's reach, it stays stored until it's needed and goes right back when it's done. The shop boasts way more than hand tools, though; a lathe, drill press, thickness planer, sander, air compressor, scroll saw, band saw, and even a table saw all fit in there. There's even dust collection courtesy of "The Beast", [Stephen]'s DIY dust extractor.
There is also a space for cat treats. I imagine that the dust extractor makes the space more cat-friendly. Not much space for garden tools. He must keep those with his wood.
Here are a couple of items created in the workshop. The owner creates artistic pieces in several types of materials. Here is Eric the Owl, composed entirely of folded paper. "Pure origami".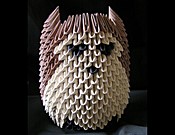 And here is a tiny Yew Pot.
Last year I picked up an overlooked piece of Yew from a tree that had been felled and removed. The 3 inch diameter branch was less that 4 inches in length and pretty ragged but I brought it home and threw it in the wood pile anyway. Yesterday I put it on the lathe and look what I found inside once I'd got past the damage! The beauty of wood never cease to amaze me.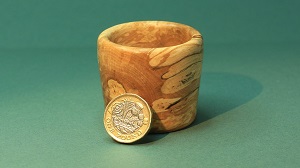 The Barrister at Maggie's Farm put up a post on stacking firewood. Take a look if you are preparing for a cozy winter fireplace. Any additional advice?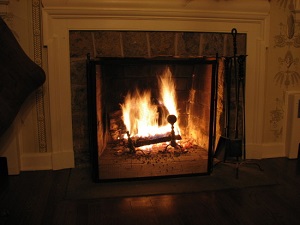 Gardens of The Horde
It appears that we have a little "tall sunflower" competition going on. This one is from a part of Texas where spring gardening ends in June and fall gardening starts in September.
Total lurker here, but this was my 13' sunflower this spring!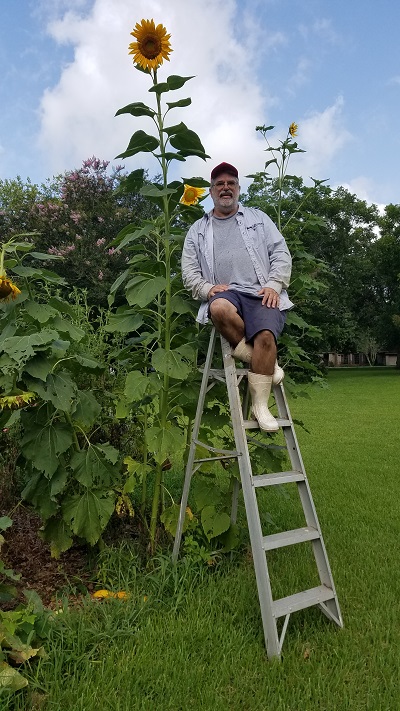 If you don't see a photo you have sent in, doesn't mean we don't have it. If you would like to send information and/or photos for the Saturday Gardening Thread, the address is:
ktinthegarden
at g mail dot com
Include your nic unless you want to remain a lurker.

posted by Open Blogger at
01:08 PM
|
Access Comments