ę Justin Trudeau's Support Plummets 15 Points in Critical Ontario Province, So He Tries to Change the Subject By Ordering Gun Confiscation
|
Main
|
Pelosi to Announce Impeachment Inquiry;
"Whistleblower" Being Represented by.... Former Schumer Staffer and Hillary Clinton Campaign Operative Ľ
September 24, 2019
Trump: I'm Releasing the Transcript of My Call with the President of Ukraine
Obama Official Jon Favreau: No! Don't Read the Transcript! It's a Trap!!!
Favreau doesn't want the transcript -- he admits it's almost certainly non-objectionable.
What does he want if not the actual transcript of the supposedly impeachable phone call?
The Deep State leaker's partisan hearsay and interpretation of that hearsay about the call.
Have you ever seen such a thing? People actually saying they don't want the evidence, but only the partisan spin about the evidence?

Update: Pre-emptive conspiracy theorizing from the left and NeverTrumpers -- if the transcript turns out to be unobjectionable, that's just because Trump "altered" it.
More: Democrats and the media -- but I repeat myself -- are now saying the phone call is NBD, that this is about "more."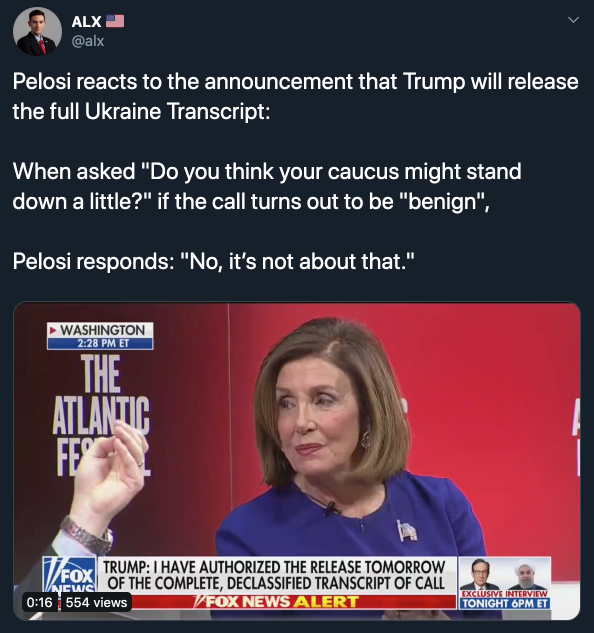 So we've moved from "Release the transcript or we impeach!" to "Ignore the transcript, we're impeaching over other things" in like two days.
Meanwhile, the NeverTrump fussies who pretend to be all about "intellectual consistency" and attacking actual Republicans for claimed deficits of same will studiously ignore their own goalposts-shifting from "the transcript is all" to "the transcript means literally nothing."
The Anti-Trump Left is making up reasons why Trump can't release the evidence of the non-crime:

posted by Ace of Spades at
03:18 PM
|
Access Comments