« Food Thread:
|
Main
|
Sunday Overnight Open Thread (9/22/19) »
September 22, 2019
Gun Thread: Quick Draw [Weasel]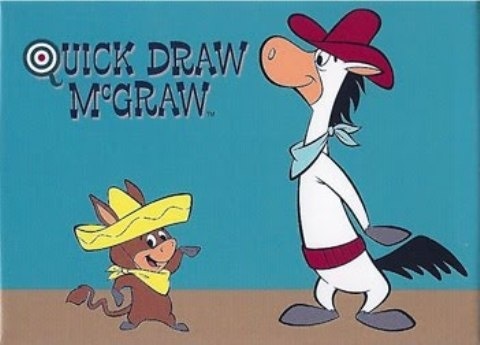 Last week we talked about range time, training and practice. When I first started shooting handguns, my weekly training and practice routine was to setup at an indoor range and spend 45 minutes to an hour trying to shoot the middle out of a paper silhouette about 20 feet away. How long did it take for that to become boring? About 15 minutes. But I stuck with it, Bro's and Bro-ettes, because I was training you see! And after practicing my standing motionless at 7 yards drill for months, I got to be pretty damn good! I'd set up the target the exact same way at 7 yards every time - I'd read somewhere that was the average distance of a lot of self-defense encounters - adjust the lighting just so, and proceed to make a big ol' raggedy hole in the middle of the target right where you're supposed to shoot the bad guys, or 'perps' as me and the boys called 'em. Eventually, I was able to make even smaller raggedy holes, thanks to all my practice and training!
But was I really accomplishing very much? Was I accomplishing anything at all? Let's find out below, shall we?

I had to be accomplishing something, because after all, my groups were getting smaller so I must be ready for some self-defens'n! I was at the point where the very next time someone who needed to be shot stood absolutely still directly in front of me at 20 feet or so, and I got all of the shooting crap out of my range bag and loaded up, I was pretty confident in my mad small hole making skillz! Yeah. Ridiculous. There wasn't anything really wrong with what I was doing, but I definitely wasn't accomplishing much more than practicing grip mechanics, trigger pull and sight alignment. All very important fundamentals, mind you, but also not a very likely scenario for a real world situation, now is it?
Here's an article on why little groups might not always be your friend, or at least why they may not represent the greatest training bang for your buck after you become generally proficient with your firearm.
I alluded to this last week, but most people start with an objective in mind when they take up the shooting sports. For some it is purely recreational with a vague desire to develop at least some level of competency with a firearm, while others have a more serious and specific self-defense application in mind. For some it may be a combination of all of the above, or even some other objective altogether. Whatever the case, it's helpful to keep your reasons in mind as you go to the range. Range time is practice time, even if you are simply practicing the skill of having fun.
So here's a question; if you include self-defense among your reasons for shooting, have you tried drawing from a holster and placing a couple of rounds in quick succession on target? If you haven't practiced this, and if your range allows it, you should try it sometime. All of a sudden you might find your raggedy single hole is much harder to replicate. In fact, you may find you have trouble hitting the target with any consistency at all. Uh oh! My skillz is gone!
Maybe not. If your objective is self defense, what you're really practicing are the skills necessary to stop the bad guy, right? The cops aren't going to score your shot placement if, God forbid, you have to shoot somebody. You're shooting to stop a threat, not to impress range babes with your one raggedy-hole bad-assery. I think most people agree that two or three shots inside about a six-inch center mass circle represents a pretty good start, and if it doesn't, then just keep shooting. This is training to a specific competency, and it needs to be practiced.
Again, you need to be certain your range allows this sort of practice, and if it does, consider adding some reality training to your routine. If it doesn't, you can usually get away with at least starting from a low-ready position. Don't go all nutty and spastic and try to be Marshal Dillon on Day 1, but rather slowly and methodically practice drawing and placing your sights on the target. This is something that is perfect to practice at home in front of a mirror wearing your Superman underwear and cape, with an unloaded! gun. Start ridiculously slowly drawing the weapon and acquiring the target, then making the weapon 'safe' and returning it to the holster. When you go to the range, now clothed and cape-less, practice the same drill and then slowly incorporate live fire. Do not start out practicing some sort of quick-draw business, your speed and proficiency will come with time. Some ranges even have programmable lanes which will present the target to the shooter for a couple of seconds based on a random timer, and these are an excellent training tool.
But what if your range doesn't allow this? What to do? You may be able to find that International Defensive Pistol Association, or IDPA, matches are being held in your area. These matches consist of 'stages' where you compete in scenarios designed to simulate real-world situations. In these matches you will practice movement, shooting, reloading and all sorts of things. If competition isn't your thing, don't worry about scores, although they are an excellent way to measure improvement. If you cannot find an IDPA match, there are a number of other organizations that put on the same sort of events, so just look around. As the first link below mentions, even tactical competition doesn't replicate the real world environment, but in my opinion, it is a great training option you might want to explore.
So what do you all think? Have you incorporated any real world elements in your training, or are you more of a stand-and-plink sort of a shooter? Have any of you participated in an IDPA style match, and if so, what was your experience?
Bonus Question: What was the name of Sheriff Quick Draw's sidekick?
Programming Note: I'll be attending a fabulous and luxurious social event this evening, but I'll try and check in periodically. Try not to burn the place down, and no parties, 'kay?
*******
Link-O-Rama
Video: Thoughts on Competition vs. Tactical Training
Pew Pew Tactical: Six Best Shooting Drills
NRA: More Shooting Drills
Bigfoot Gun Belts: More on Shooting Drills
Lucky Gunner: You Guessed It - Shooting Drills
Eagle Gun Range: Warmup Drills
Tactical-Life: Accuracy Drills
***Mail Bag***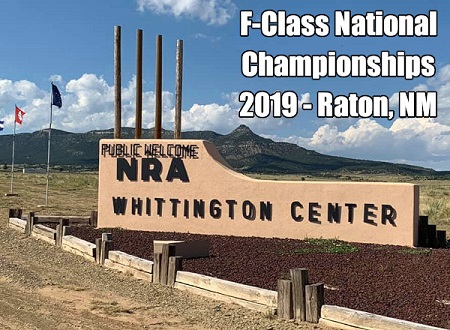 This week I'd like to give a shout-out to all of my pals in the F-Class shooting community, who are currently wrapping up 8 days of competition at the 2019 U.S. National Mid and Long-Range Championships in Raton, New Mexico. This year, 268 competitors met to compete against themselves, each other, and the wind in the New Mexico high desert. These guys and gals are some of the very best shooters in the world. I've been following the scores and range reports this week, and the conditions during some relays have been absolutely brutal, with shifting winds in excess of 35 mph. Imagine trying to hit a 5 inch circle at 1,000 yards in that, then imagine trying to do it 20 times in a row during a match. It's a testament to the skill and dedication of all involved, who have been practicing and preparing for the event all year. Congratulations to all of the competitors!
A library of event photos can be found HERE courtesy of Turbulent Turtle at the Accurate Shooter website.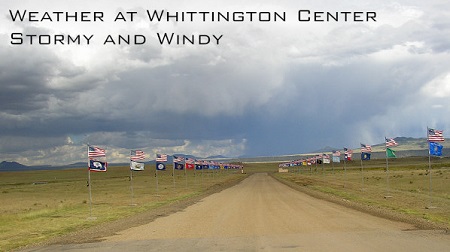 ******
Please note the new and improved gmail account morongunthread at gmail dot com. An informal Gun Thread archive can be found HERE. If you have a question you would like to ask Gun Thread Staff offline, just send us a note and we'll do our best to answer. If you care to share the story of your favorite firearm, send a picture with your nic and tell us what you sadly lost in the tragic canoe accident. If you would like to remain completely anonymous, just say so. Lurkers are always welcome!
That's it for this week - have you been to the range?

posted by Open Blogger at
07:00 PM
|
Access Comments