« Hillary Clinton: I Only Lost the Election Because It Was Rigged by Voter Suppression
|
Main
|
New York Times "Reporters" Kate Kelly and Robin Pogrebin Keep Digging, Keep Lying »
September 19, 2019
Robert Francis "Blotto" O'Rourke Holds a Reddit AMA (Ask Me Anything); Half of the Questions Are About His Hitlerian Position on Guns, or Internet Scuttlebutt That He's Secretly a Furry
I don't know if there's any real reason for the furry thing, whether it's a "real" rumor or just something made up to troll.
Answer: I'm told that Blotto dressed up as a furry for some of his stupid Rich Kid "Punk" Band shows, and some suspect he took his work home with him.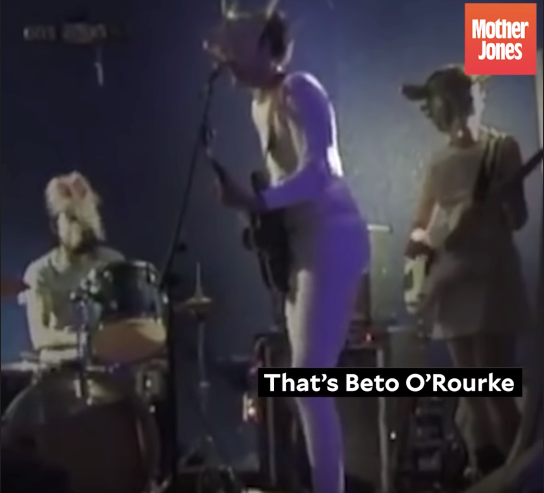 But all the people on the internet seem to believe it, and I think that means it's true.
Here are the a non-fursona-related questions, mostly about guns:
In fall of 2018, during a CNN town hall, you famously said "I don't want to take yours, or anyone else's guns," which is a position echoed by many politicians, such as former President Barack Obama, when discussing gun control proposals.

You've now flip-flopped on that position, and are unabashedly campaigning for outright gun confiscation.

Many gun rights advocates have claimed throughout the years that either it's only a matter of time before gun control advocates push for confiscation even if they don't actively push for it at a certain point in time (the "slippery slope" argument), or that they secretly desire confiscation the entire time, but refuse to admit it or lie about it. Which case did you fall under during that 2018 town hall? Were you lying about your desires for confiscation then, or have you proven the "slippery slope" argument completely true?
He didn't answer.
Hey Beto! 2 parter if you don't mind.

How much did you pay your advertising firm to come up with the Beto for Senate campaign logo that looked like a spicy ketchup packet from Whataburger? Did you know it was plagiarized before it was released? Were you upset at the company or did you get your money back?

How much did you pay your advertising firm to come up with the "Hell yes, we will take your AR-15" campaign slogan that looked just like a Eric Swalwell slogan? Did you know it was plagiarized before it was released? Were you upset at the company or did you get your money back?
Another no-answer.
What makes you qualified to even run for president? You're a wealthy white guy who got handed everything, escaped punishment for a serious criminal act, and then lost an election to the least popular senator in America despite tens of millions in outside funding.

You've never done well in national polling despite a glowing media painting you as a Kennedy like figure, and you've never won a national or statewide election.

Is there a plan for victory beyond saying fuck a lot?

...


As a Texan who looked to give you every chance to get my vote during your Senate race against Ted Cruz, why does it seem like your policies changed dramatically between your failed Senate run and your now current Presidential one?

...

Is it true that you and your wife have over 400 Million in assets? How do you think being ultra wealthy affects your policy choices?
Obviously, no answers to these questions.
This is a question we've all asked. No answer, obviously.
Why do you insist on using the name Beto, when your name is Robert and you're a white guy?

Also, good luck with taking firearms away from millions of law abiding citizens. Your little remarks about that subject were that of an aspiring tyrant.
Oh, another poet!
Hi Beto, thanks for stopping by. As we all know you were pretty active in the early hacktivist community, as well as moonlighting as an amateur poet. At some point are you planning to livestream a reading of your seminal work of art, "The Song of the Cow"? I feel that ass waxing and butt-shining are two very relevant issues many politicians are faced with daily in the modern political arena. If you had any insight on the future of cyber security in American voting we would be interested to hear about that as well, but the poetry is the priority. Again, thank you for your time and say hi to Texas for me. (Yeehaw)
About his criminal record:
Hey Beto. Is it true that the real reason you wanna confiscate AR-15s and AK-47s is because your DUI and subsequent fleeing from the scene (edit: forgot about your burglary charges, sorry I left out one of your achievements) makes it illegal for you to own them and you're jealous? Also, I have seen you say that Texans you've met have been asking you to do this. I think you're misunderstanding the intent behind the phrase "come and take it"
A question on drug policy:
how much coke do you and your dad do together you fake fuck?

stop saying you represent texas, you dont, not even close. couldnt even beat that shithead cruz.
Some furry-related questions:
Hi, Beto. My question is about your furry band in college. Can you tell us a little bit more about that? Just from a human interest perspective.
Hi Beto! Thank you for doing this AMA. The rise of the internet has led to a resurgence among many groups and ideologies incompatible with modern American society. Unfortunately, these groups have also begun to organize outside of the internet in the form of rallies, meetings, and even full-blown conventions in our communities. Many people, myself included, are beginning to fear that the only way to prevent large scale violence is for the government to intervene, with force if necessary. With all of that said, would you like to address the allegations that you're a fucking furry?
I love the technique of starting off with a real-sounding question and then getting in the dig at the end. Howard Stern's prank callers popularized this technique.
I'm thinking of buying a new fursuit. Do you think it's worth it to get the custom-made ones off Etsy, or should I just go for the $400-500 ones on ShopMascot and cut out the holes where I need them?
Hi Beto. As a member of the furry community, what steps would you take to stop any further marginalization of our community?

We're often the subject of hostility and brutal memes like "GAS ALL FURRIES," but outside our fursona, we're all just regular people trying to make our way in the world.

I know you've donned the war paint before, so I ask if you're elected to please help out a group of people that have flown under the radar when discussing underrepresented groups of Americans.

This question is about guns, not Blotto's fursona, but the writer calls himself "ComeAndTakeItFurry."
ComeAndTakeItFurry

Robert Francis, given your criminal history, which includes burglary and a drunken hit and run, wouldn't you fail a background check? Why then do you believe you can require law-abiding Americans to sell you their guns?
Furry "Rock:"
That's really terrible shit right there.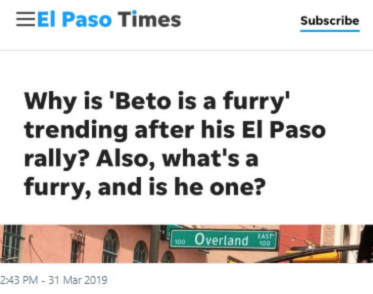 Anti-Furrite Bigotry from the GOP:


posted by Ace of Spades at
03:17 PM
|
Access Comments