« Saturday Morning Coffee Break
|
Main
|
Saturday Gardening Thread: Advanced Puttering [KT] »
September 14, 2019
Eurovision [KT]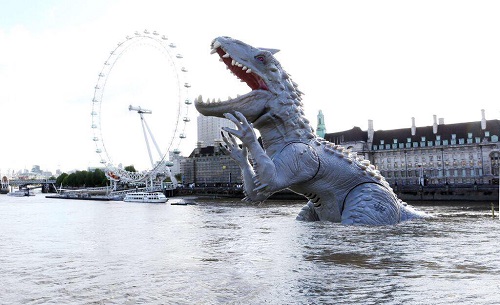 Brexit risks dinosaur attacks in London,
warns Brussels-funded CBI.
Plus other horrors
Victor Davis Hanson has written a piece entitled, Is England Still Part of Europe? (h/t J.J. Sefton) Interesting to hear a reference to "England" instead of "Britain" these days.
British Prime Minister Boris Johnson is desperate to translate the British public's June 2016 vote to leave the European Union into a concrete Brexit.

But the real issue is far older and more important than whether 52 percent of Britain finally became understandably aggrieved by the increasingly anti-democratic and German-controlled European Union.

England is an island. Historically, politically and linguistically, it was never permanently or fully integrated into European culture and traditions.

The story of Britain has mostly been about conflict with France, Germany or Spain. . .
The 18th century British and Scottish Enlightenment of Edmund Burke, David Hume, John Locke and Adam Smith emphasized individualism, freedom and liberty far more than the government-enforced equality of result that was favored by French Enlightenment thinkers such as Jean-Jacques Rousseau. It is no accident that the American Revolution was founded on the idea of individual freedom and liberty, unlike the later French Revolution's violent effort to redistribute income and deprive "enemies of the people" of their rights and even their lives.
He outlines some reasons Britain might want to leave the EU.
Britain has a last chance to re-embrace the free-market democratic world that it once helped to create -- and distance itself from the creeping statism it once opposed.
Elites in Britain and Europe oppose Brexit, of course. But the EU has reasons, in addition to the loss of Britain, to oppose Brexit. For example.
The dissident Visegrad Group, comprised of the Czech Republic, Hungary, Poland and Slovakia, seeks to create a mini-alliance inside the EU that promotes secure borders, legal immigration only, nuclear power, and traditional values and Christianity.
Who needs challenges to the EU's central planners like that?
The EU bureaucracy seems to have a grand vision for Europe. It may include dissidents from abroad, but who needs dissidents from within Europe?
What's going on in Britain?
I don't really understand all the maneuvering that is going on in Britain. A lot of people are recommending this piece by Christopher Caldwell on why Brexit hasn't happened yet, from August. It may be helpful in understanding the British Parliament.
This week, people are mad at Ringo Starr, because someone dug up a 2017 interview in which he favored Brexit. J.J. Sefton also picked up a piece on who supports and who opposes Brexit. With some recent news.
Music
Can someone explain Eurovision, the music contest, to me?
A reminder that European culture did not start with the EEC, or with Eurovision. The Eurovision theme may be the best part of the program. At least in its original form. Marc Antoine Charpentier wrote both serious Catholic music and light-hearted incidental music for Moliere's comedies. He lived in the 1600s, but he began his career working for a woman.
I think it's interesting that some of those old horns are played with one hand.
Hope you have a great weekend.
NOTE: This is the Thread before the Gardening Thread
Serving your mid-day open thread needs

posted by Open Blogger at
11:42 AM
|
Access Comments