« Bret "Bedbug" Stephens is a Bedbug
|
Main
|
The Washington Post: After Careful Consideration, We Have Decided That White Supremacy Has Incurably Infected [Spins Wheel] the Pro-Life Movement and Therefore Now That Movement Must be #Cancelled »
August 27, 2019
Divorce Filing: That Terrorist Whore Ilhan Omar Flew an Adultery Jet Into My Marriage
I'm paraphrasing.
The scandal here is that Omar wasn't even related to the guy.
A Washington, DC, mom says her political-consultant husband left her for Rep. Ilhan Omar, according to a bombshell divorce filing obtained by The Post.

Dr. Beth Jordan Mynett says her cheating spouse, Tim Mynett, told her in April that he was having an affair with the Somali-born US representative and that he even made a "shocking declaration of love" for the Minnesota congresswoman before he ditched his wife, alleges the filing, submitted in DC Superior Court on Tuesday.

The physician, 55, and her 38-year-old husband -- who has worked for left-wing Democrats such as Omar and her Minnesota predecessor, Keith Ellison --have a 13-year-old son together.

"The parties physically separated on or about April 7, 2019, when Defendant told Plaintiff that he was romantically involved with and in love with another woman, Ilhan Omar," the court papers say.
A leftwing political operative? And he turned out to be flighty sociopath?
Mind. Blown.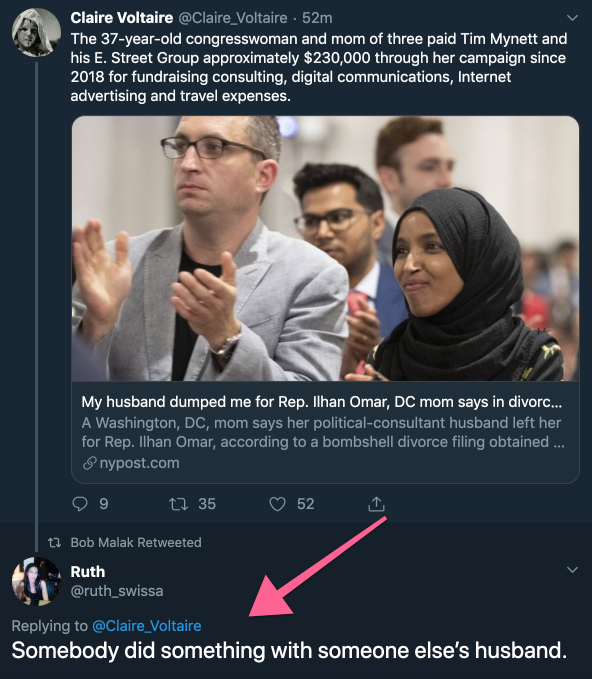 LOL:
@EmeraldRobinson


Ladies, are we being too hard on@@IlhanMN?

Who among us has not dumped their brusband and sought a legal US citizen to marry - just before the immigration authorities arrive with deportation papers?
From Lizzy.
Whoops
Whoopsie!
Omar has already been found guilty of improperly using campaign funds to pay her own personal expenses, including legal fees for one of her divorces. Mrs. Mynett's divorce pleading alleges:

Beth Mynett is seeking primary physical custody of her and her husband's son in part because of Tim Mynett's "extensive travel" with Omar, the document says.

"Defendant's more recent travel and long work hours now appear to be more related to his affair with Rep. Omar than with his actual work commitments," the court papers state.

If the $230,000 that Omar's campaign has paid to Mynett includes travel costs relating to romance rather than political consulting, or if the fees charged were inflated for the joint personal benefit of Mynett and Omar, it would represent another violation on Omar's part. An appropriate agency should investigate the appropriateness of the funds paid by Omar's campaign to Mynett.

posted by Ace of Spades at
04:08 PM
|
Access Comments