« Terrorist-Linked Congresswoman Rashida Tlaib: Don't Blame Me For Partnering With a Terrorist-Friendly Organization to Agitate in "Palestine," Blame The Other Democrats Who Have Partnered With Them In the Past
|
Main
|
lol: Disney and Sony Unable to Reach Deal on Renewing Rights-Sharing Agreement Over Spider-Man; Disney/Marvel Will Go Back to Plan of SJW Characters No One Cares About »
August 20, 2019
The Surgeon Who Performed Two Operations To Fix Joe Biden's Defective Brain: I Can Assure You That Joe Biden's Brain Is, For the Moment, "Functioning"
The man who frequently loses his chain of thought and speaks in gibberish and who is increasingly kept "cloistered" by his staff to keep the public from seeing more of his cognitive disabilities has a brain that is, arguably, "functioning"?
That's the most Biden's doctor can say in support of his brain? That it's currently "functioning"?
And that his brain isn't any worse than it used to be, when he was also, um, special?
How very unreassuring.
Deliberately unreassuring? Who can say, who can say.
But it is interesting, some of have pointed out, that Barack Obama won't endorse him.
Is Obama not as reassured by Biden's "functioning" brain as he'd like to be?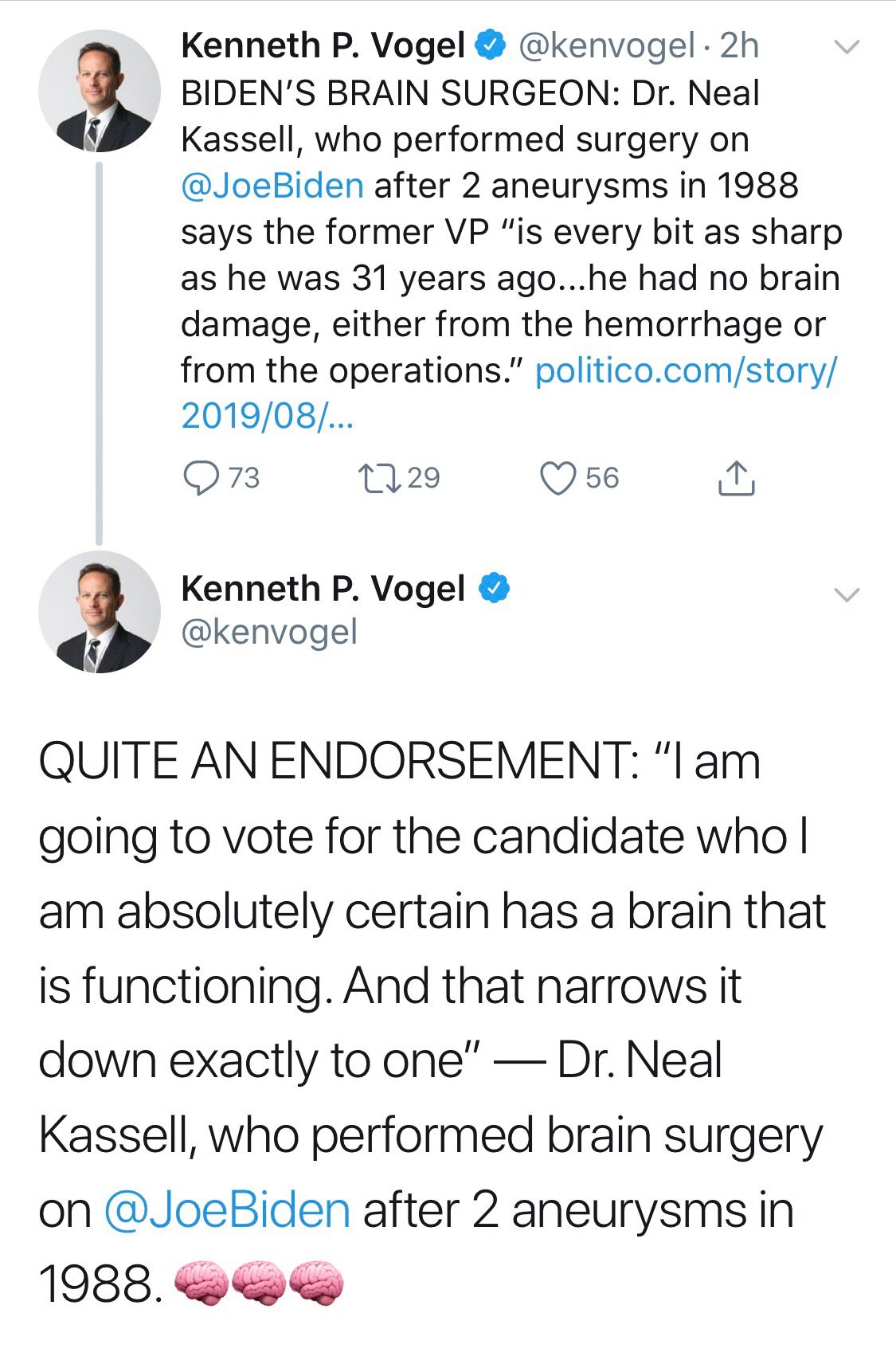 If you're worried that a guy who started out as a dummy might not be up to being president as his already cognitively-suspect brain experiences a quickening tempo of age-related, inevitable deterioration, don't worry, says the Democrat Public Relations firm called Politico.
Biden isn't super-old -- he's a super-ager. He just gets younger and smarter every year!
From the people who brought you Funemployment, now comes super-aging:
[C]oncerns about Biden's age and mental fitness are likely overblown, according to experts on aging and the brain, as well as actuarial tables used by the insurance industry to estimate the health and longevity of customers.

The two brain aneurysms Biden suffered in 1988 were fully treated and he showed no signs of mental trouble as a result, said Dr. Neal Kassell, who performed the surgery on Biden three decades ago. Nor did Biden suffer any brain damage that could come back to haunt him in old age, Kassell said.


"He is every bit as sharp as he was 31 years ago. I haven't seen any change," Kassell said. I can tell you with absolute certainty that he had no brain damage, either from the hemorrhage or from the operations that he had. There was no damage whatsoever."

...


For someone of Sanders' age and gender, the study pegs the chances of surviving a four-year term at 76.8 percent. The corresponding figures for the other candidates are Biden at 79.2 percent, Weld at 83.6 percent, Trump at 84.8 percent and Warren at 91.8 percent.

Olshansky said the older candidates could belong to a group of what are called "superagers," people who live into their 80s but show a mental sharpness as if they were in their 50s or 60s.

Emily Rogalski, a Northwestern University neuroscientist and associate psychiatry and behavioral sciences professor who specializes in studying superagers, said it's exceedingly difficult to "determine someone's cognitive abilities simply by knowing someone's chronological age."

...

"It's difficult to comment specifically on any one individual's cognitive status without knowing more deeply about their medical history," she said.

Really? That surprises me. Because MSNBC hosts like Niccole Wallace and their guests do it literally every single week.

posted by Ace of Spades at
03:55 PM
|
Access Comments