« Food Thread: Croissants... It's A Bun!
It's A Hairstyle!
|
Main
|
Sunday Overnight Open Thread (8/18/19) »
August 18, 2019
Gun Thread: The Friendly Skies and Guns [Weasel]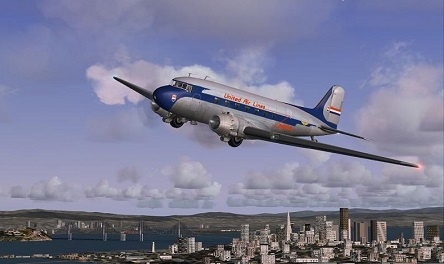 Do you like movies about gladiators?
Towards the end of the comments last week our pal NaCly Dog posted a good question:
Is it easy to fly with firearms as checked luggage?
And the answer is a resounding yes, in fact it's easy-peasy! Let's explore below, shall we?
Well, depending on your definition of "easy-peasy" that is.
I have flown all over the country with firearms in checked baggage, and seriously, it is no big deal with really only a couple additional steps in the regular airline check-in process. In fact, the first time I flew with a firearm I was a little surprised at how easy it really was.
Here are the TSA Rules regarding the transport of firearms. In a nutshell, guns go as checked baggage only and must be securely locked in a hard-sided container. I am a big fan of Pelican cases because they are durable as shit and protect my investment in the guns very well. In all the flights I've taken, I have never had any damage whatsoever when using them.
TIP: Buy an inexpensive electric carving knife to cut the Pelican foam for a custom fit. Trace an outline on the back side of the foam with a Sharpie and carve away. If you're careful it does a neat and professional job.
It's important to review your airline's rules well in advance on weapons as they can differ slightly among carriers. In the case of long guns you need to be aware of size restrictions and oversize fees, in particular. Also, since it's going as checked baggage, you might be charged for a second bag, so be prepared. Just go to the airline's website and read the rules, then print a copy to take to the airport. Having the airline's policies in hand may prove useful if you end up with a ticket agent who starts making up their own rules. Handguns are a little easier; all the previous rules apply but they can go inside another checked bag, eliminating additional fees if you're already checking a bag.
How about ammo?
Small arms ammunition up to .75 cal, and shotgun shells of any gauge, are subject to the same rules as firearms. Cartridges must be packed in a container designed to carry ammunition, such as the box it was sold in, or aftermarket cartridge boxes, and placed inside a locked hard-sided container. Ammo can be shipped inside the same locked container as the firearm if space allows. Airlines impose a weight limit on ammunition which is generally 11 pounds. Check with your airline on this.
So, what's the procedure at the airport, you ask?
When you arrive proceed directly to the ticket counter with a live agent rather than a ticket machine. Tell them who you are, where you are going, and that you have a weapon to declare. Some airlines will have you fill out a small card with your name and flight information that goes inside the case. Finish the check-in process and do not lose your claim check for the baggage. The agent will either escort or otherwise direct you to the TSA screening area who will almost certainly ask you to open the case so they can have a peek. Sometimes, they will swab the inside for explosive residue. As soon as they are done, lock the case and hand it over. I use the sturdiest padlocks I can find, but I also carry a couple of TSA approved toy locks in case they insist on those, and for that reason I also bring a handful of zip-ties so I can tell immediately at the destination baggage claim if the case has been opened.
Get on the airplane, fly around eating pretzels, and arrive at your destination.
Pee first, then go directly to baggage claim. I usually go to the baggage office, introduce myself, and let them know I'm expecting a firearm from Flight X (insert your flight number here). Next I go to the carousel to claim my regular checked baggage. The weapon will (should) be hand carried to the baggage office by a baggage handler, typically at the very end of the aircraft unloading process. By that time I'm usually back in the baggage office. If your shit isn't f'd up, slip the guy a quarter. They will want to see your ID and the claim ticket you didn't lose, and you're on your way.
For the return flight, simply repeat the process. Southwest Airlines is particularly gun friendly and I've also flown Delta Airlines a number of times with no problems. You may want to allow a little extra time at the airport, but that's about it. See? I told you it was easy!
Q: What happens if my flight is diverted to a hostile jurisdiction such as New York or New Jersey - will I go to jail?
A: I don't know, it's never happened to me.
Here's a skerry article from the NRA-ILA which states in part:
Special advisory for New York & New Jersey airports: Despite federal law that protects travelers, authorities at JFK, La Guardia, Newark, and Albany airports have been known to enforce state and local firearm laws against airline travelers who are passing through their jurisdictions. In some cases, even persons traveling in full compliance with federal law have been arrested or threatened with arrest. FOPA's protections have been substantially narrowed by court decisions in certain parts of the country, particularly in the Northeast. Persons traveling through New York and New Jersey airports may want to consider shipping their firearms to their final destinations rather than bringing them through airports in these jurisdictions.
I think the risk of an inadvertent stop in one of these jurisdictions is probably small, but if it's more likely based on your circumstances and itinerary, you may want to consider making other arrangements, or bring your attorney with you on the trip.
Here is 18 U.S. Code section 926A - Interstate Transportation of Firearms regarding transportation in vehicles.
And finally our pal Yudhishthira's Dice posted a good tip with regard to the original question:
If you're flying with firearms, put all your valuables with the gun - TSA is required to lock/seal bags with weapons, and only supervisors can open them. I knew a guy who doesn't even shoot, who got a pistol just to pack with his pro video camera, after "They'll Steal Anything" pinched his old one.
Sounds like good advice. Thanks Yudhishthira's Dice! How about you all? Any air travel with weapons stories to share?
*******
Link-O-Rama
Article: The Law of Self Defense - When Prosecutors Run You Out of Money [h/t CBD]
Shooting Sports: Little Known Rifle Cartridges
Starline Brass in 7.65 French Long [h/t redc1c4]
Shooting Sports: Service Rifle
Accurate Shooter: 7mm Cartridge Guide
Shooting Times: All About Primers
Shooting Sports: S&W MP 15-22
***Mail Bag***
This week our pal Jordan61 shows us the results of jerking the trigger versus a nice smooth squeeze.
This is one of my targets from a few months back. I went to turn it in to my instructor and she asked me what happened with the little guy to the right of the 6. I told her that was when I jerked the trigger instead of squeezing and letting it surprise me. She ended up keeping it so she could show her other students. I thought it would be fun to share.
Thanks Jordan61! It was very thoughtful of you to pull that one as an instructional example for us! Not many shooters would be willing to spoil those great groups with an intentionally errant shot for the benefit of others. You're a Great American!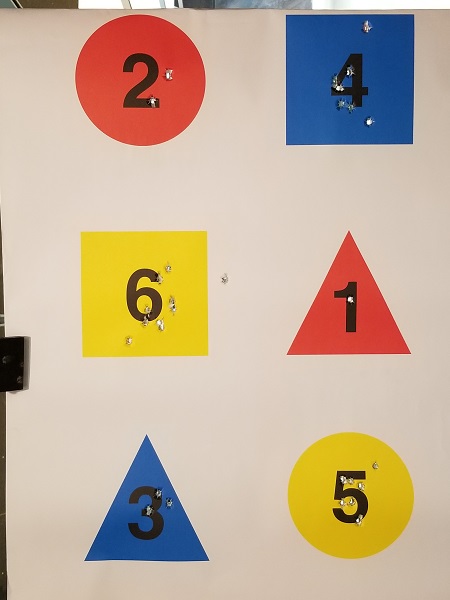 ******
Please note the new and improved gmail account morongunthread at gmail dot com. An informal Gun Thread archive can be found HERE. If you have a question you would like to ask Gun Thread Staff offline, just send us a note and we'll do our best to answer. If you care to share the story of your favorite firearm, send a picture with your nic and tell us what you sadly lost in the tragic canoe accident. If you would like to remain completely anonymous, just say so. Lurkers are always welcome!
That's it for this week - have you been to the range?

posted by Open Blogger at
07:00 PM
|
Access Comments