« New York Times Employees Tie Paper's Future to Racism [KT]
|
Main
|
Ace of Spades Pet Thread »
August 17, 2019
Saturday Gardening And Puttering Thread, August 17 [KT]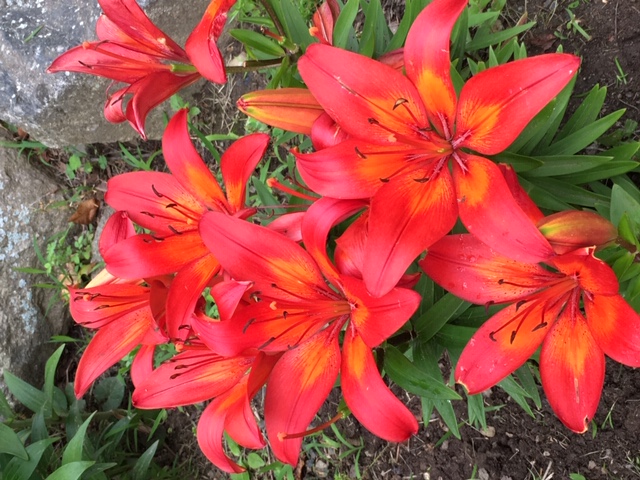 Hello, gardeners, melted or not. I don't know about where you are, but it's been hot around here. I'm reaching back to July for some lilies from Sharon to start with today.
I'm mostly a lurker. I was very proud of my lilies this year and managed to get a photo before the deer,rabbits, woodchuck starting nibbling at everything in my garden.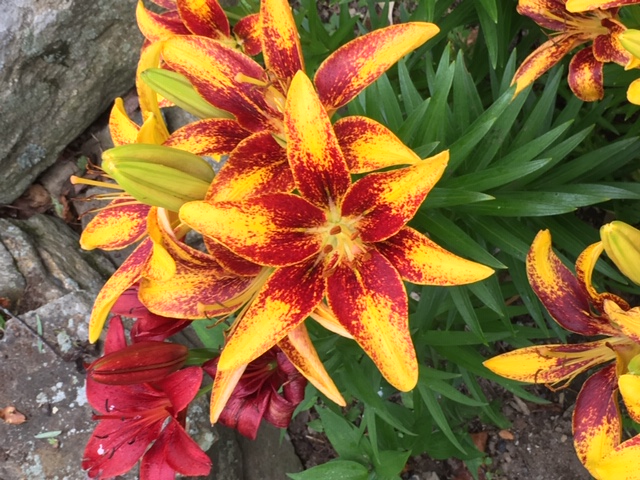 Striking.
We also have some lilies from another gardener in Alaska, Jerry! Pink ones that bloomed this month. But I am saving them, because they clash with the lilies above. Here are two great photos from Jerry, though:
Monkshood. Quite toxic, I think. Love the markings.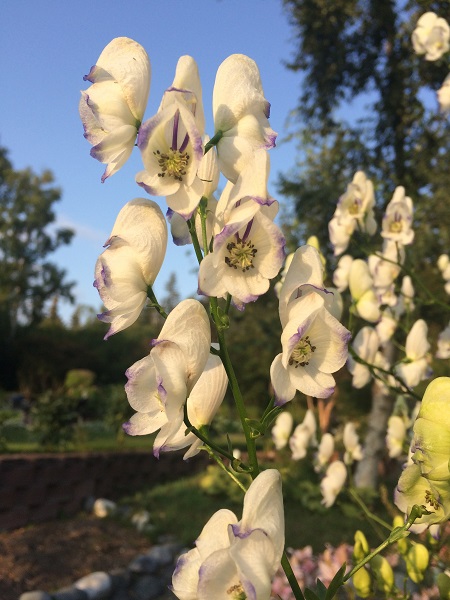 A purple one: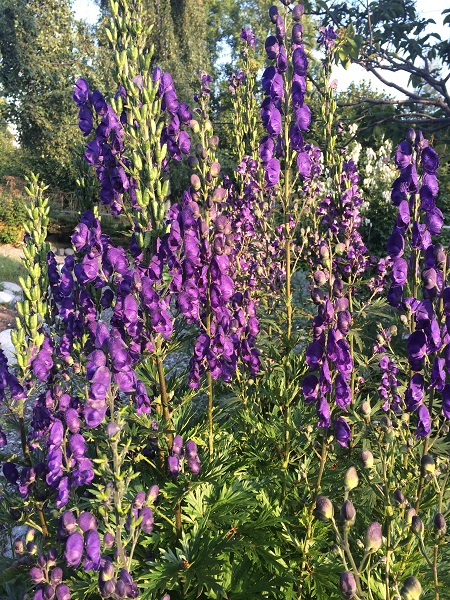 Puttering, Science, Engineering, etc.
Dodder: parasite and gene thief extraordinaire: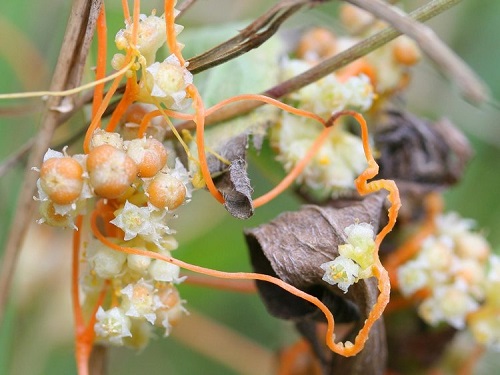 Dodder is a parasite, related to Bindweed. Nasty, nasty, nasty. The photo above is the most attractive I have ever seen. It can also steal genes from its host plants, apparently.
How did people keep cool at home before air conditioning?
Ever tried putting your pajamas in the refrigerator? Some interesting home design features are discussed. I would like to see some of them brought back.
Things that are sort of related to last week
Last week, Pat* had sent in a photo of a mystery plant, and nobody identified it. I think it might have been living in Pat's yard before she planted her hummingbird mix. I looked around some, and thought it looked like some members of the mint family, maybe like a smaller version of Canadian Teucrium or something. If it has square stems. Or maybe it could be a Phacelia. Or Vervain, as Pat* suggested. What do you think?
Anyway, this is her hummingbird mix. Looks better than most wildflower mixes I have seen:
I've taken several photos of my Hummingbird Mix garden, but this one gives the best idea of the current riot of color. This is taken facing my house. The Scarlet Sage dominates the photo, but you can see the white and purple Rocket Larkspur - a bit of Spurred Snapdragon to the lower right - on the left is a yellow flower that I don't know if it's Four O'Clock - and in a few places, the lighter purple cones that I think are Wild Petunia. (This is assuming everything they said on the seed packet list is true - which is maybe not correct, since I have the vervain-like mystery in this garden too.)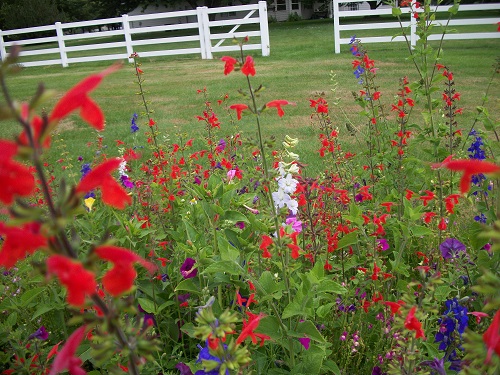 Love the red sage.
Here's a photo of a hummer, taken by Snowdog: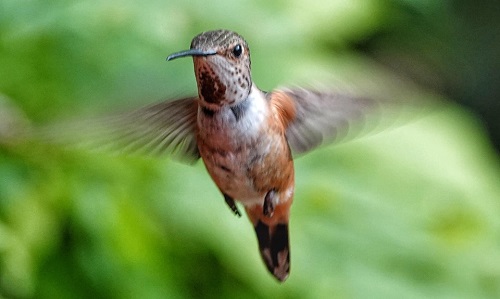 We also got a request for identification of an impressive flowering plant from Kevin in Minnesota.
I do not stake it. It has been blooming like this all summer. A friend gave us a small 8" shoot and this year it just took off. I think it has been about 3 years.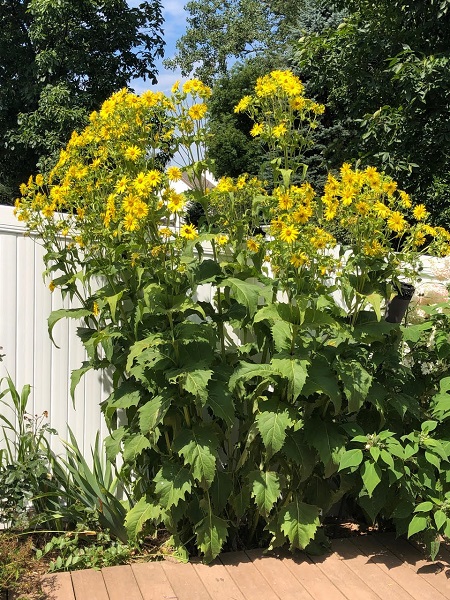 At first I was kind of worried that it would be one of those damn yellow composites that hybridize so freely and make it hard for wildflower specialists to identify them.
But then I looked again at the leaves, and they looked like one of the Silphiums discussed last week, the Cup Flower. Here is a great summary on using this big plant in the landscape.
They are great for attracting butterflies and other pollinators. One interesting thing is that you can use the hollow stems to host native bees, instead of those expensive tubes you buy:
Cavity-nesting bees and solitary wasps use the stems as nesting sites. The large, square stems are hollow between the nodes and can be bundled together (10 inches in length, 4-inch-diameter bundles) and hung in a sunny location that receives morning sun. Choose stems from eye level; the lower stems are often too big in diameter.
The tiny "cups" of water at the base of the stems after rain attract various types of wildlife. The seeds also attract songbirds, like goldfinches. Here's one now, from By-Tor: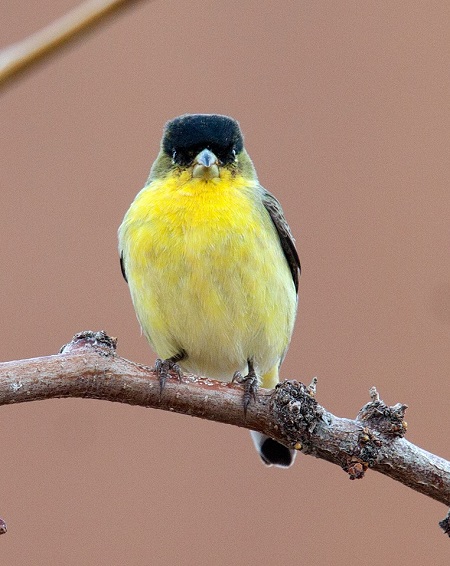 There was a bright yellow fuzzy caterpillar in last week's post. I think we have identified it as one of these three fuzzy fall caterpillars, the yellow-spotted tussock moth caterpillar. Not the most spectacular moth in the world, but an interesting caterpillar. Has variable amounts of black.
I liked the text about another of the fuzzy caterpillars:
Until she started researching this American Dagger Moth caterpillar, the BugLady thought it was named for the caterpillar's long, dark tufts of hair (setae), but it turns out that adults of many species of dagger moths have dark, dagger-like marks on their wings. Some dagger moths come with delicious names like the Delightful, the Fragile, the Funerary, the Afflicted, the Impressive and the Splendid dagger moth.
Later, there is a rather vivid description of the life cycle of a caterpillar parasite.
I like the URL for this site, Something crawling in my hair:
In fact, it is so very woolly that I'm not 100% certain which end is which.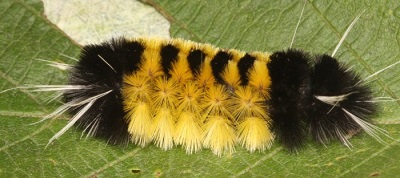 Adult moths and variably-colored caterpillars here, including one that looks like ours last week.
The Edible Garden
Got anything growing? It is Pluot season here. Three varieties are on right now. They're not all the same. One is a small freestone. The other two are large enough to be commercial. One is a commercial variety. The one that used to be called "dinosaur egg".
Gardens of the Horde
Illiniwek has found two monarch caterpillars on his milkweed. Here is one of them.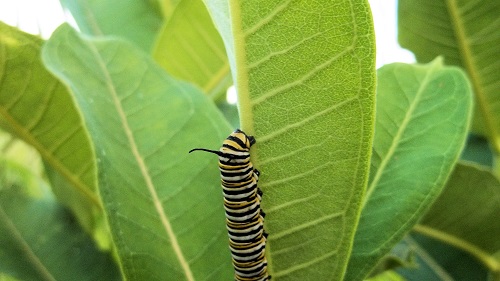 Le Garde Vieux claims not to be able to grow anything, but he grew these lovely waterlilies. Lovely setting. Do you see the Canada geese?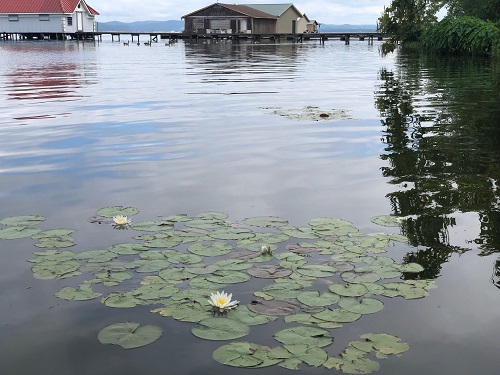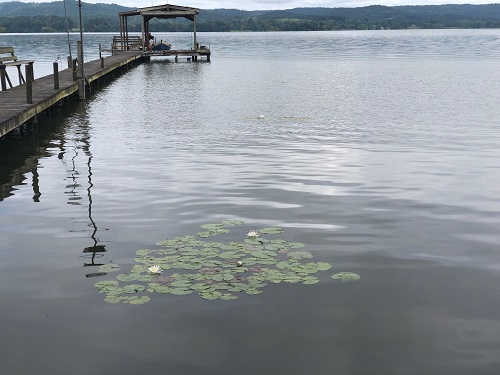 If you would like to send information and/or photos for the Saturday Gardening Thread, the address is:
ktinthegarden
at g mail dot com
Include your nic unless you want to remain a lurker.

posted by Open Blogger at
01:17 PM
|
Access Comments