« Saturday Afternoon Chess Thread 08-03-2019
|
Main
|
Saturday Overnight Open Thread (8/3/19) »
August 03, 2019
The Occasional Fishing Thread: [Bandersnatch]
Welcome Piscators and Piscatrixes to the current installment of the occasional fishing thread. As usual, my musings, memories, biases, rants, brags, and outright lies are just a jumping off point. All things fishy are on topic.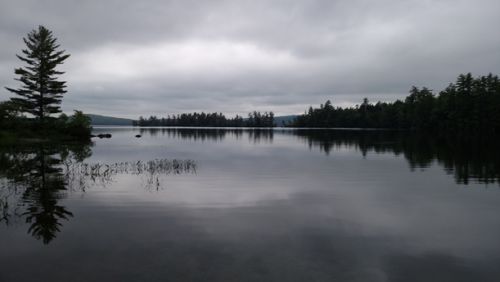 I am going to talk about banal things like knots and gear because this week's fish rhapsody was penned by Washington Nearsider:
Not only was this day my mumbledy-mumble birthday, but it also marked the end of my family's 54th annual trip to Parker Pond in Franklin County, Maine…
Some of my best memories have been made on Parker Pond, and I've had some of my most significant conversations. It's not that men don't talk to each other about heavy things or about our feelings; it's that we have to be doing something which precludes eye contact while we're talking about them. Fishing is the perfect medium for provoking big, important, and thoughtful conversations between men who trust each other. Most of the time, though, we're constantly busting each other's balls – as is proper.
Read the whole thing here, and photos here, and here. No really. A fifty four year tradition.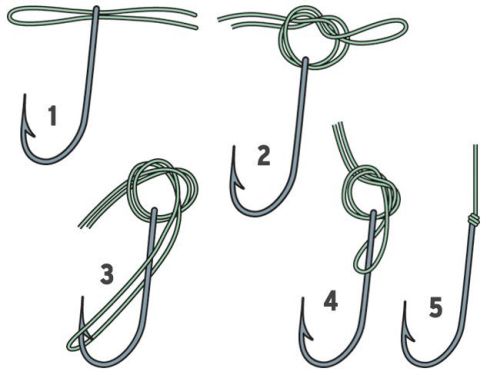 That is how to tie a palomar knot. I do not tie palomar knots. I get through all my fishing life with just about three knots: the clinch knot, the double surgeon's knot, and the double surgeon's loop. The one thing they have in common is that they're pretty simple. There are better knots. There's one called improved clinch knot because it's an improvement on, well, you get it.
I could tie a palomar based on the drawing above, but I guess when I was a kid those diagrams didn't make any sense and I never developed a love for knots. Some people are knot nerds. It's pretty cool. They go on about how they've measured the breaking test of various knots relative to the line test strength. And so they can prove that their knots are better than mine, but if I lose a fish due to a knot failure it's because I screwed up the easy knot.
So let's talk about gear.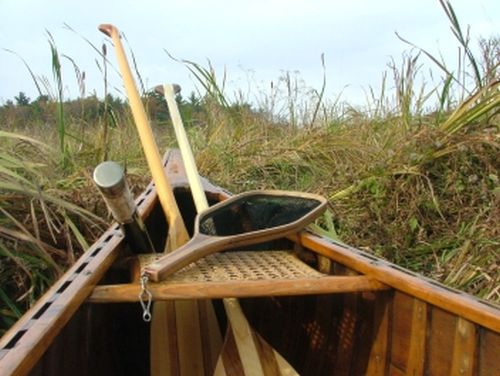 OK, that's not a photo of gear in the sense that I'm talking about. But it's cool. I was thinking of using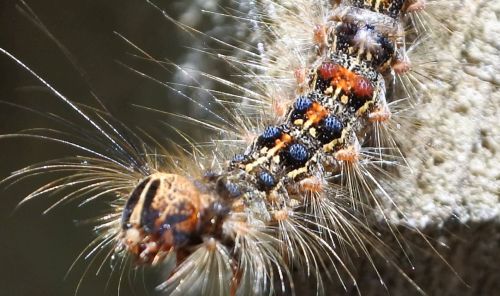 this caterpillar, which is from a fishing trip.
Some fishermen are serious gearheads. It's the same mentality that wants to rebuild carbeurators. Do you take apart your reels and clean the bearings at the beginning and end of each season? I don't. I try to remember to rinse my reels in fresh water if I've been fishing in salt. (Salt water is evil over time. I don't even hold a grudge, knowing that the salt is going to eat your gear is part of the transaction).
There was a time of gear snobbery, which I think has mostly passed. Fishermen will talk, or not, to strangers. You either get a grunt, or something vague, or something earnest when you ask about the bait, or how it's been, or he'll say you should have been here yesterday. During the fly fishing boomlet sometimes a guy would walk up to you and ask what brand of rod or reel you were using. Those were the guys you don't talk to.
I got into some high end gear back when a couple of New England rod makers said if you pay this ridiculous price for a stick of carbon we will guarantee it for life. Fix it free if you break it. A friend of mine broke one of his in Andros and they FedEx-ed him a new one right then. Well it turns out that selling a high priced rod and fixing it forever is not a good business model, so both of the companies started adding "service charges" and whatnot to even it out. I actually visited the workshop of one with a rod I'd left on the roof and got run over to work out a fair way of what should this cost to fix.
I also got a tour of the shop and a view into how they make rods. They taper, so they can't be extruded, and I could never figure out how they were made. Other than magic, of course. Well it turns out to be mandrils. They have mandrils in the interior dimensions of the rod and they wrap it in graphite fiber and bake it. Very cool.
The most serious gearheads I know are the offshore fishermen, which makes sense because the fish are immense and powerful and the cost in money and effort to hook one is equally immense.

On to Moron Brag Pics.
Lee has a grandkid who is starting out spoiled in life as far as fishing expectations go.
Longtime lurker/avid blog reader of Ace. I especially enjoy the occasional fishing thread. This Sunday's with all the trout pics got me motivated to send a recent pic of mine. It's a picture of my youngest grandson (he's almost 4) with his very first fish. It was caught in the small creek a couple of hundred yards from their home up here in the Northeast Georgia mountains.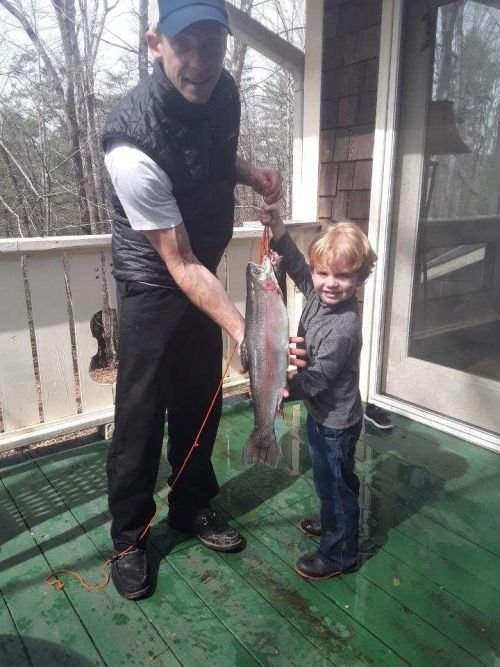 "Fish" (sure) writes…
From a lurker and sometimes commenter on AoS, aptly named Fish. Attached are a couple of brags. A chinook from my previous life in the PNW and my first foray in PA stream fishing in my new life on the east coast.

As a side story, back in 98 me and some military buddies on temp duty in Saudia Arabia enjoyed hand-lining for some type of panfish in the stock tank on the base. Used line and hooks sent from home and corn nuggets swiped from the chow hall. What a way to pass the time in that $.ithole.

Now this next one is because I don't so much own this space as curate it for the fishy horde, so I don't know what to make of it. From JK: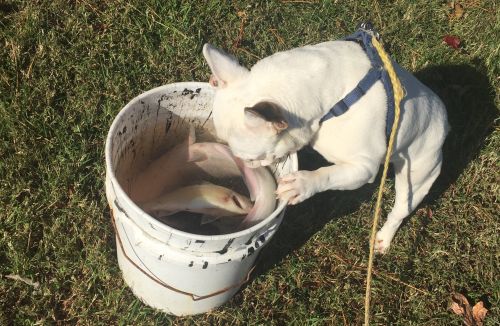 You have many great ones but this one is rather moronish, so I though what the heck. Friend's yard off the Potomac where he catches all kinds of fish.
In the tradition of stealing ideas from other threads, here's one for the 'rons and one for the 'ettes.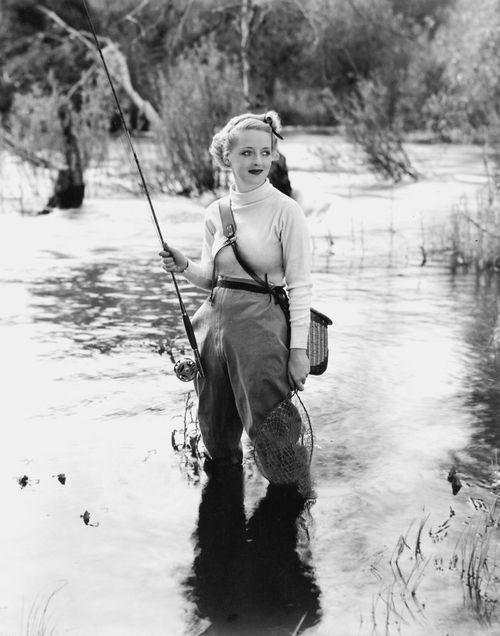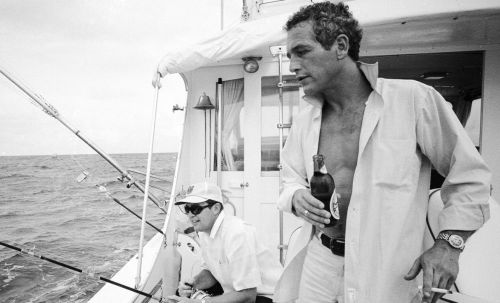 And with that we move on to the raison d'etre of this here HQ, the comments section. Brickbats, praise, and fish brag pics are welcome at aoshqfish at sign gmail thing.

posted by CBD at
07:30 PM
|
Access Comments