« Food Thread: Olea europaea, Canned Brains and Pickled Carrots, A Meal For The Ages
|
Main
|
Sunday Overnight Open Thread (7/28/19) »
July 28, 2019
Gun Thread: The Week After Last Week [Weasel]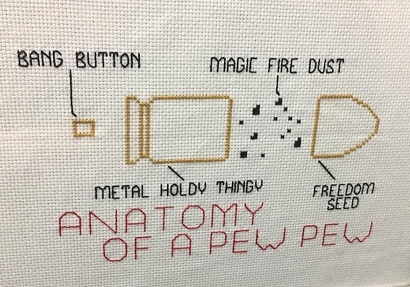 Pretty much all you need to know (h/t blake)
Last week, the comments turned surprisingly not to boobs, but rather to suppressors. Although I certainly have my preference among the topics, I'm OK talking about gun stuff and suppressors here in the Gun Thread if you really want to. So fine then, let's talk about suppressors, shall we?
Suppressors or "silencers" first appeared around the turn of the 20th century and their invention and development is generally credited to Hiram P. Maxim, a ham radio guy and son of the Maxim gun inventor. Silencers work through an arrangement of internal baffles which act to restrict the flow of combustion gasses and hence much of the sound and muzzle flash. They operate much like the mufflers on cars, which were developed at the same time. In 1934, passage of the National Firearms Act restricted their ownership and as a result they're expensive and frankly a pain in the rear-end to purchase and own today, requiring all sorts of paperwork and a federal tax stamp. The same as a machine gun. Some smart person here recently mentioned that if they were invented today, the left would want to make them a requirement for shooting because of the "noise pollution" created by guns. Go figure.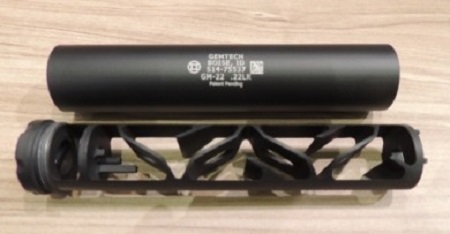 Interior View of Baffles

As a functioning retard, I'm not smart enough to embed this video in the post which would look all professional without getting an error, so you will have to follow the link. It's just over 7 minutes long and has some very cool slow motion video of suppressors with clear acrylic casings allowing you to see everything that is going on inside when the weapon is fired. Plus, some of them blow up! It is absolutely worth your time and does a much better job visually of explaining how these things work than I can do in writing. As they say, a Utube video is worth an ass-load of words. A big hearty Gun Thread hat tip to Mr. Charles B. Dildo for sending this in!
Do you own a suppressor, and if so, do you think it's worthwhile for recreational shooting? What has your experience been using it? Is it a pain in the neck to clean? What motivated you to get one?
*******
Last week we also discussed state level 2nd Amendment rights organizations and I thought it would be a good idea to promote the ones you think are doing a good job in your state. Well dang if Lurker didn't take me up on it!
Connecticut Citizen Defense League (CCDL)

CCDL is THE voice for gun owners behind enemy lines here in Connecticut. They are all volunteer and are an effective grass roots organization and president Scott Wilson is an effective spokesperson for gun owners. They deserve a mention for all their work in an uphill battle to protect what few gun rights we have left in CT.
Given the clown show going on with the NRA, it is more important than ever to give credit where credit is due and to support these organizations. Support can be economic in form or perhaps even more importantly you can volunteer your time in helping them with their mission. Please keep sending these in and I will continue to give them the spotlight. If you're not supporting your local organization, please take the time to do so. Now. Thanks Lurker!
*******
Last week #3, I mentioned the mid-range rifle clinic planned for the Texas MoMe on October 18th, and the limited number of available slots filled up fast! For those of you attending the MoMe but not interested in listening to my shit for hours, and really only wanting to meet shooter extrordinaire Jim - Sunk New Dawn, we're going to try and accomodate a more informal mid-range rifle shooting opportunity. Stay tuned, and thanks for your interest!
*******
Link-O-Rama
Gun Digest: Affordable 9mm Carbine Options
American Hunter: Pros and Cons of Hunt Clubs
OutdoorHub: Best Shotguns for Home Defense
Shooting Times: New Shotguns for 2019
American Rifleman: Browning Semi Auto .22
Accurate Shooter: Excerpt from Shooting Times Article on Primers
Accurate Shooter: 7mm Cartridge Guide
Accurate Shooter: Getting Started in PRS Matches
***Mail Bag***
Sent in by our pal fungusboy who apparently shares my disdain for the "gun free zone" concept.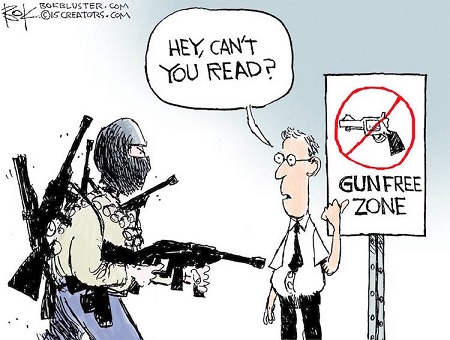 ******
Please note the new and improved gmail account morongunthread at gmail dot com. An informal Gun Thread archive can be found HERE. If you have a question you would like to ask Gun Thread Staff offline, just send us a note and we'll do our best to answer. If you care to share the story of your favorite firearm, send a picture with your nic and tell us what you sadly lost in the tragic canoe accident. If you would like to remain completely anonymous, just say so. Lurkers are always welcome!
That's it for this week - have you been to the range?

posted by Open Blogger at
07:00 PM
|
Access Comments