« "Kill A Commie For Christ" Is Hate Speech According To Twitter...
|
Main
|
Gun Thread: The Week After Last Week [Weasel] »
July 28, 2019
Food Thread: Olea europaea, Canned Brains and Pickled Carrots, A Meal For The Ages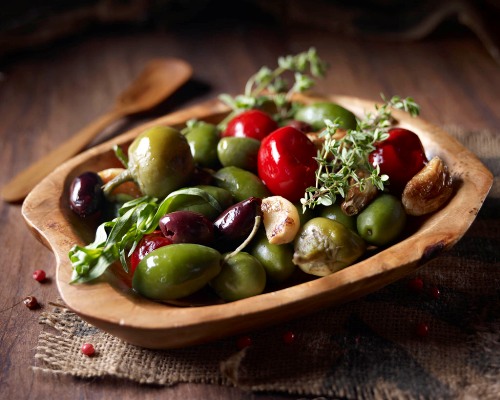 Except for the really bitter ones, I am a big fan of olives. Come to think of it, I haven't had a bitter olive in years! I wonder whether the bitterness was reflective of quality rather than some stylistic difference? If that is the case, then olives are one more data point in my study proving that food has gotten exponentially better in the last generation, and "organic" is simply a scam to fleece the gullible and fearful.
Regardless, they are a joy to eat, and go well with pretty much everything. That wonderful combination of salty and rich and the pop of texture is a great palate cleanser and a marvelous snack to boot.
Here's a fun fact: the color of the olive is based on ripeness...there are no green olive trees or red olive trees or black olive trees. And speaking of green, that's my favorite. Specifically, Castelvetrano olives from Sicily, which are wonderful and sweet and with just a little pop of tartness. They have taken over from the more famous Picholine olive, from France.They are grand, but not quite as fresh tasting.
There are probably a dozen other styles, so give them all a shot and see which ones strike your fancy. Just try to avoid the canned olives, which I think are sort of mushy and bland. It's probably difficult for people in some parts of the country to get good fresh olives, but it's worth the trouble...they really are great eating. And don't forget to cook with them! One of my favorite chicken dishes is a simple saute with olives. Easy and great tasting.
******
Commenter "Moron Robbie" suggested a discussion about generics vs. brand-name products, so here we go!
My first experience with generics was beer! I lived about 20 miles from a Budweiser plant, and I think the generic beer we bought was simply that plant cleaning out its hoses and tanks and such, and canning the stuff for sale. Hell, it was beer, so we drank it.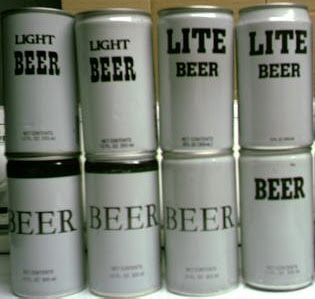 But there are other generics; in fact, I would guess that there is a generic equivalent for every product on the shelves of the typical supermarket.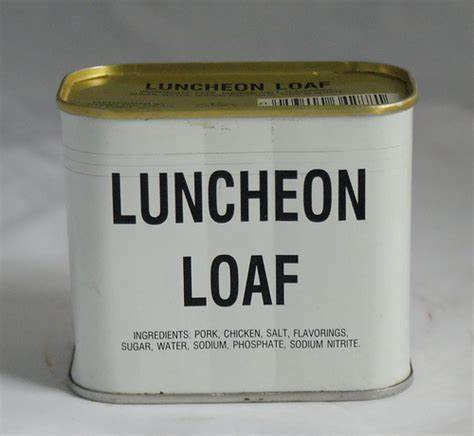 I buy some generics (or store brands if there is no generic) without a thought. For instance, sugar is sugar, and I can't see any advantage to spending 50% more for a fancy label. But I have noticed a difference between some products...the last one was oatmeal from Whole Foods, which was crap compared to plain old Quaker Oats brand.
So...who wants to start?

******
I know...I know...it's just so easy to pile on the British. How the mighty have fallen! They used to be a free people, but now? A miserable cowed and beaten population of serfs and slaves...all in the service of the state and its manic rush to pure totalitarianism.
But here are to blokes who pushed back. Classic speech! Offensive, unpleasant, inflammatory! Marvelous!
Men fined for eating raw squirrels at vegan event, causing 'significant distress' to attendees
And for their troubles they were convicted of a crime, but I'll bet it was worth it. The sad part of this story though is that they aren't native Brits. SO Britain now has to import even their freedom fighters.
[Hat Tip: ibguy]

******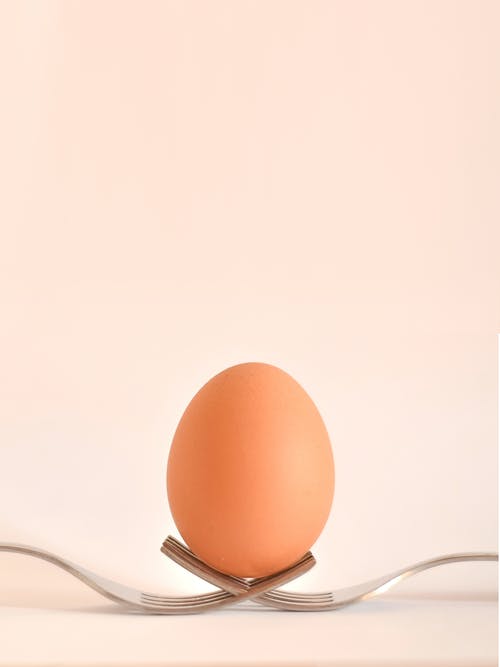 I like hard-boiled eggs as a snack, and when I am not dipping them into kosher salt I am spooning some chili crisp onto them. But damn....I must be even more of a retard than I thought, because I have not figured out how to peel them quickly and efficiently.

******
Continuing my obsession with tomatoes...
The Only Tomato Pie Recipe You'll Ever Need: A Birmingham, Alabama, chef makes a deep-dish take on the summertime classic
This looks good, and not too difficult. Definitely not an every day dish, but for the occasional time splurge? Sure.
******
I have no idea what this is, but it sounds sort of fun! From commenter "ERF," who did this to his kids, so he is definitely a Moron!
[It says: Kids -- Enjoy your Brown E's
Love, Dad
(April Fool's!!!)]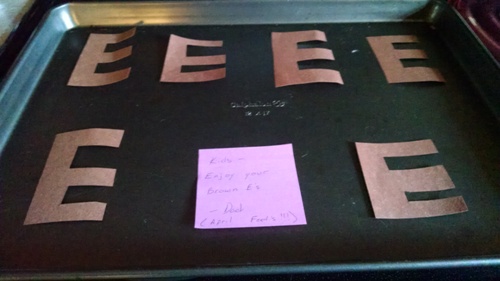 St. Louis Style Peanut Coffee Cake
Cake


1 cup milk

1 tablespoon butter

1 teaspoon vanilla

4 eggs

2 cups sugar

¼ teaspoon salt

2 cups sifted flour

2 teaspoon baking powder
Frosting


½ cup (1 stick) butter, softened

1 pound powdered sugar (1 box)

1½ teaspoons vanilla

¾ cup milk, or enough to make a thin icing

1½ pounds salted Redskin Spanish peanuts with skins, finely ground but not to a paste
Cake
1. Preheat the oven to 325 degrees. Grease a 9 x 13-inch baking dish. Line it with waxed paper. Grease the paper and flour it, shaking out excess flour. Set aside.
2. Bring the milk and butter to boil in a saucepan. Remove from the heat and cool slightly. Stir in the vanilla. Set aside.
3. Beat the eggs with sugar and salt until thick and lemon colored. Stir the flour and baking powder together and fold into the eggs. Add the milk and stir until smooth.
4. Pour the batter into the prepared cake pan. Bake 20-30 minutes or until a cake tester comes out clean. Cool. Cake can be securely wrapped and frozen.
Frosting
1. Mix the butter with powdered sugar and vanilla.
2. Add the milk 1 tablespoon at a time to make a thin icing. You may not need all the milk, but you may need more later if the icing gets too thick.
3. Cut the cake into 48 squares, using a ruler and a sharp knife. 1 1/4x 1 1/4 inches is good size. There will be some waste.
4. Ice each square on 5 sides. Roll in ground peanuts.
NOTE: I don't cut the cake into squares, but instead mix the peanuts with the frosting and add enough milk to make it spreadable. I then pour the frosting/peanut mixture over the cake and spread until covered.

******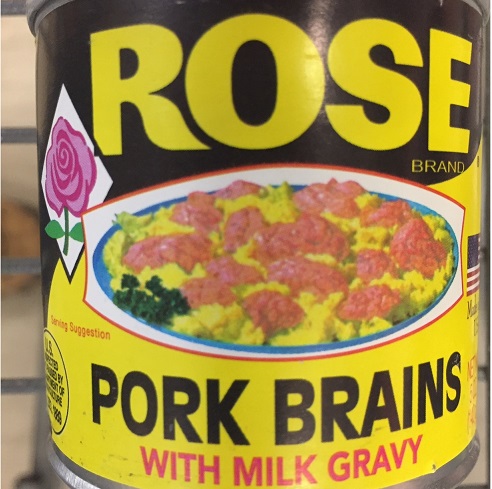 I wonder if there is a generic version?
[Hat Tip: Weasel]
******
My casual experiment with pickling is going well. I made a second batch of carrots (I left out the radishes...they were boring), which worked out almost as well as the first. The small issue was thickness...I cut them a bit larger, and that didn't provide enough surface area for the carrots to absorb quite enough brine. They were still damned good though; no complaints! I think I will branch out a bit next time and try cauliflower. That should work well, and quickly. Any other suggestions?
Oh...what about reusing the brine? Obviously some of it is absorbed by the vegetables, but I can't think of a reason not to reuse it at least once. Am I missing something?

******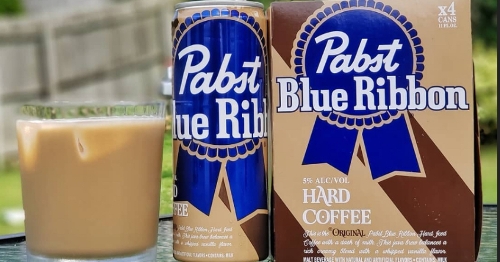 [Hat Tip: Bitter Clinger]
******
Food and cooking tips, triple-cream cheeses, young wild pigs, crisp bacon, thick and fluffy pita, and good tomatoes that aren't square, pale pink and covered with Mestizo E.coli:
cbd dot aoshq at gmail dot com
. Any advocacy of French Toast with syrup will result in disciplinary action up to and including being
nuked from orbit.
And yes, shaking a Manhattan is blasphemy...it's in the Bible!
&topic=world_news">

posted by CBD at
04:00 PM
|
Access Comments