« Boris Johnson Takes Office as PM, Clears Out Theresa May's Soyboys
|
Main
|
Soyboy Tweet-Party Thread! »
July 24, 2019
The Cucks Announce Their Hot Takes, and You're Not Gonna Believe It: They're All Repeating the Same Lines They Worked Out Behind the Scenes
And the hot takes are,
1, Republicans are terrible,
and 2, Orange Man Bad.
In fact -- Orange Man very Bad.
Note that even Democrats are admitting that Bob "Moldy" Mueller might not be up to snuff mentally, but, as you'll see below, Charlie Sykes somehow turns that into an attack on, you guessed it, Republicans for also noticing.
House Democrats caught wind of Robert Mueller's reluctance earlier this year: the special counsel may not be "up to" testifying after he concluded his Russia probe.

The chatter was second-hand and cryptic. Staffers negotiating to get Mueller to appear on Capitol Hill weren't sure where the messages were originally coming from. Were people close to Mueller sending a signal? Or was it just Justice Department officials who didn't want the blockbuster hearing to go forward? Were there fears that Mueller's reputation would be savaged in the hyper-partisan political circus of 2019? Were there stamina concerns?


Those questions resurfaced on Wednesday morning amid Mueller's halting performance before the House Judiciary Committee...

...

"This is delicate to say, but Mueller, whom I deeply respect, has not publicly testified before Congress in at least six years. And he does not appear as sharp as he was then," David Axelrod, the former top Obama White House strategist while Mueller was FBI director, wrote on Twitter about 45 minutes into the nationally televised hearing.

"Bob Mueller is struggling," added Glenn Kirschner, a former federal prosecutor who worked under Mueller in the U.S. attorney's office in Washington, D.C. "It strikes me as a health issue. We need only look at footage of his earlier congressional appearances to see the dramatic difference in his demeanor and communicative abilities."
So how do the cucks, who championed Robert Mueller as the Albert Einstein of investigation, for three years, deal with this?
If you guessed "grudgingly admit that their emperor had no clothes but then say Republicans and Trump are worse," well, you've paid attention to actual news and events more than the NeverTrump Rump.
What a surprise on that one, huh?
That cuck really wants all of his NeverTrump friends to see his amazing post:
Notice, same thing tweeted, but at a different collection of cucks.
Here's Old Three-Wife Chuck:
Again, Republicans Bad for thinking Mueller sounded... you know, 25th Amendment worthy.
Even though Sykes' own bosom leftist media friends are reporting that it has long been rumored that ol' Moldy was in cognitive decline.
A friend says:
"Look, Robert Mueller did not come off well today at all, but Orange Man Bad."
Which makes me wonder -- if we're now using "Orange Man Bad" as a nonsequitor contradiction, can we expand its use into more common situations, too?
I know I owe you money but let's face it, Orange Man Bad.
I can't help you move your couch. I'd like to, but Orange Man Bad.
I meant to do the dishes, but then, all of a sudden, Orange Man Bad.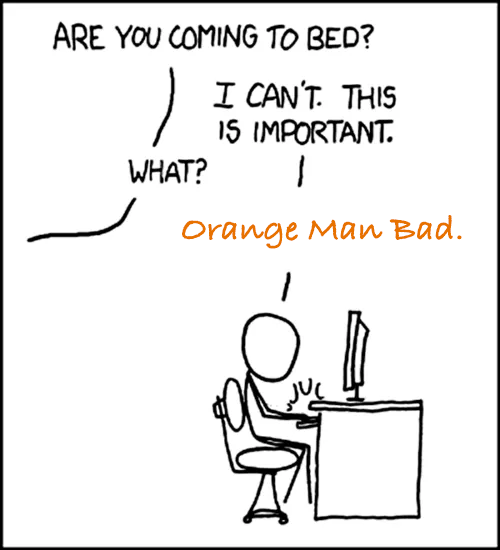 Honey, can you please come out of your Porn and Hate Dungeon and spend time with your family?
You know I would, but -- Orange Man Bad, dear. Orange Man Bad.
Michael Doran comments:
I think I'm done, though I might just put up an open thread later. Night! Had fun with you guys today. But a long day.
Update: Don't get snippy, Jonah -- you're a clown! Clowns are supposed to be happy!!!
"Partisans."
Okay Jonah. What you're doing is casting Republicans as "partisan," whereas you are hiding your defection, straight-up, to the Democrat Party by calling it just a non-partisan, rational embrace of liberal positions you've always secretly and not-so-secretly (Gay Marriage is wonderful and there will be no further encroachments upon traditionalists!) held all your huckstering, grifting, nepotting life.

posted by Ace of Spades at
07:21 PM
|
Access Comments