« Food Thread: Steiner Tomatoes Will Come, But Corn Has Arrived!
|
Main
|
Sunday Overnight Open Thread (7/21/19) »
July 21, 2019
Gun Thread: Bring Lots of Ammo! [Weasel]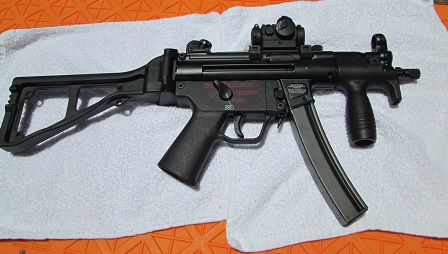 Heckler & Koch MP5K
Q: What's better than owning your very own submachine gun?
A: Having a friend who owns submachine guns!!
HAHAHA! Boy, do I crack myself up!

This fun little rascal is a Heckler & Koch MP5K. In case you lost count in the video above, that was a 30 round 9mm magazine dump in about two seconds. And contrary to popular belief, the NRA doesn't sell these in the parking lot of gun shows without background checks. Sorry to disappoint you. A little bit of paperwork, mucho dinero and quite a bit of time spent waiting for tax stamps are required to own one. I'm pretty sure you have to use your real name and everything!
Anyhoo - my primary shooting buddy, who has always been very considerate of my shooting needs, has two MP5's, an Uzi and an M-16, and we have a great ol' time on the machine gun range at the farm with them. It's very relaxing with birds chirping, a summer breeze blowing, and the sound of fully-automatic weapons fire. The H&K is an extremely nice weapon; very solidly built and with some tuning (this one had to be slowed down a little), runs perfectly as you can see. The K model has a rate of fire around 800 rounds per minute, so you do tend to go through ammo quickly. You may also notice it's very compact with a folding stock and a barrel that's maybe 5 inches long. The day the video was shot we were plinking steel at about 50 yards, and in full-auto it did a great job of covering the target.
*******
In last week's Gun Thread I linked to a couple of National gun rights lobbying organizations (NRA-ILA and GOA) and was reminded by a few commenters I had not mentioned one specifically in Virginia; the Virginia Citizens Defense League, or VCDL . If you have a particular state organization you feel is doing good work, send me an email with a link to their website and a brief note on why you feel they're doing a good job. Please also include your state name in the subject line of the email, and we'll feature a few. Sound bueno?
*******
It's about a thousand degrees across much of the country which has most sensible people looking for ways to stay cool. Rifle ranges aren't very shady places and I've spent many a hot day on the line shooting, or worse, taking my turn in the pits scoring targets. Heat and humidity can affect your performance, so I always did everything I could to stay as cool and hydrated as possible. One of my favorite places to shoot is near Phoenix where the heat and dry air can suck the life right out of you, and back on the east coast, it's almost impossible to stay cool due to the summer humidity. Plenty of water and sun screen are key, and a hat with a wide brim will help a lot too. Our team would use a pop-up canopy tent which offered a little protection from the sun but other than that, what can you do? Any tips for staying cool?
*******
Link-O-Rama
Georgia Arms: 10% Off Everything ($150 minimum)
Ruger Custom Shop 1911
Top Selling Handguns for June 2019
Winchester Wildcat 22LR
CCI: Quiet 22LR Ammo?
National Pistol Championships at Camp Perry, OH
Shooting Drills for Restrictive Ranges
***Mail Bag***
Texas MoMe Rifle Clinic
I don't have to tell anyone who has been to a Texas MoMe how great they are. Food, drink, prizes and nothing but Morons as far as the eye can see! Not to mention Ben Had's world class hospitality. Bigly fun! This year, the festivities will cover two days, October 18th and 19th, and if you're interested in being one of the cool kids, then be sure to drop Ben Had a line for details.
Oh, did I not mention shooting? Did I not mention the shooting thing at the Texas MoMe?
No Texas MoMe would be complete without shooting. There will be a range set up for handguns, rifles and shotguns both days, and this year there will be a separate rifle clinic on Friday (18th) for those interested in learning about shooting at longer distances. Our pal Jim - Sunk New Dawn will be the supervising adult and co-instructor, so you may actually learn something. The idea is to cover the basics of gear, shooting positions and natural point of aim, ballistics and wind reading, as well as the concepts of working together as a shooter and spotter to a small group of about eight in a 'classroom' setting. After lunch, we'll pair up and spend the rest of the time working on steel targets at about 600 yards.
If you're interested, first get in touch with Ben Had about attending the MoMe, and once you're confirmed for that then send me an email regarding the rifle clinic. Participants will need to bring a scoped rifle in .308 or 5.56 as well as a few other basic items of gear and ammo. If you're a TXMoMe veteran and have already let Ben know you're planning to attend, then claim your rifle clinic spot now and I'll be in touch with specifics.
******
Please note the new and improved gmail account morongunthread at gmail dot com. An informal Gun Thread archive can be found HERE. If you have a question you would like to ask Gun Thread Staff offline, just send us a note and we'll do our best to answer. If you care to share the story of your favorite firearm, send a picture with your nic and tell us what you sadly lost in the tragic canoe accident. If you would like to remain completely anonymous, just say so. Lurkers are always welcome!
That's it for this week - have you been to the range?

posted by Open Blogger at
07:00 PM
|
Access Comments