« Sunday Overnight Open Thread (7/14/19)
|
Main
|
Mid-Morning Art Thread »
July 15, 2019
The Morning Report - 07/15/19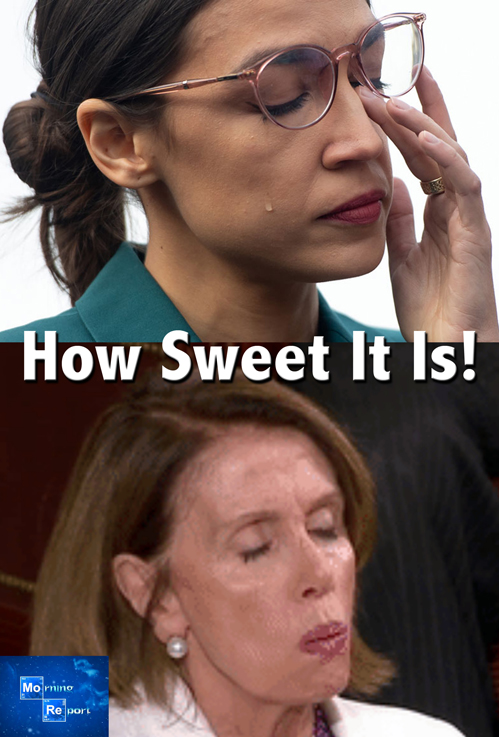 Good morning kids. The start of a new week and several stories are converging across a couple of different categories (with the locus being the immigration crisis) that confirm what I have been stating for quite some time now. To wit, that the Democrat Party is a hostile domestic enemy and represents the greatest threat to the continued survival of the republic. One can argue that this has always been the case from almost the time of founding, and for sure since the Wilson administration. But at the very least, that party (with the not inconsiderable assistance of the media and academia) had perpetuated and maintained, to a greater or lesser extent, the illusion of love of country; that their disagreements with conservatives and Republicans were on matters of policy. Yet, they draped themselves in the flag and railed against the latter's putative reactionary and retrograde weltanschauung, preventing the nation from living up to its promise, despite the fact that for 100 years or more, their goal had all along been the destruction of America as founded or, to coin a phrase, "fundamental transformation."
I think it's safe to say that as of this past weekend, the myth the Left had built up of itself and concomitantly projected about us has been severely damaged if not shattered for good. The Democrat Party is now at war with itself and it has revealed the ugly truth of who and what they are for all but the utterly blind to see. One the one hand, you have the old guard Trotskyites as exemplified by Nancy "Palsi" Pelosi who continue to believe in the need to hoodwink the American people into voting for them now being confronted by the Maoists represented by Chiquita Khruschev AOC who neither understand, nor appreciate the long march through the institutions that not only put America on the brink but ironically enough begat her and her ilk, courtesy of nearly five decades of brainwashing in schools and universities controlled by anti-Americans in virtually every position. Now, like far too many of her generation, they want gold handed to them on a silver platter... And they want it now.
Writing in American Greatness, the estimable Victor Davis Hanson states:


...In the manner that Robespierre and his Committee of Public Safety guillotined naive Girondists, so too, "the Squad" of Representatives Alexandria Ocasio-Cortez (D-N.Y.), Ilhan Omar (D-Minn.), Ayanna Pressley (D-Ill.), and Rashida Tlaib (D-Mich.) are now damning Nancy Pelosi as a racist. No matter that just hours earlier Pelosi herself had called Donald Trump a racist who wanted to turn away all nonwhite people at the border simply because they were nonwhite.

Again, Pelosi is old, and in the way, and is a target of her party's quick adoption of her own identity politics. What were the Pelosi generation, the left-wing journalist crowd, and the professoriate thinking when they harangued nonstop about the forthcoming irrelevancy of supposed old white dinosaurs? That thereby, such woke white liberals somehow had purchased exemptions from the very executioners whom they had helped create?...

...Mostly, the Jacobins frighten the old guard progressives. They empower Donald Trump. They make what is left of the Never-Trump Republicans look even more ridiculous. Ultimately, they are racists, who self-define by their appearance and their ethnic backgrounds in an ever more integrated, multiracial country in which the effort to transcend those Neanderthal considerations was largely the story of the last century.

Where will it all lead?...
For sure, that is the $64 trillion dollar question both in terms of the Democrat-Left as well as more broadly the fate of the nation. But I think we can state without question, where it started: the election of Donald Trump in 2016. He's proven himself to be an outsider who has been, and remains, fully committed to reversing the suicidal course our nation and culture have been on (and slaughtered many sacred cows in the process). They central pillar of his crusade has been a completely broken immigration system that intentionally corrodes our economy and our culture at the same time. As the Democrats spent the past few weeks blood-libeling the President as well as ICE, DHS and CBP as the moral and actual equivalent of SS guards cruelly torturing illegal alien children in "concentration camps," the President Tweeted:
So interesting to see "Progressive" Democrat Congresswomen, who originally came from countries whose governments are a complete and total catastrophe, the worst, most corrupt and inept anywhere in the world (if they even have a functioning government at all), now loudly and viciously telling the people of the United States, the greatest and most powerful Nation on earth, how our government is to be run. Why don't they go back and help fix the totally broken and crime infested places from which they came. Then come back and show us how it is done. These places need your help badly, you can't leave fast enough. I'm sure that Nancy Pelosi would be very happy to quickly work out free travel arrangements!
I don't think I need tell you the reaction this received from the casting couches to the faculty lounges to the Lido Deck of The Kristol Ship of Fools, but my reaction is "fuckin' A." Amazing how despite being painted as irredeemably racist, sexist, bigoted, misogynistic, homophobic, Islamophobic, oppressive to non-whites and illegitimately founded, millions of people from all over the world (and possibly the M-79 star system) risk their lives, their children's lives and other children's lives to get here. Why is that Kaepernick? Why is that Rapinoe? Shouldn't you and your ilk be doing everything you possibly can to dissuade people from coming here? No, of course not, because you and everyone like you lack even two brain cells to rub together to ignite even a spark of a clue as to what the reality is. Many people see the miracle that is this nation from the misery and squalor of the third world shit-holes they seek to escape, while far too many others sadly are being enticed here as a means to overwhelm and collapse us from within, while filling up the voter rolls of the Democrat Party and depressing the wages and even displacing the American worker so the Koch/CoC whores can squeeze one last penny out of the strained cloaca of the golden goose before it disappears in a bloody mass of feathers and fat.
From a tactical standpoint, this is once again Trump being brilliant. He has forced the Democrat-Left Media Complex to choose sides, and by defending Nancy Palsi from being labeled as a racist, he's put her in the uncomfortable position of having to agree with him in order to defend herself from the charge. No doubt her enemies are going to have a field day with that while spewing even more insanity to turn off even more voters.
Let's go to the links, and staying on this topic:
AMNESTY, IMMIGRATION, MIGRANT INVASION BORDER WALL, BORDER SECURITY
The internecine struggle within the Democrat Party is filtering down to the local level where an NYPD union boss is no doubt defying DeBolshevik and Cuomo by telling his constituents to cooperate with ICE, the agency's acting director rips sanctuary city leaders for helping illegal aliens avoid arrest, Trump's policies are winning in Mexico and now Guatemala, two stories about two different illegal alien animals and the pain they have wrought us, Daniel Horowitz at Conservative Review not thrilled with AG Barr's census question cave while the 9th Circus ruling is an important win against rogue sanctuary cities, Kamala-Toe spews incitement, Ol' Yeller Levin rips Palsi for encouraging illegals to break the law and former ICE Director Tom Homan utterly demolishes Chiquita Khruschev at an immigration hearing about the so-called horrors of DHS "concentration camps."