« Saturday Afternoon Chess Thread 07-06-2019
|
Main
|
Saturday Overnight Open Thread (7/6/19) »
July 06, 2019
Saturday Evening Movie Thread 07-06-2019 [Hosted By: TheJamesMadison]
Today, we celebrate our Independence Day!
Well, two days ago. But this place doesn't do math.
What better way to celebrate our Independence than America leading a global resistance against invading aliens with many splodey bits, all perfectly timed to crescendo on July 4th.
America. F yeah.

Aliens Arrive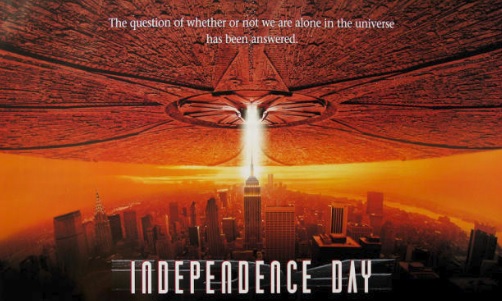 My favorite part of Independence Day is the opening act. It's a solid forty minutes of ratcheting tension mixed with some very solid character work. We see combinations of character introductions that efficiently show the audience who the person is, where they fit in with the plot, and develop the plot just a little bit more.
We, as the audience, understand that the aliens are up to no good because we've seen the trailers, but the movie paints a very good portrait of the confusion that marks such a remarkable event as aliens arriving on Earth. Some are automatically scared, others are heedlessly optimistic, and the government is paralyzed by an inability to come up with a plan other than hunker down and wait it out. I also really like how the solution for what's actually happening doesn't come from a higher circle of thinking, but from a "TV repairman" who just looks at the numbers just the right way (similar to how the Zodiac code got broken by a husband and wife pair who loved to do puzzles).
The other thing I love about this first act is the immensity of the alien craft. Way back when, I talked about awe in movies and how it's so hard to achieve. I don't think Independence Day gets there quite, but it gets surprisingly close. The ships are huge. The reactions to the ship feel genuinely awestruck. And the music is appropriately big as well. This doesn't feel like a single alien vessel sitting in a park in D.C. (no disrespect to The Day the Earth Stood Still). Instead it feels like an earthshattering event happening in front of us. Maybe we still know that it's just special effects, but the event gets sold just about as well as it could be.
Attack!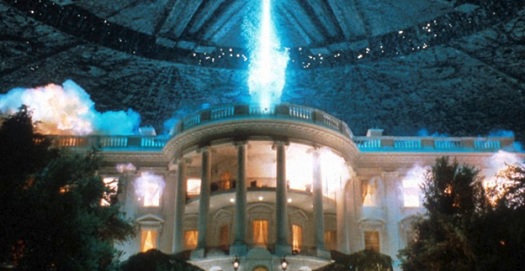 Then the unpredictable happens! Okay, it's eminently predictable since we're watching a movie and the characters don't seem to realize that they're in a movie, but them's the breaks.
These attacks became iconic almost instantly. We'd seen planets destroyed, buildings blown up, and landmarks leveled, but never quite at this level or in this way. Lasers from flying saucers that create expanding rings of fire that engulf and destroy everything within miles.
The fire doesn't follow the laws of physics, but the high quality models and the real flames in use sell the idea really well.
It's also big, and it sells the idea of being really big. We see characters we've grown to know die. We see a close call (that was enhanced with a dog after a test screening). There are real repercussions and the devastation is so complete. You get the feeling that New York City will never get rebuilt afterwards. I believe these attacks. I believe the destruction left behind. As the world begins to understand the level of devastation in the second act, we understand the kind of thinking they are going through.

Earth Regroups

Gonna be honest, this second act is why I don't love the movie.
It meanders, looking for a reason to exist and finding ways to bring characters together. I find it to be a rather large letdown after the near brilliance of the first act.
There's a solid aerial battle that introduces the concept of the aliens having shields and gets Will Smith on the ground with an alien near Area 51. There's the president discovering that Area 51 is real alongside Air Force One's passengers. There's Will Smith's girlfriend hanging out with the president's wife in the ruins of El Toro air station. There's Russel Case, drunken pilot, who is driving through the desert and meets Will Smith. All of these characters have to come together at Area 51. The movie does the job well enough, but I do wonder if the president had known about Area 51 from the beginning and the movie could have skipped over that reveal, would it have sped things up just a little bit.
There's actually some genuinely good character work in the middle here, which ends up helping the movie later on. I love the scene between Jeff Goldblum and his ex-wife. It's all about what drove them apart (which we've heard in snippets), and it still feels appropriately placed despite happening in the middle of an alien invasion.

Counterattack!
So, this begins with maybe my favorite character moment in the film. Jeff Goldblum is throwing things around the bay in a futile attempt to trash the Earth and drive away the aliens, since they want our resources. Collapsing, to the ground in front of his father, he gives up. His father then connects with him on a level they've never done. It's a genuine moment that is quite affecting. The movie, though, isn't that interested in character moments and jumps into the new plot development.
And that development is that they are going to crib War of the Worlds and use computer viruses instead of natural ones. Sure, the idea that a puny human could write a virus to disable a computer system he'd only seen for the first time the day before is a little thin, but so is fire travelling sideways. I'll take it.
It's here that the movie begins to pick up speed again. With all of its characters in a single place and everyone with a singular purpose, the movie loses its meandering feeling and becomes focused again. We have two actions that will happen side by side: Will Smith and Jeff Goldblum will travel to the alien mothership and implant the virus while POTUS will jump in a fighter jet and kill aliens one on one.
But first, a speech:
We all know that speech, and I just wanted an excuse to post it. It's so great.
The action picks up. It's a scenario that everyone knows is impossible, but we know must happen because we know we're watching a movie. The virus works, progress is made, but it's just not good enough. Hope was given and snatched away. But self-sacrifice will win as Russel Case flies his ship directly into the alien ship's main weapon and blows it all up good and American style. Smith and Goldblum then blow up the mother ship good and hard and fly back home, crashing and miraculously surviving like Chuck Yeager at the end of The Right Stuff.

So, Why?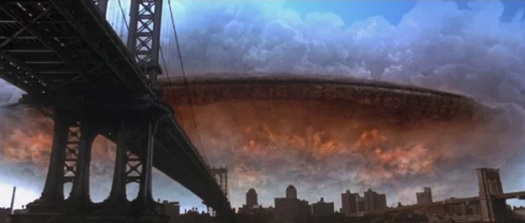 Some of us have routines that we fall into at certain times of the year. For instance, Dolley insists that we watch A Muppet's Christmas Carol at every Christmas. It's just what happens in this family. I always end up finding myself watching Independence Day around our national holiday as well.
It was a bit formative for me. It came out when I was 11, and I remember seeing it in theaters. We were in Tennessee visiting family and my dad decided to take me and my older brother one lazy afternoon.
It kind of swept the national culturally. The aforementioned destruction of Washington, Los Angeles, and New York became iconic overnight. The movie was wildly successful financially and made an already ascendant Will Smith into the superstar, a status he's never quite shaken.
It may not be as obviously patriotic as some stuff by Michael Bay (there aren't nearly enough slow motion shots of the American flag waving gracefully in the breeze for that), but it's still prototypically American despite having been directed by a German. The structure of the film is around Independence Day. One of its final lines is the president's daughter saying, "Happy Fourth of July, Daddy." It's Americans who figure out the code at first. It's Americans who develop the virus. It's Americans who organize the massive counterattack. It's Americans who blow up the first smaller ship and the mothership itself.
It's also, on a surface level, very easily entertaining. The special effects hold up really well. That isn't that much of a surprise since they trusted so little to computers. This is really one of the heights of model work in film and a solid argument to keep doing physical models instead of CGI ones. I love the music. It's big, bold, and emotional. It fits the broad appeal nature of the film perfectly. It kind of makes me sad that after this David Arnold's music became more generic.
And the explosions are great. And what's America's birthday without good explosions?

Movies of Today
Opening in Theaters:
Spider-Man: Far from Home
Midsommar
Next in my Netflix Queue:
Safety Not Guaranteed
Movies I Saw This Fortnight:
A Night in Casablanca (Netflix Rating 5/5 | Quality Rating 3.5/4) Full Review Poster blurb: "It's such an inspired sequence of comedy that I left any resistance to the film behind." [TubiTV]
Vox Lux (Netflix Rating 3/5 | Quality Rating 2/4) Full Review "It's a frustrating experience because I wanted to like the movie more. It felt like there was something there to dig into, but the writer/director intentionally made it more opaque and difficult to grasp than necessary." [HULU]
From Beyond (Netflix Rating 3/5 | Quality Rating 2/4) Full Review "If it weren't for the amazing creature effects, I'd have a decently lower opinion of the film, but the effects are dotted throughout the film, adding bits of entertainment (rather gross entertainment at times, but still entertainment) in between the less interesting character moments." [TubiTV]
The Right Stuff (Netflix Rating 5/5 | Quality Rating 4/4) Full Review "The story is told so well, involving so many characters, acted perfectly, and cut so that it never drags even at 192 minutes. It shows the extent of the individual's achievement in the pursuit of greatness." [Personal Collection]
The Magician (Netflix Rating 4/5 | Quality Rating 3/4) Full Review "Bergman never seems to have quite found the right balance, so it ends up a slightly more frustrating experience than it should be, at the center of what could be considered Bergman's height of creative output." [Personal Collection]
The Magic Flute (Netflix Rating 5/5 | Quality Rating 4/4) Full Review "How absolutely delightful. How innocently wonderful from beginning to end." [Personal Collection]
Star Trek III: The Search for Spock (Netflix Rating 4/5 | Quality Rating 3/4) Full Review "Overall, I do think the movie is solidly good, but it had the capability of being something great." [Personal Collection]
Star Trek: Nemesis (Netflix Rating 4/5 | Quality Rating 3/4) Full Review "It's the weakest of the five even-numbered films, but it's definitely not bad." [Personal Collection]

Contact
Email any suggestions or questions to thejamesmadison.aos at symbol gmail dot com.
Follow me on Twitter.
I've also archived all the old posts here, by request. I'll add new posts a week after they originally post at the HQ.

posted by OregonMuse at
07:47 PM
|
Access Comments