« Queen of Unmaskings Samantha Power Showed Extreme Political Bias in Emails
|
Main
|
Democrat Transwoman Abortion Rights Rally and Learning Annex Spanish-for-Beginners Lesson, Dia Dos »
June 27, 2019
Father and Daughter Who Drowned at Rio Grande Were Economic Migrants Not Entitled to Asylum, and Crossed River Despite Being Warned Against It
This is somehow all your fault though, haters.
Meanwhile, the loud and ignorant Alexandria Donkey-Chompers continues being loud, ignorant.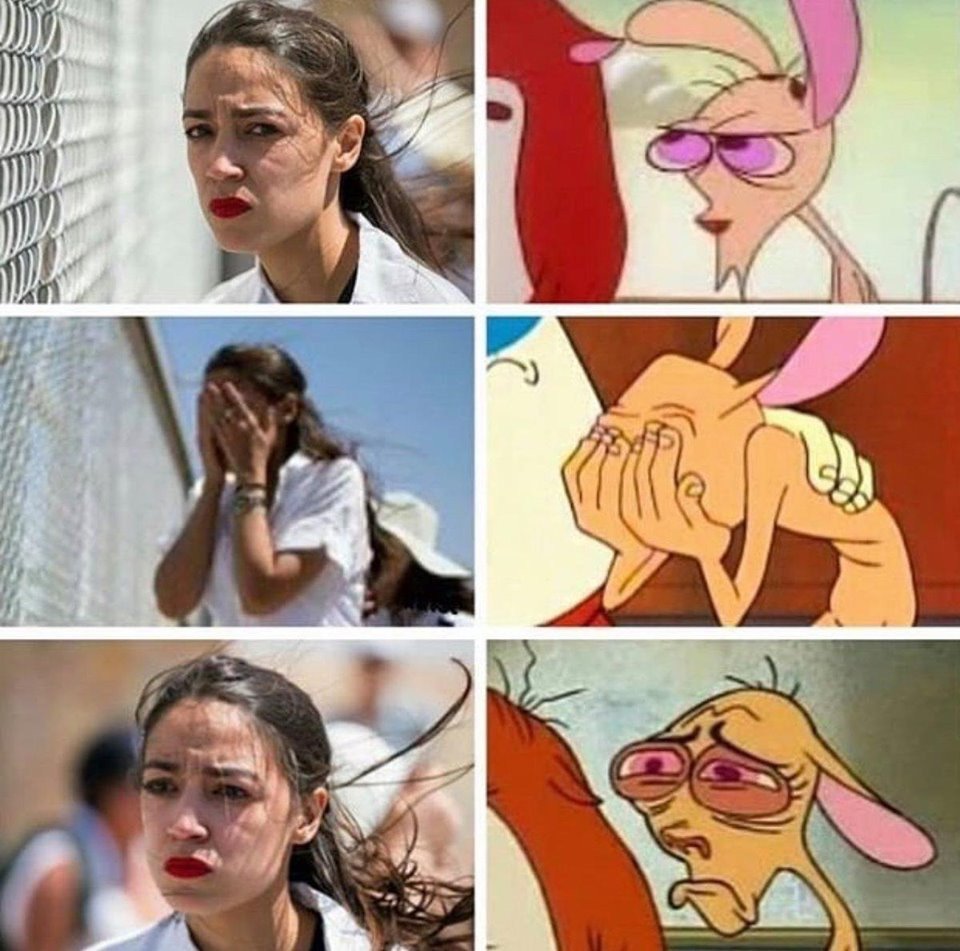 Ugh. She is rough to look at. Her face looks like roads of her native Puerto Rico, rutted and weathered and aging like a salad under hot lights at Sizzler.
As roads in Puerto Rico often are.
Evel Knievel once planned a rocket-assisted jump across the crags in her skin, but he took the coward's way out and jumped the Snake River Canyon instead.
She doesn't need botox, she needs a Superfund designation.
She always has the same look on her face, the look that says "I just looked into the Ark of the Covenant and it's beautiful, it's beautiful! Oh wait, not so much now."
Her face looks like a Renaissance masterpiece, aged and cracked and in need of high-tech restoration and probably painted over a lost map to the Templar treasure.
Nick Cage wants to shave off her eyebrows and look for clues.
She looks like a Roswell alien cadaver skull in drag-paint.
Her face is the metaphysical embodiment of that feeling you get when you see two cheap knockoff sneakers made of lime colored pseudovelour in size triple wide hanging off a telephone line. You feel bad for the kid that once owned them, but you wonder, wistfully, if the Curse of the Haunted Kedz is now finally lifted.
She looks like one of those poisonous Amazonian tree toads except in bad need of moisturizer and with The Crazy Eyes.
She's got teeth like tombstones and skin like sunbaked denim.
She looks like she was made out of mismatched parts from the puppet faces in The Dark Crystal and Tales from the Crypt.
She's a stone-cold butterface. The only reason people even credit her as attractive is that her competition is Barbara Mikulski and Rashida Tlaib and Jerry Nadler.
Just a quick post because the debate's tonight and I sure would like a little break.

posted by Ace of Spades at
07:10 PM
|
Access Comments