« GAINZZZ Thread
|
Main
|
The Morning Report - 6/21/19 »
June 20, 2019
Perverted ONT
When ladies need it bad, they have a go-to move:
I Remember When "Eat My Ass" Was Fighting Words

'Edible Anus' Company Makes Chocolate Molds of Your (Or a Loved One's) Butthole
I wonder if there's an "asshole code" like the candy code, so you can tell which asshole is which? "Oooh, gimme that one it's full of cream!" or "Yuck! I got a coconut asshole"
And, of course in the delightful year of 2019, they have a strong social media presence: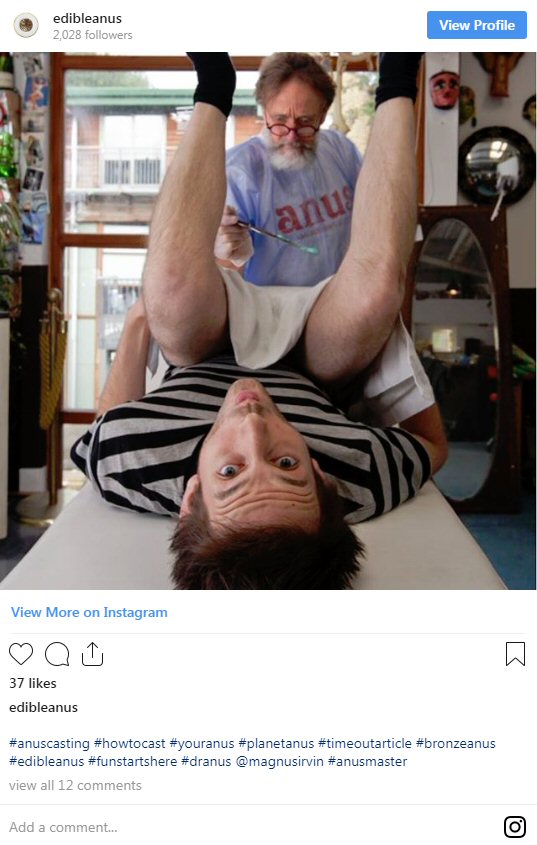 "Pfffft! There was a hair in my chocolate"
Perverts All The Way Down

Are Pride Parades Kid-Friendly? Parents Say Children Can Handle The Kink
Tell me again how the left isn't trying to normalize pedophilia. And why shouldn't they? I believe that a great deal (not all, certainly, but a great deal) of one's sexual identity comes from the way in which they become aware of their sexual nature, and if that is done in the context of kinks or perversions than they will be more likely to incorporate those kinks or perversions into their own sexual lives. From a pervert's POV it's win/win.

CNN Finally Stopped Covering It Last Week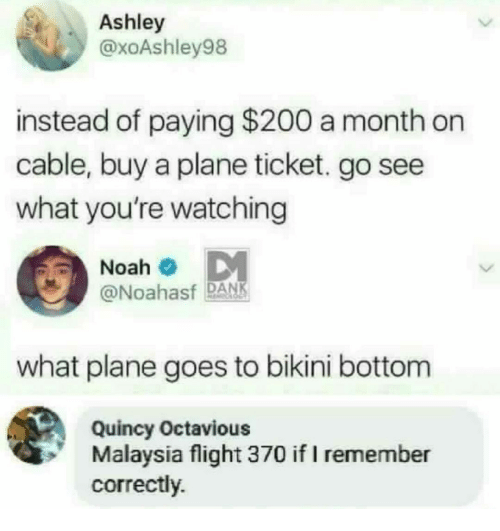 What Really Happened to Malaysia's Missing Airplane
We has humans always seem to have a hard time accepting that a single individual can do something that has an impact far greater than their stature. JFK being assassinated was a seminal event in so many people's lives that they just can't believe that it was caused by one loser communist with an Italian rifle. It was too big, too important, it has to be a conspiracy, so they invent a cause that's on par with the effect. Same thing with 9/11. Here, the conclusion is that it was the pilot, acting alone, who, for whatever reason, depressurized the cabin killing everyone, flew for six more hours, then nosedived into the ocean. The bit on killing everyone is especially chilling:
An intentional depressurization would have been an obvious way—and probably the only way—to subdue a potentially unruly cabin in an airplane that was going to remain in flight for hours to come. In the cabin, the effect would have gone unnoticed but for the sudden appearance of the drop-down oxygen masks and perhaps the cabin crew's use of the few portable units of similar design. None of those cabin masks was intended for more than about 15 minutes of use during emergency descents to altitudes below 13,000 feet; they would have been of no value at all cruising at 40,000 feet. The cabin occupants would have become incapacitated within a couple of minutes, lost consciousness, and gently died without any choking or gasping for air. The scene would have been dimly lit by the emergency lights, with the dead belted into their seats, their faces nestled in the worthless oxygen masks dangling on tubes from the ceiling.
We surrender control, or at least the illusion of control, over our own lives every time we step on a jetliner. It's scary to think that one madman could end our lives and we'd be helpless to stop it, but well, there ya go.
Gee-Haw Wimmy Diddle
I just wanted to type Gee-Haw Wimmy Diddle. I think I have a some new invective. "Gee-Haw Wimmy Diddle folks, don't just stand there, get moving!"
Politics
Yes, Tariffs Make Stuff More Expensive, But Sometimes It's Worth It
All the free trade absolutists (but only on us, donchakno) screaming about tariffs making stuff more expensive are missing the point. Of course they make stuff more expensive. Nobody is saying that they don't, but that's not the point. Tariffs are about leverage. What would they prefer? War?
The Alt-Right Is The Mirror Image Of The New Left
He describes the intersection of the two as "It helps to envision our political spectrum not as a line but as a circle. At one point in that circle, the alt-right and the progressive left meet and become of a piece." I've always felt a more useful political continuum from left to right is a line not a circle, but a line that measures individual freedom from government coercion. Thus the "far right" becomes pure anarchy, and the left encompasses all big govt totalitarian systems, be they fascist, communist, socialist, monarchical, theologian or whatever. The debate becomes where the optimal place to stop is (hint: It's pretty far to the right, but not all the way). Here, watch this helpful video(from the John Birch Society!):
Speaking of the John Birch society, here's their founder, Robert Welch:
Yeah, yeah, I get it. JBS, har, har, har. Now, with 60 years of hindsight, tell me where he was wrong. I'll wait.
Tonight's ONT brought to you by grandpa:

The Yahoo Group would rather be dead than Red.


posted by WeirdDave at
09:43 PM
|
Access Comments