« Wednesday Overnight Open Thread (6/19/19)
|
Main
|
Mid-Morning Open Thread [Kris] »
June 20, 2019
The Morning Report - 6/20/19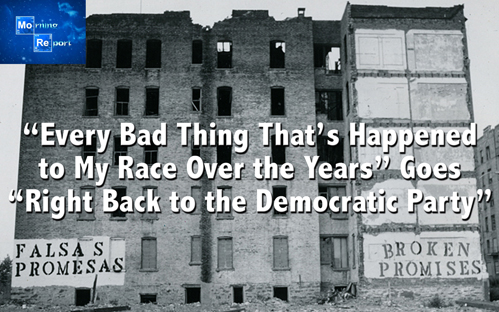 Good morning kids. Thursday and we're loaded with all sorts of juicy stuff guaranteed to make you nutsy-fagin so here we go. First up in the border and immigration crisis, a story that broke late yesterday where the FBI has arrested a Syrian refugee for plotting to blow up a church in Pittsburgh. Since the deviant in question is neither Jewish, Christian, conservative nor an NRA member, soon after the white patriarchy is blamed, we will be admonished against Muslim backlash before the incident is memory-holed. And this bastard came right in through the front door, presumably during the Obama reign of error. Who the hell knows what's streaming across our border now? Wait a second, we do know; Africans from the ebola belt as well as Pakistanis and Bangladeshis IIRC, along with the illiterate, destitute peasantry of most of Central America courtesy of bus, train and plane tickets paid for by a certain Nazi collaborator among others.
Meanwhile, one brave bureaucrat in New York State has defied Andrew Cuomo and his Democrat apparatchiks in the state legislature by stating he will refuse to give drivers licenses to illegal aliens. I fully expect him to get the Kim Davis treatment or worse. Yet despite this insanity, despite President Trump's victory predicated on border security and sane immigration policy, we have a GOP that wants to help... by greasing the skids for the invading hordes to get comfy and have legal aid bought and paid for by our tax dollars (see the link in the politics section about the "Tessio Republicans"). Elsewhere, ICE is giving priority to booting illegals with final removal orders, along with halitosis and un-dissolved flecks of Efferdent, Nancy Palsi projects, a legal immigrant looks at the madness, a study indicates the US is no longer the number one destination for asylum seekers (gee, how did that happen do you suppose?), and finally Chiquita Khruschev AOC sets a rhetorical trap for herself and her fellow Maoists with her "concentration camps" bilge.
To the Clinton/Obama Coup + Mueller Deception and Cover-Up and Congressional Inquisition where we have some interesting developments. Margot Cleveland over at The Federalist is high on Michael Flynn's new attorney exposing even more of Spygate criminality to a broader audience, with Manafort rotting in jail and the Dems itching to go after Trump once he leaves office in 2036 (inshalla [sarc]), Monday's SCOTUS ruling on double jeopardy puts a dent in his issuing of pardons, and Mueller might regret going after Roger Stone.
Looking at the Democrat Scandal Sheet, fresh off the news of the conviction of this Jackson Cosko stooge, news comes now of a second Congressional staffer being charged in the "doxxing" of Republicans during the Kavanaugh hearings. So that means it goes from a one-off incident to what I think was a plot to sabotage and smear the nominee and his supporters by any means necessary. And this fish stinks from the head. The head being Maggie Hassan and possibly Dianne Feinstein. Oh yes, gentle reader. I haven't forgotten her involvement in this. Stay tuned. Elsewhere, the FBI and DHS are probing a Leftist subversive organization for trying to steal massive amounts of Michigan voter data, and Louisiana's John Bel Edwards gets money from Hollywood almost immediately after returning from a Tinsel Town junket. Also, Maizie Hirohito, born of a Greater East Asian Co-Prosperity Whorehouse from a pimp momma, is circling the wagons around fellow detestable Dem dolt with the deep decolletage Chiquita Khruschev AOC, claiming her disgusting comparison of US detention of illegal aliens to concentration camps is just an attempt to protect Trump. Also in that vein, an excellent essay on the Left's eternal lying about Auschwitz and its meanings. More on this story in a moment.
Politics: Trump's re-election kickoff rally was by any metric an incredible success. He hit it out of the park rhetorically, both in terms of underscoring the accomplishments despite the resistance as well as dollars: $28.4 million in the first 24 hours which I believe is more than the total raised so far of the putative Dem leaders to date. He also perfectly described who and what the Democrats are. Meanwhile in the Swamp, at another dog and pony show to pimp slavery reparations - yet again - the Dems went apeshit when two black witnesses took to the microphones to denounce the concept. One of them, former NFL star Burgess Owens dropped a truth nuke on the hearings by rightfully declaring that every misery and indignity suffered by black Americans throughout our history is the fault of Democrats. Linked in the First Amendment section, a hack from the NY Times without even realizing the insanity of his statement belched up that blacks testifying against reparations "have no other qualifications than being black." Let that sink in.
Meanwhile, poor Joey Bidet is taking all kinds of flak for praising his past collegial relationship with two horrible, unreconstructed Democrat racists, the Southern Baptists go insane and embrace identity politics, Fauxca-Has-Been and Bernie Sandersnista go at each other, Tubby Riefenstahl warns Dems about enormity or something, three good links look at the GOP in all of this with Tu-Ca telling it like it is about the Koch CoC Whores, Obama will not sheathe his shit-Midas finger for 2020, and David Harsanyi on that tragedy behind Chiquita Khruschev's utter pig-ignorance vis a vis concentration camps.
First Amendment and Fake News Fakery: Target of the Columbia Journalism Review speaks out about being smeared for connecting the dots between journalists and Antifa, Josh Hawley on the warpath against Big Tech/Brother, California Church and ACLU sue election official over banned Black Lives Matter banner, smack down of Chris Cuomo on nationalism, and Republicans ask DoJ why Al Jazeera is not considered a foreign agent of Qatar?
Guns: Judge smacks down California attempt to ban gun shows.
Abortion: Tom Cotton slams companies over hypocritical pro-abortion stances.
Foreign Desk: Mexico ratifies PDT's USMCA trade deal, US official claims an Arabian Gulf of Tonkin incident with shoot down of US drone in international waters, the usually pro-Iranian Germany blames Iran for tanker attack, Victor Davis Hanson says Trump holds all the cards with Iran, Chi-Coms facing all kinds of internal strife in its cities, two Russkies and one Ukie charged with shooting down that Malaysian Airliner (not the one in Don Lemon's black hole theory), and Daniel Greenfield talks about Israel's new town named after Trump.
DEE-Fense: A look at the growing menace of cyberwarfare.
We-All-Slam-For-I-Slam: Canuck gets 26 years for aiding and abetting 2009 Iraq terror attack that killed US soldiers, and BBC imam bitches about Jooz and the Holocaust. Meh, another day ending in I KEEEEEEL YOU!
Domestic Affairs: New Jersey man gets five years in the slammer for getting his own reparations, Bill Cassidy blames Medicare and Social Security for debt and deficits and sez cutting bureaucracies elsewhere won't matter much, Dems have no solution for the latters' looming implosion, a look at the madness of California taxation, and Justice Thomas' credo. Screw Danny Glover; Clarence Thomas is a real expert on the legacy of slavery.
The Economy: Lockheed Martin announces $142 million Arkansas plant, the big upside of tariffs despite a little initial pain, and Cuomo's licenses for illegal aliens will destroy wages for legal citizen cabbies.
Crime and Punishment: NXIVM sex cult leader found guilty. Has Gillibrand ever been grilled about her former relationship with them (no, of course not)? Mayor Buttplug's anti-violence commission in South Bend is a flop. Mayor Pete: Make America Go South and Bend Over. Also, the Feds make a record 33,000-pound cocaine seizure. Where's Murkowski?
Vatican Sex Abuse Scandal: Whistleblower in the Vatican claims DC Basilica's rector a member of the "Gay Mafia." They rub glitter on the bullets instead of garlic...
Education: Rabbi Fischer on Chiquita Khruschev's concentration camp comments as a symptom of our rotting educational system, and K-12 Red Ed. Well, the latter explains the former.
Feminazism and Transgender Psychosis: IAAF is having none of the tranny garbage deeming biology not identity as defining who you are, and three high school girls file lawsuit against the junk-tuckers competing with them.
Hither and Yon: Blame the French for plummeting birth rates, two essays on Taylor Swift's SJW implosion, John Stossel on the moral case for capitalism, high tech is now lowbrow for the elite and that's unfair for the masses (I think I got that right), and a look at the fundamentalist religious cult of the Progressives. They truly are what they mock so mercilessly. Projection ain't just a river in Egypt.
Anyway, links from around the world, across the nation and up your street. Have a better one and remain blessed.
NOTE: The opinions expressed in some links may or may not reflect my own. I include them because of their relevance to the discussion of a particular issue.


AMNESTY, IMMIGRATION, MIGRANT INVASION BORDER WALL, BORDER SECURITY


posted by at
07:18 AM
|
Access Comments