« Sunday Overnight Open Thread (6/16/19)
|
Main
|
Mid-Morning Open Thread »
June 17, 2019
The Morning Report - 6/17/19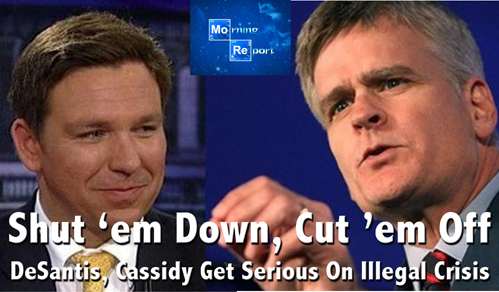 Good morning kids. Start of a new week and we're loaded with linkage so let's commence. First up, some positive headlines on the immigration and border crisis front. Louisiana's Bill Cassidy is proposing legislation to cut off illegal alien foreigners from American taxpayer-funded free health care. While we're at it, how about blanket legislation cutting them off from American taxpayer-funded everything?! That said, I would assume it's already illegal for foreigners to have access to any government bennies of any kind, but when you have areas controlled by Democrat-Leftists, the law goes right out the window. That said, Governor Ron DeSantis of Florida just signed a bill outlawing sanctuary cities in Florida. I fully expect the Left to take this all the way to the SCOTUS, but how disgustingly ironic is it that the Left uses the law itself as a means to destroy the rule of law (now you know why having originalists on every bench is crucial)? Also, the President says we're on track to have 400 miles of border wall built by the end of next year. Meanwhile, Julian Castro tells a victim of illegal alien identity theft "crime happens," get ready for a mumps epidemic, father whose daughter was murdered by an illegal alien animal yet to see any justice and as the census citizenship question heads to the SCOTUS, is Chief Justice Roberts going to get rolled by the ACLU?
On the Clinton/Obama Coup Against Trump, the big story remains President Trump's "gaffe" answer to a hypothetical from fake journalist Stephanopoulos. Meh, the only real gaffe was his getting within a thousand miles of that midget malefactor, but I can argue either way on that. In any case, as I ranted on Friday, the cases of actual collusion and criminality between Democrats and foreign operatives, including our enemies, is extensive if completely covered up and ignored by their allies in the agitprop media, are manifold, egregious and cross well past the line of prosecutable. Lindsay Graham finally comes right out and defends the President's remarks, marking a shift from a relatively mild criticism of him last week. Also, a thoughtful essay from MR favorite Rabbi Dov Fischer weighing one hypothetical response against myriad actual crimes, a dismantling of Robert Mueller and, lest we forget, it was the John Kerry-run State Department that pimped the Steele/Clinton Dossier and the myth of Russian collusion. And hopefully, the reaction from the criminal conspirators and treasonous bastards over AG Barr's wanting to question elements of the CIA and FBI means they are indeed "running scared."
Nothing on the Democrat Scandal Sheet this morning but in the subset of officially sanctioned Democrat Party anti-Semitism, Daniel Greenfield takes a look at Mayor Buttplug's swallowing of the anti-Israel poison by embracing Obama's foreign policy.
In Civil War 2.0 news, the Stalin airbrush is being warmed up in Charlottesville where the mayor, some Nyuk-Nyuk Walker dame is looking to eradicate the holiday celebrating Thomas Jefferson because, despite being the major thinker behind all our founding documents that ultimately led to the ending of slavery, he held slaves and so must have his memory and legacy blasted from the face of the earth, not to mention shoved in our faces, for all time. Not coincidentally, all our laws and documents enshrining individual liberty are the major part of that legacy (hint-hint). Feh.
To politics we go, where Chiquita Khruschev AOC is still taking swipes at Nancy Palsi, a related essay on the aging baby-boomers who still control the party, Joey Bidet's smearing of our wonderful President gets smacked down with the eloquence, two articles on Justin Amash's (hopeful) political suicide; he's going down in the polls faster than Sandra Fluke during Fleet Week and Donald Trump Jr. is offering to campaign for his opponent, Michigan State Rep Jim Lower. Elsewhere, Mayor Buttplug is still calling for Coonman and Poonman to step down in Virginia, which is weird since the Dem-Media Complex has already "rehabilitated" them, n'est ce pas? Also, an essay on how the attempt by the Dems to destroy the Electoral College could actually bite them in the ass, Reparations once again comes to the fore like a bad case of herpes, Move-On's massive impeach Trump rallies across America were a complete flop and Obama stirs up shit from a chateau on the south of France.
First Amendment and Fake News Fakery: Secretary of State Pompeo slaps the media hard for obsessing on the Trump "oppo research" remark, several links on how to approach Big Tech Big Brother including Glenn Reynolds making the case to regulate them, a look at libertarians and government regulation in this case and the Pinterest whistleblower blowing a loud whistle. Also, the hit job on the analyst who exposed "journalists" cheering on Antifa, with the war on religious freedom in full swing now might be a good time for Jehovah's Witnesses to get off the bench and into the trench, "Jm J" Acosta's book signing was a laugh, and a look at these dangerous "deep fake" videos.
Guns: At Virginia Beach, guns don't kill but gun-free zones sure as hell do. Tragic.
Abortion: How the Trump administration can beat Planned Parenthood, Melinda Gates is all in on exterminating the population of Sub-Saharan Africa, Delta Airlines does the right thing in the wake of the new Georgia pro-life legislation, black anti-abortion activists rip into blonde blivet blowhard Gillibrand for her stupid remarks, one of the few voices critical of Justice Thomas' recent remarks vis a vis abortion and eugenics, and University of Alabama returns its largest donor's gigantic gift after the latter called for a boycott of the college over the state's pro-life stance.
Foreign Desk: The Hong Kong situation tops the news where despite the government's apology over the extradition law, citizen leaders are not happy and reject the apology. Also, the mild Chi-Com response to what was a million person protest so far is merely an indication of a strategic withdrawal a la Sun Tzu, and there are calls for Trump to criticize China over this, but I think he is waiting for the G-20 to do so face to face with Xi and a look at rapprochement with Putin as a way to contain Xi. Over in the Middle East, the attack on the tanker has calls for military retaliation coming from Tom Cotton (ugh) while other voices are saying this is not worth it. Meanwhile, Saudi Prince MBS is blaming the Farsis directly while Bloomberg op-ed goes for the tinfoil hat. Elsewhere, Ronald Lauder of the World Jewish Congress is calling for massive protests worldwide against the ramping up of Joo-hatred, German students seem to be heeding that call, the lunacy of Justin Trudeau, divided Britain in light of the Brexit fiasco, Argentina and Uruguay suffer a massive power outage and an essay on the travails of Argentina. That country has so much potential but is just perpetually mired in post-Peron corruption. I hope they can dig themselves out of it.
DEE-Fense: Tu-Ca looks at a massive, and potentially corrupt, DoD-Amazon deal involving Mad Dog Mattis.
We-All-Slam-For-I-Slam: How the Army War College knuckled under to CAIR and squelched a lecture by noted Islamic scholar Raymond Ibrahim, and the man himself with an essay on the historic antipathy of Eastern Europe to Islam.
Domestic Affairs: On the Department of Agriculture moving some of its offices out of the cozy swamp to the hinterlands of Kansas City (can we move the EPA to Barrow, Alaska so they can "protect the environment" as they claim their mission is?), the housing crisis that's really an addiction crisis and Thom Tillis emerges yet again to help the Dems screw over America by completely cocking up our patent laws. This bedbug needs to be primaried, like yesterday.
Crime & Punishment: 11-year-old fends off a home invader... with a machete! As Chicago gets ready for the summer body count the new commie mayor pisses off the cops, and Trump looks to drastically cut unemployment for ex-cons. Good on him. Pro Tip: Deporting illegal aliens and sealing the border will help that cause tremendously.
Healthcare: Forget single-payer; the real fight is against Medicare expansion.
Red Greens: Obama-era money waste studying fast food and global warming, and WebMD joins the propagandists in pimping the fraud.
Feminazism, Homosexualization, Transgender Psychosis: US Powerlifting Federation about to feel the heat from the crazies for not allowing freaks to compete as women, and amen to that second item. How we do it when more and more areas of society are infiltrated by the Marxist cadres is the problem.
Hither and Yon: Christian Toto on how even reliable Lefties like DiCaprio and Madonna are now the targets of the SJW goon squads, a look at Greg Gutfeld's success, it takes a real sicko to tell parents to buy their kids sex toys (or laying the groundwork for the normalization of pedophilia), the diminishing dad, and lastly, as "Juneteenth" approaches, while the Left ramps up the war on Jefferson and the Founders as well as pimps reparations for people 4-5 generations removed from the Civil War era, a look at real slavery as it actually was and as it still is in the here and now. Hint: it ain't in the USA, baby.
Anyway, links from around the world, across the nation and up your street. Have a better one and remain blessed.
NOTE: The opinions expressed in some links may or may not reflect my own. I include them because of their relevance to the discussion of a particular issue.


AMNESTY, IMMIGRATION, MIGRANT INVASION BORDER WALL, BORDER SECURITY


posted by at
06:56 AM
|
Access Comments